Citroen's C5 X flagship unveiled
April 12, 2021
Citroen has unveiled its new C5 X flagship, which adds a new dimension to the large car segment thanks to its bold and original design combining the elegance and comfort of a saloon with the space and versatility of an estate.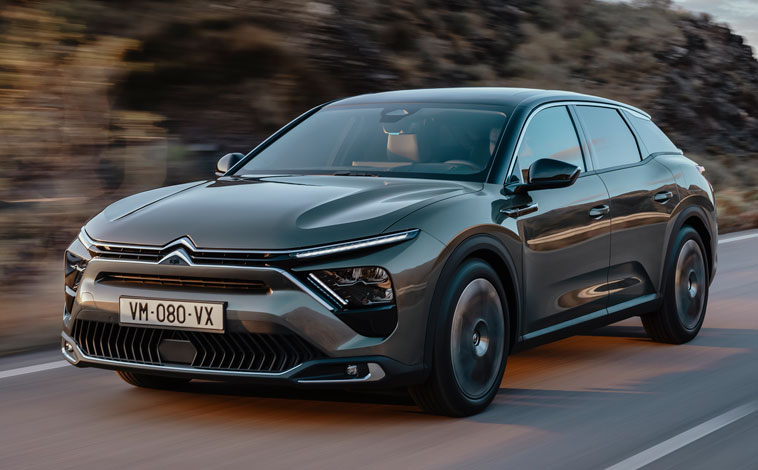 Available with both plug-in hybrid and petrol powertrains, there is an emphasis placed on aerodynamics, meaning the car is as efficient as it is attractive. Its long bonnet, fluid lines, high waistline and distinctive kick above the rear wheels bring distinction and dynamism, as well as providing a strong visual link to Citroen's rich history of flagship models, including CX.
With an increased ground clearance compared to a traditional saloon and large 19-inch wheels fitted with tall and narrow tyres, the C5 X delivers an SUV-inspired raised driving position that provides greater visibility and safety.
At the heart of new C5 X's appeal is the use of Citroen's Advanced Comfort suspension system. A genuine innovation, it recreates the 'magic carpet' effect that was the trademark of some of the most iconic Citroen cars by deftly dealing with all road surface obstacles, such as potholes, kerbs and speed bumps.
On plug-in hybrid versions, the car takes this comfort and control a step further with Citroen Advanced Comfort Active suspension. Offering a choice of three modes, the suspension control system enhances the effectiveness of the Progressive Hydraulic Cushions by softening the suspension under certain conditions to create the sense that the car is 'gliding' over the road or sharpening the set-up for even greater control and precision when cornering.
Space was one of Citroen's main priorities when designing new C5 X. At the front, the comfortable seats and the uncluttered dashboard provide a vast and clear living space, while occupants in the rear benefit from a spacious layout with exceptional legroom, comfortable width and generous headroom.
Practicality has of course been considered down to the last detail in all areas of the design. For starters, the boot has a generous load volume of 545 litres, which stretches to 1,640-litres with the rear seats folded. A wide boot opening, and a low loading make it easy to load and unload, while a flat floor means it's easy to accommodate even the bulkiest of loads.
The C5 X's advanced 225hp plug-in powertrain offers the pleasure of silent start-up, operation and zero-emissions motoring at speeds of up to 84mph, it also offers an electric range of up 31 miles (WLTP) in zero-emissions electric mode, a distance that meets the majority of users' daily needs.
It's therefore possible to spend a whole week without using the internal combustion engine while making your usual journeys, recharging the vehicle as required when at home, at work or at a public charging point. When you need to travel further afield, such as for long weekends away or holidays, the economical and efficient petrol engine is able take over, meaning journeys can be completed without the need to recharge.
New C5 X also introduces Citroen's most advanced infotainment interface, which has a particular focus on connectivity. Featuring a 12-inch high-definition touchscreen, four USB sockets and wireless smartphone charging, it can also be updated in real time via the Cloud and can Mirror Screen a smartphone display without the need to plug them in.
The vehicle is also at the cutting edge of technology in the field of driving assistance systems, thanks to its use of various advanced devices installed all around the car, including radar and numerous cameras and sensors.
With its Highway Driver Assist, the C5 X offers the best in semi-autonomous level 2 driving. By combining Adaptive Cruise Control with Stop & Go and Lane Keeping Assist, the driver no longer needs to manage speed or trajectory as the vehicle takes care of all these functions.
Other features include long range Blind Spot Detection and Rear Cross Traffic Alert, which detects a danger when reversing. Also available is the Top 360 Vision Surround View Camera technology that makes manoeuvring easier by displaying an overview of the outside environment on the touchscreen. Proximity hands-free access and start is also available, automatically locking and unlocking the doors when the driver approaches or leaves the vehicle.
The Citroen C5 X, available with petrol and plug-in hybrid engines, will be on sale in the UK later this year.