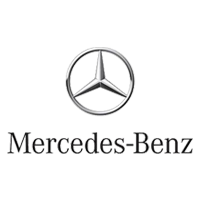 Mercedes Benz
E-Class Cabriolet/Estate/Coupe/Saloon/Hybrid (incl AMG)
If sheer luxury and the drive of a lifetime tops your wish list then look no further than the stunning E-Class line-up in saloon, cabriolet, estate and hybrid. Filled to bursting with advanced technical specifications this is one vehicle that puts the fun-factor back into motoring. Now available with plug-in hybrid electric technology.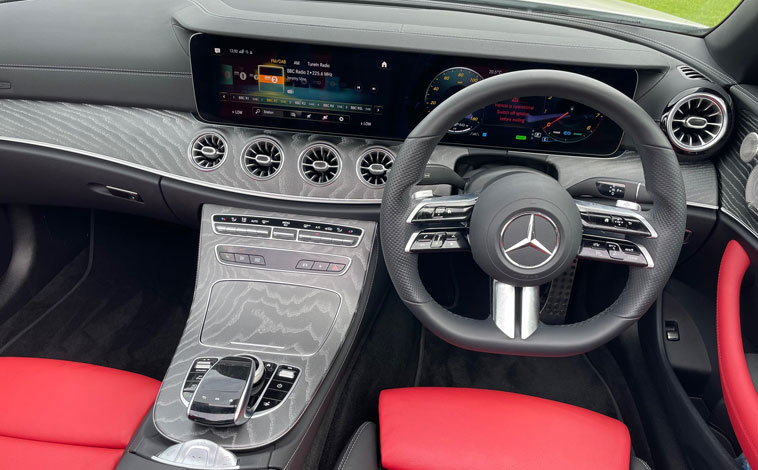 The good
Luxury in abundance and performance to match
The bad
Pricey with options factored in
Tech Specs

Price from
£34,870

Combined Fuel up to
68.9mpg (176.6mpg plug-in hybrid model)
0-62 from
4.1 seconds

max speed up to
155mph

co2 from
36g/km (plug-in hybrid model)
Test Drive
Mercedes E 300 AMG Line Night Edition Cabriolet Premium Plus (2021)
I could predict weather patterns months ahead just by the car I'm test driving. Book a 4×4 in advance and there'll be a heatwave. Book a soft-top and rain is guaranteed.
So, it came as little surprise that the delivery of my stunning Mercedes E Class two-door cabriolet was swiftly followed by 48 hours of non-stop rain in biblical proportions. And that was in August.
As a result, the car stayed pretty stationary on the driveway. Until day three that is when someone plugged up the skies above and the sun put in an appearance so creating the perfect opportunity for roof-down, open-top motoring.
It was still a bit on the chilly side, but this Mercedes, priced at £52,185 (increased to £54,775 with options) has that covered with an excellent heating system that even has blowers for the headrest, aptly named AIRSCARF.
Our E 300 AMG Line model was powered by a 2.0-litre petrol engine delivering 258hp of power and 370Nm or torque. It featured a smooth but responsive nine-speed automatic gearbox with paddles for added driver fun, and could complete the 0-62mph dash in 6.6 seconds, topping out at 155mph. According to official WLTP figures, it could deliver a combined 34.0mpg with carbon emissions of 190g/km.
The car uses mild hybrid technology too for added fuel efficiency with an EQ boost system that adds extra power to the mix.
The E Class cabrio is certainly a head turner that's guaranteed to attract attention wherever it passes thanks to its gorgeous lines and curves, neat soft top, AMG body styling and 20-inch AMG multi-spoke alloys. The latest model has a new-look grille and fresh headlights for an even sharper appearance.
Move inside and you are greeted by one of the finest interiors on the market today featuring beautiful leather upholstery, decorative inlays, 64-colour ambient lighting, plus air vents that resemble jet engine turbines.
There are two 12.3-inch screens that merge seamlessly into one behind a glass screen that stretches two thirds of the dashboard with clear, sharp graphics along with all the latest on-board tech, including Android Auto and Apple CarPlay, wireless charging, the Mercedes personal assistant that can help with basic instructions, sat nav, along with an upgraded Burmester sound system on our high-end Night Edition model.
Comfort levels are truly sublime with powered seats, and there is enough room for a couple of adults in the back of the four-seater provided the front seats are not pushed back too far.
The acceleration out of the starting blocks is instant and the roof can be lowered on the fly when the sun shows its face. It can also be raised on the move which is handy with our crazy weather patterns.
It fizzes through the country lanes with confident grip and cruises with ease at motorway speeds effortless eating up the miles. The car feels well balanced and composed with beautifully weighted steering offering plenty of feedback. The flat-bottomed leather-wrapped steering wheel not only looks premium in its design, but can be used to access the screens and alter displays without being distracted from the road ahead.
The all-round driver visibility is great forwards and sideways but the over-the-shoulder view is hampered a little by wide pillars and the rear screen is fairly narrow too.
The only other slight downside on this exceptional car is the boot. Due to the section that is required to accommodate the roof, the boot capacity is restricted to just 360 litres when the soft top is raised, reduced to 285 litres when lowered.
But there are lots of practical storage compartments scattered throughout the car, including a lockable glovebox, a central cubby box, seat back pockets, deep door bins, plus front and rear cup holders.
There are drive modes called Eco, Comfort, Sport, Sport+ and Individual that alter the reactions and characteristics of the car and an Agility Control suspension set-up allows the driver to adjust the damping system.
It is dynamic to drive, but in all honesty, this Mercedes focuses more on comfort and that's not a bad thing. Switch across to Sport or Sport+ and everything gets edgier or you can use the paddles to change gears manually for added driver fun.
But, this is a car that's so comfortable to cruise in, it almost begs to be put in Comfort and left to get on with life in its own controlled, safe and very luxurious way. At times it feels like it's gliding along – it really is that smooth.
Safety features are comprehensive too and our car also boasted a Driving Assistance package, costing £1,695 extra, that introduced active blind spot assist, braking assist, active distance assist, emergency stop assist, lane keeping assist, speed limit assist, evasive steering assist and plenty more besides.
All in all, the latest E Class Cabriolet is a fabulous piece of kit. It oozes quality and class while delivering all the exhilaration expected from a Merc. Now all we need is the weather.
Test Drive
Mercedes E Class Estate E300de AMG Line Night Edition Premium+ (2021)
If you regularly need to cover hundreds of business miles in a week transporting a hefty amount of kit in the process, but still want to enjoy quality family time away, then few cars are as perfectly cut out for the job as the Mercedes E Class Estate.
And when you factor in the Night Edition styling, the AMG sportiness and the Premium Plus technology, the complete package offered in this particular Mercedes is difficult to match, let alone beat.
Admittedly at £58,290 (£60,670 with options) the E Class Estate E300de AMG Line Night Edition Premium+ is not exactly cheap. But for that outlay you do get a premium quality car that offers superb driving dynamics, all the on-board kit you could possibly wish for and exceptional comfort levels. It's also worth noting that our test model was at the top end of the range so carried a higher price-tag.
The five-door estate is powered by a 2.0-litre diesel engine alongside a 13.5kWh battery and 122hp electric motor to deliver a combined 320hp and 700Nm of torque. It can reach 62mph from a standstill in 9.0 seconds, maxes out at a limited 155mph and emits carbon emissions of 36g/km.
It has an electric-only driving range of 31 to 33 miles which is ample for many daily commutes, and if this facility is used to its full potential, the combined fuel economy is rated at 176.6mpg. Charging the battery from a standard 7.2kWh wallbox takes approximately two hours, which makes the E Class Estate very economical for short journeys while still offering the added reassurance of a tank full of fuel for longer trips.
There's no denying the E Class Estate is a head-turner with beautifully aerodynamic streamlining and sweeping curves, a panoramic sunroof, lots of AMG body styling, multi-LED intelligent headlights and 18-inch AMG alloy wheels in high gloss black.
Move inside and you are greeted with one of the finest, high-end interiors on offer in any model today. It's premium quality throughout without being the slightest bit garish. There is leather upholstery with grey open-pore ash wood trim and the AMG steering wheel is trimmed in Nappa leather.
There is a pitch perfect Burmester sound system, full smartphone connectivity via Apple CarPlay or Android Auto, wireless charging, three-zone climate control, heated seats, a heated steering wheel, and even the ambient lighting has 64 shades to choose from.
The car also features the clever 'Hey Mercedes' personal assistant system that offers access to all manner of information from weather updates, parking spaces availability, traffic updates, the closest fuel stations, plotting navigation routes and even lowering the temperature within the car.
And, for the first time, the E Class is available with the striking MBUX infotainment system that introduces two 12.3-inch screens that flow effortlessly into one another and are the main focal point within the cabin and offer access to the many on-board systems.
When put to the test, the E-Class cruises comfortably at 70mph on motorways, effortlessly eating up the miles. It is also confident on the more challenging B roads where it is ultra-grippy into tight bends, the steering is beautifully weighted and there is no sign of body movement.
Acceleration through the nine-speed automatic gearbox is both smooth and responsive with a constant stream of power on tap at all times. There are steering wheel paddles for added driver engagement, along with different drive modes to choose from that alter the car's reactions. Sport is definitely the most fun, but Comfort is the best selection for motorway cruising.
Inside the cabin, it is refined and occupants are well protected against any engine, road surface or wind noise. In addition, the agility control suspension set-up does a worthy job of smoothing out any bumps and dips along the way.
The semi-autonomous Drive Pilot system is worth exploring on long motorway stretches as it keeps the car inside its lane markings while turning the wheel gently, braking and accelerating as needed. You need to keep your hands on the wheel at all times, which was just fine with me.
Despite stretching almost five metres in length, the E-Class Estate is deceptively nimble around town and the driver benefits from good all-round visibility which is an added bonus with other motorists, cyclists and pedestrians darting out from all directions. And squeezing into a tight parking space is made simpler thanks to the parking package that includes a 360-degree camera and Active Parking Assist.
Comfort levels within the car are excellent and there is ample space for three passengers in the back without any complaints. There won't be any luggage restrictions either as the boot is generously sized and, throughout the cabin, there is a lockable glovebox, front and rear cup holders, a sunglasses holder, door bins with drink holders, seat back pockets and a deep central cubby box to store goodies.
As one would expect, the car is packed with a comprehensive list of safety kit too and secured a maximum five stars when tested for its Euro NCAP safety rating.
All in all, the latest E Class Estate with its plug-in hybrid technology, is a fabulous all-rounder that happily works from Monday to Friday clocking up the business miles, but offers all the versatility needed for the adventurous family to enjoy weekends away too.
Test Drive
Mercedes-Benz E 220 d AMG Line Cabriolet
No country comes close to Britain for its passion for open-top motoring – with the slightest hint of sunshine on the horizon no matter how low temperatures are plummeting, it's down with the roof and crank up those heaters.
These days convertiblescome in all kinds of guises. Obviously, there are the expensive high performance premium models. Then thereare the traditional two-seaters that offer exciting driving dynamics as you sit inches from the floor but may result in regular trips to the chiropractor. Then there are the more standard family car models that feature a roof that drops, which can look a bit like an afterthought. And finally, you get the sporty, coupe-styled four seaters that offer the perfect combination of comfort, performance, style and top-down fun.
And the very latest E-Class Cabriolet definitely falls into that latter category. It's the fifth and youngest member of the E-Class line-up that has seen a complete revision over the last 18 months and it's been well worth the wait.
Customers can select from a strong range of powerful diesel and petrol engines mated to a quick-fire 9G-TRONIC nine-speed gearbox and, for the first time, cars are offered with 4MATIC permanent all-wheel drive.
We tested the E 220 d AMG Line model powered by a 2.0-litre 194hp diesel engine which could sprint from 0-62mph in just 7.7 seconds and maxed out at 147mph. According to official figures, the car can deliver combined fuel economy of 57.7mpg with carbon emissions of 126g/km.
Our test carcarried a£44,675price-tag, but a raft of optional extras and add-on packs boosted the costs up to £50,490, which is actually very competitively priced for such a classy model.
When it comes to looks, the E-Class cabrio is a stunner that is guaranteed to turn heads thanks to its sleek coupe-like lines, lengthy bonnet with power-domes, low-positioned diamond grille housing the Mercedes star, tail lights that resemble the glow given off by a jet engine and LED high performance headlights that were upgraded to multi-beam LED intelligent lights on our car.
The interior oozes premium styling and certainly has the 'wow' factor throughout. It features the finest Nappa leather, plenty of soft touch surfaces, 64-way ambient lighting and a striking new woven metal trim along the dashboard and doors. Costing £365 extra, the trim looks similar to carbon fibre and houses the turbine engine-inspired air vents. One small feature that is testament to Mercedes' attention to detail is the seat belt extender button. The front seat belts are presented automatically when the driver and front seat passenger get in the car. But if the driver takes a little while to get settled, then simply press a button and the seat belt is delivered again over the right shoulder.
Comfort levels are supreme and the car boasts performance capabilities to match its dynamic styling. The latest model is 123mm longer and 74mm wider than its predecessor with a wider track and that all translates into improved driving dynamics. The acceleration through the nine-speed gearbox is both smooth and rapid with a constant surge of power on tap which makes very light work of overtaking at short notice. The road-holding is ultra grippy and tight bends can be attacked with a good degree of confidence.
There are paddle shifts if you fancy taking more control over the gear switches and driving modes called Comfort, Eco, Sport, Sport+ and Individual alter the vehicle's responses. The addition of an Air Body Control function allows you to further configure gear changes, throttle responses and much more.
In busy, congested town centres, the car is beautifully agile and makes light work of weaving its way through the traffic and then when the open road presents itself again, its foot down fun all the way.
Should the sun show signs of putting in an appearance, the roof can be lowered in 20 seconds whilst still travelling at speeds up to 31mph. It can be raised just as simply which is a bonus with our unpredictable weather patterns. A neat feature are the neck warmers that blow out warm air so you can still drive the car with the top down on chilly days without turning blue.
The multi-layered roof features sophisticated insulation to reduce wind and driving noise. In fact, with the roof up, it feels and sounds like a regular hard-top.
When it comes to infotainment, the Mercedes E-Class Convertible is packed to bursting with all the latest technology and the car boasts one of the most attractive display layouts on the market. Two 12.3-inch screens combine together to create one long info panel that looks like it is floating beneath the glass. These panels offer a wealth of information and the instrument cluster behind the steering wheel can be viewed in Classic, Sport or Progressive layouts offering a variety of data and readouts such as navigation, phone contacts, music and eco driving performance – all displayed in various colours and fonts.
Our car had the addition of a Premium Plus pack costing £2,895 that introduced a number of upgrades including a pitch perfect 23-speaker Burmester surround sound system.
The two-door E-Class Cabriolet is a designated four-seater and although there is room for a couple of adults in the back, leg room is a tad limited –especially if the front seats are pushed back. But up front it's a completely different picture with bundles of space for both the driver and passenger.
Storage options are typical for this style of car with a boot capacity of 385 litres (310 litres with the roof lowered) and there is a new load-through feature thanks to 50:50 folding rear seats. Throughout the cabin, Mercedes has been clever when utilising space and there are numerous practical storage options, including a glovebox, a covered double armrest where the smartphone connection cables are found, trays, cup holders and door bins. Back seat passengers also get cup holders, pockets that fold out from the back of the front seats, door bins and storage nets.
As one would expect, the Mercedes E-Class Cabriolet is packed with safety features and an optional Driving Assistance package on the test car, costing an extra £1,695, added blind spot detection and lane keep assist, evasive steering assist, drive pilot and pre-safe plus.
All in all, the latest E-Class convertible is a beautifully presented car that is packed with all the on-board technology you could possibly wish for. It looks amazing, boasts excellent driving and handling capabilities, is comfortable and offer the thrills of wind-in-the-hair motoring all in one very attractively priced package.
Test Drive
Mercedes E 220 d 4MATIC AMG Line Estate
In a day and age when buyers are clambering to get their hands on SUVs in all shapes and sizes it's worth remembering that there are a number of estate cars out there that offer the same levels of versatility but are far more finely tuned when it comes to ride and handling.
One such example is the beautifully-styled Mercedes E-Class estate model. It's quite a fine art creating an estate car with all its practicality possibilities that doesn't feel and handle like a bulky load lugger, and Mercedes has certainly produced a masterpiece with its six generation car.
It's capable of transporting between 640 and 1,820 litres of kit (which is van-like capacities) depending on seat configurations, but the E 220 d estate also delivers all the driving dynamics associated with a truly sophisticated, premium saloon car.
And when you factor in all the state-of-the-art on-board technology, along with impressive running costs, this German vehicle really is the complete package. And it needs to be with so many rivals battling for buyers' signatures in a fiercely competitive sector.
The E 220 d is an attractive car with head-turning qualities. It boasts elegant, sleek streamlining, LED high performance headlights with LED daytime running lights, lots of AMG body styling, 20-inch alloys, chrome roof rails, and a distinctive radiator grille that proudly carries the Mercedes star.
Step inside and the Mercedes oozes premium quality and all-round sophistication with a whole host of stand-out features to be explored. It has a modern and clutter-free feel with a huge floating tablet-like display screen that spreads almost the width of the dashboard and can be configured and customised to show various readouts.
Techno treats include electrically adjustable seats that can be heated with memory settings, a panoramic sunroof with sliding front section, sat nav, full connectivity with multi-media devices via Android Auto and Apple CarPlay, Bluetooth, a 360-degree camera and a neat ambient lighting feature that has 64 different settings to get just the right cabin atmosphere.
Comfort levels are exceptionally high and any passengers travelling in the rear of the car will have little reason to complain as there is ample leg, head and shoulder space and light floods into the car from the large windows and sunroof to help create a warm and welcome environment.
The test car was priced at £42,710 (£50,770 with options fitted). It was powered by a 2.0-litre 194bhp diesel engine mated to Mercedes' outstanding nine-speed automatic transmission. The vehicle could sprint from 0-62mph in a very brisk 7.8 seconds, topped out at 145mph and, according to official figures, it could deliver fuel economy of 57.7mpg on  combined run with carbon emissions of 137g/km.
However, stats and figures aside, it's the beautifully refined manner in which the car handles that really makes you sit up and take notice. It actually seems to glide along as the super-effective suspension irons out all the creases in the road surface and when it comes to comfort the E Class estate is right up there with the best premium marques with next-to-no engine, road surface or wind noise infiltrating the cabin.
In busy, congested traffic the car sashays along in a most composed manner and it is deceptively agile for its size – after all, this is a car that measures just shy of five metres in length. Yet the E 220 d estate is simple to park and has an excellent turning lock so there will be no five or seven point turns behind the wheel of this Merc.
Then out on the faster roads and motorways, the vehicle is happy to show the other side to its personality as a completely different animal is unleashed. The acceleration through the gears is super quick yet very controlled at the same time. But be warned, it's worth keeping a close watchful eye on the speedo as this car reaches cruising speed very quickly indeed with little effort.
The road-holding is ultra grippy meaning it can be pushed enthusiastically into tight bends and if you fancy taking a little more control there are paddle shifts to manually change gears.
A Dynamic Select feature allows you to choose from Eco, Comfort, Sport, Sport+ and Individual driving modes – the Dynamic+ certainly ups the ante when it comes to handling and performance. The screen settings can also be altered between Classic, Sport and Progressive to jazz up the styling even further.
As one would expect, Mercedes has kitted out the E-Class estate with a multitude of safety features and the test car included the likes of a Drive Pilot which will steer, accelerate and brake the car keeping it between the lane markings, active brake assist, evasive steering assist which helps the driver in an emergency to avoid a collision with a car or pedestrian, plus a whole array of other safety aids.
All in all, the E-Class estate is quite the all-rounder and is perfect proof that there are very good alternatives to the multitude of premium SUVs and crossovers that are flooding the marketplace.
Test Drive
Mercedes E220 BlueTEC AMG Line Saloon
Think of Mercedes cars and the first things that spring to mind are premium quality, outstanding performance and awesome technology, but now there's a new accolade to take into consideration – economy.
That's because the drop-dead-gorgeous E220 model complete with flashy AMG styling can deliver a combined fuel efficiency of 64.2mpg.
The car is eye-catching from any approach thanks to its sleek streamlining, twin tailpipes, sweeping light clusters, 18-inch alloys and distinctive AMG design traits.
And it's impossible not to be impressed with the level of luxury that greets you when you step inside the car. Techno treats include Bluetooth connectivity, sat nav, automatic climate control, ambient lighting, heated front seats and lots more besides.
The test car featured a Premium Plus Package costing £3,895 extra which added fully-powered front seats with memory settings, a panoramic glass sunroof, quick-fold rear seats, keyless entry with automatic boot opening, a reversing camera and an excellent surround sound audio system with 14 high-performance speakers.
But the E220 is not just about looks and creature comforts. It's a car that offers impressive handling capabilities and simply loves to be driven.
It can sprint to 62mph from a standing start in just 8.4 seconds and tops out at 141mph. But it really is that fuel efficiency figure that makes this car stand out in any crowd.
Yet unlike some ultra-efficient premium saloon models, performance and driving dynamics have not been compromised along the way. The E-Class is powered by a 2.2-litre diesel-driven engine delivering 177bhp and simply burns up the Tarmac.
The road-holding is exemplary and the steering extremely precise meaning the car can be thrown into corners on long sweeping country lanes. Yet, that said there is a distinctly refined nature to this car. It's ultra-quiet within the cabin with almost no engine, road surface or wind noise and all occupants are treated to high standards of comfort – as one would expect from a Merc.
Admittedly the E220 is not cheap and with the optional extras fitted to the test car the price-tag rose from £36,765 to £44,650, but it is a truly beautiful vehicle to drive.
The clear all-round visibility makes city centre driving a doddle.
And then out on faster-moving motorways, there is a constant supply of power on tap as the car moves effortlessly through the seven-speed automatic gearbox.
And to help achieve those impressive economy stats there is an ECO mode which maximises fuel efficiency.
The car boasts a comprehensive range of safety features, including the likes of collision prevention assist, adaptive brake system, attention assist to monitor driver fatigue, cruise control with variable speed limiter.
It also has an active bonnet which is a pedestrian safety measure which detects an impact and raises the bonnet by 50mm creating additional crumple zone, plus plenty more besides.
All in all, the E220 is a great piece of kit. It's not the cheapest or the most dynamic option available and possibly not even the best looking premium saloon on the market, but add together all its qualities (and there are many) and there's no denying it is a brilliant all-rounder.
Test Drive
Mercedes E300 BlueTEC Hybrid
Mercedes has developed a luxury car that will make life plain sailing for business drivers.
That's because the E300 BlueTEC Hybrid features a sailing function that helps keep fuel economy to a maximum without compromising driving dynamics.
It may sound too good to be true, but the car which is also the first ever diesel hybrid in the premium sector, the first premium estate hybrid and the most efficient premium segment vehicle in the world is fitted with some incredibly advanced technology.
It all starts beneath the bonnet with the size and positioning of the drive system. The 2.2 litre four-cylinder diesel engine developing 204bhp is complimented by a 20kw electric motor which is neatly integrated between the engine and the transmission system where it only requires 65mm of additional space.
And the lithium-ion battery also requires very little room so the whole technical operation can be incorporated into in a compact area under the bonnet which, unlike most other hybrids, means absolutely no compromise on space in the boot or cabin area.
A smaller battery may restrict the car's pure electric driving range, but that is something the Mercedes designers were happy to accept in order to gain reduced overall weight, extra space and better fuel economy.
In addition, Mercedes has implemented a raft of measures such as optimised aerodynamics, braking energy recuperation and the very effective ECO start/stop function into this vehicle, which is available in four-door saloon or estate versions – both fitted with a seven-speed automatic transmission.
Once inside, apart from several "hybrid" badges and the option to check your driving performance and take note of advisory tips, the dashboard looks pretty much like a conventional E Class.
But one feature that is anything but conventional is the car's sailing feature whereby you can cruise at speeds below 100mph. You just remove your foot from the accelerator and the combustion engine shuts down with the desired speed maintained by the electric motor alone until the battery needs extra charging. As I said – plain sailing!
Another factor of note is the boost function where the electric motor assists the diesel engine by providing additional torque when accelerating hard or overtaking.
I tested out the saloon model on a mixture of motorway and mountain roads in Germany, where it performed admirably. There is, like any hybrid model, the silent start up and gentle pull away in electric mode until extra power is needed from the diesel engine, but it was the sailing function that was most talked about.
It's simply amazing and so efficient. The smoothness is impressive even when you need an extra kick of power and revert back to diesel mode.
The car's handling proved to be accomplished in all driving conditions and the level of creature comforts cannot fail to impress with leather seats – heated or cooled, a leather dash with neat stitching, smart wooden inlays, sat nav, a highly effective dual zone air con, a great sound system compatible with all modern devices and much more besides.
The cabin noise is virtually non-existent in both electric or diesel powered modes and road-holding was flawless.
There is ample space for two six-footers in the back seats and the generously-sized boot can accommodate all luggage requirements too.
Acceleration was very smooth with figures of 0-62mph in 7.5 seconds and a top speed of 150mph.
Carbon emissions from 109g/km will attract the business drivers out there and fuel economy ranging from 67.3mpg is another money-saving bonus.
Although prices are yet to be confirmed for the UK market, it is likely the car will be available from about £38k when it goes on sale at the end of the year.
Test Drive
Mercedes E350 CDI BlueEfficiency Avantgarde Saloon
Oozing quality and state-of-the-art gadgetry at every turn, the Mercedes E350 is the perfect car for the driver who relishes the finer things in life – and has the cash to buy them!
That's because this vehicle really does have everything you could wish for in a car from fantastic technical wizardry to back-massaging seats and to top it all, the performance is pretty impressive too.
Admittedly at £52.6k (including £15k worth of extras) the E350 is not for the everyday shopper, but when it comes to executive cars, this really is in the top stream.
As far as appearances go, it would easily slot into a diplomatic convoy with ease and upon closer examination one cannot fail but notice the 17-inch alloys, panoramic sunroof, bonnet-mounted Mercedes emblem and robust, yet sleek curves and streamlining.
And once you take your seat behind the multi-function steering wheel the luxurious surroundings really take hold.
The seats, which can be heated and adjusted every which way are comparable to a favourite armchair and all the dials, controls and read-outs are perfectly positioned for driver use. In fact, after just a few moments, it feels like the E350 has been specifically built to your requirements – it really is that comfortable.
Creature comforts are plentiful and include a brilliant audio system with DAB radio and surround sound, automatic wipers and headlights, a reversing camera, a multi-media system with 7-inch colour screen that keeps you up to date with any traffic jams ahead and plenty more besides.
The spacious cabin can easily accommodate five people – four in extreme comfort – and the storage space is very generous. The boot can be opened and closed electronically at the press of a button and the load capacity is easily increased thanks to split-folding rear seats.
Elsewhere there are numerous useful storage options such as a large central bin and cup holders.
When it comes to performance, the E350 just loves to show off in its quiet, unassuming way. The 3.0-litre diesel-powered engine offers plenty of oomph and the acceleration can be blistering as and when required. The seven-speed automatic transmission is very smooth and the all-round great visibility makes driving this car a real breeze.
Cabin noise was relatively quiet and the ride was occasionally a little bumpy, but nothing to worry about. I think we can blame the general condition of our roads network there.
As one would expect, Mercedes has packed this vehicle with quality safety specifications throughout. This includes some amazing technology such as the Blind Spot Assist which warns the driver via an illuminated triangle in each side mirror when a vehicle is detected in the blind spot. Then there is a further audible warning if the driver indicates to pull out when a car is positioned in the blind spot.
All in all, the E350 is a great all-round vehicle filled to bursting with quality touches that all help to make driving today such a pleasure.
Test Drive
Mercedes 2.2 E250 CDI BlueEFFICIENCY Sport Cabriolet

An out and out attention seeker that basks in its own glory – that is the perfect way to sum up the beautifully-crafted Mercedes E-Class Cabriolet Sport with all its trimmings.
Admittedly, at £45k including the extras such as head and neck warmers and a superb traffic warning system that lets you know about any congestion ahead, this car is anything but cheap, but if it's quality, performance, comfort and safety that top your wish list, then look no further.
First impressions are vital and the E-Class cabrio sport has all the looks and lines to bring out the green-eyed monster in the most placid of bystanders. But it's once you take your seat behind the steering wheel that you just know you're in for something that little bit special.
Unlike many cabriolet models, the E-Class boasts a light and spacious cabin area with the roof firmly in place, but with the flick of a switch the soft top is folded away and you can set off at the mercy of Mother Nature!
The 2.2-litre diesel-driven engine delivers blistering power and the six-speed manual transmission is neatly grouped for ease of use.
In and around town, the car cruises through busy traffic and despite its size is very easy to park and manoeuvre – although those parking sensors are there for added reassurance.
But it's out on the open road, that this vehicle bursts into life cruising with ease amongst the faster moving traffic and even at higher speeds you just know there is always that little bit extra power at your disposal.
The ride is extremely comfortable thanks to the excellent suspension and leather seats that can be adjusted to offer lumber, neck and back support in every direction imaginable.
There is ample storage space throughout the cabin with plenty of useful compartments and although the boot area is a little limited due to the housing of the roof, it can still easily accommodate large items.
Everywhere you look there are quality features and the list of creature comforts seems endless and includes two-zone automatic climate control, sat nav, a media centre with compatibility access for every possible device from iPod to USB ports and memory card slots and the more conventional CD changer, a reversing camera, Nappa leather-trimmed steering wheel and gearshift, rain sensing wipers and plenty more besides.
And as one would expect, the list of safety features is very comprehensive with anti-lock brakes with brake assist, agility control sports suspension, multi stage airbags, a tyre pressure loss warning system and so the list goes on.
To be fair after a week driving the E-Class cabrio, I found it hard to pick fault, but if I try really hard my one criticism would be that the cruise control lever is too close to the indicator lever and at first I activated that function by mistake… but that really is it.
All in all, this is the dream car if you have enough pennies and don't mind the odd envious glare directed your way.
Test Drive
Mercedes-Benz E320 CDI Avantgarde
There's something comfortingly reassuring about booking a Mercedes test drive as you just know the car will be crammed with quality, style and panache and that's before you even touch on the performance credentials.
Thankfully, after such a big build up, the beautifully-crafted Mercedes E-Class lived up to my high expectations and at times, exceeded them too.
From the second you position yourself behind the steering wheel, it feels like this car has been made specifically for you with comfort and driver ergonomics in abundance. All dials, controls, buttons and read-outs are perfectly positioned for ease of use – it's like the E-Class is your own personal comfort blanket.
It is even fitted with an Intelligent Light System which is ingenious in its design and offers four different modes that adapt to changing driving conditions.
So, if you are driving along a dark lane, the country mode is enabled so increasing the headlights' brightness towards the left hand side of the road.
It's these sort of safety features that really help the E-Class stand out. Other specifications include the vehicle's actions should an accident be imminent.
For example, if you brake really hard or the vehicle begins to skid, the seatbelts automatically begin to tension, the windows and sunroof will close automatically and the front passenger seat will move to a position whereby the airbags will be at their most effective.
Now, that's what I call quality safety features, and of course, the more traditional anti-lock brakes and stability programmes etc are also included.
Inside, the cabin boasts ample room for five adults to travel in style and with a generously-sized luggage compartment they can bring along all their travel essentials too. Creature comforts include an excellent air con system, brilliant sound system and seat warmers to brighten up any winter morning.
So, it has looks, great safety and comfort features, but what about the drive itself? Well, hang on to your hat – that's all I can say! The E-Class delivers a fantastic drive with exceptional handling both in and around town and out on the more open road.
In fact, if money is no object, this could be the perfect all-rounder to suit all desires of motoring.