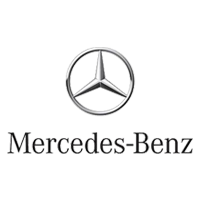 Mercedes Benz
A-Class/AMG
Small but beautifully formed, the stylish Mercedes A-Class is a car that's guaranteed to hold its value. With a choice of engine sizes and spec levels, there is bound to be an A-Class to suit all tastes. The on-board technology includes Mercedes' innovative MBUX system as standard across the range.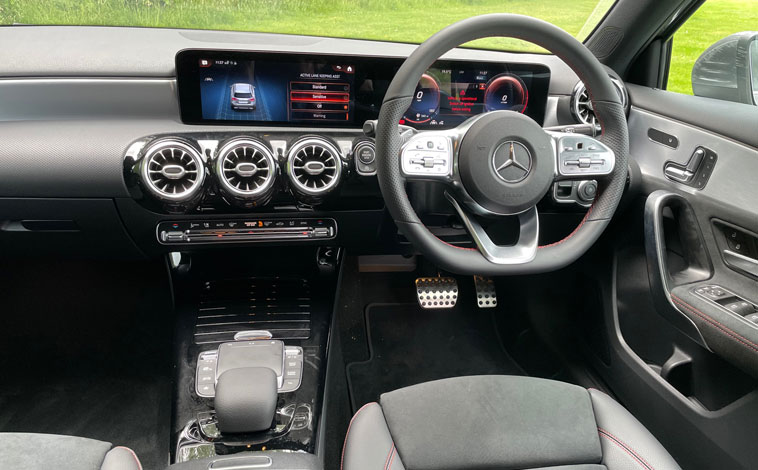 The good
Outstanding infotainment system
The bad
Price climbs steeply when optional extras are factored in
Tech Specs

Price from
£23,755

Combined Fuel up to
68.9mpg
0-62 from
6.2 seconds

max speed up to
155mph

co2 from
108g/km
Test Drive
Mercedes A 200 d AMG Line Premium Plus (2021)
They say great things come in small packages and the perfect proof that 'they' are spot on is the latest Mercedes A-Class.
It's a sporty, tech-rich car with plenty of personality that is available in hatchback or saloon body styles. And while the latest five-door model may be compact in size stretching just 4.4 metres, it certainly feels much bigger and Mercedes has been very clever to maximise cabin space to its full potential.
Would-be buyers have a generous mix of engines, transmissions, body styles and trim levels to choose from with the model line-up starting from £23,755.
We opted for the hatchback version in high-end AMG Line Premium Plus specification powered by a 2.0-litre diesel engine delivering 150hp and 320Nm of torque.
This A-Class, priced at £35,845 (increased to £37,935 with options) could sprint to 62mph from a standing start in a very respectable 8.1 seconds and maxed out at 137mph. According to official WLTP figures, it could deliver a combined 57.7mpg with carbon emissions of 132g/km.
There's no denying the fact that the A-Class is a head-turner with its dynamic design featuring plenty of AMG-themed bodystyling. There is a very distinctive front grille housing the Mercedes emblem, a panoramic glass sunroof, privacy glass, multibeam LED headlights and smart 18-inch AMG alloys.
Move inside and the interior is still one of the finest on offer in the current market. It's modern, clutter-free and packed with technology without being garish or over-the-top in any way.
With power-adjusted front seats, getting a comfortable driving position is a simple process and the black upholstery is set off nicely with red contrast stitching. On-board technology is plentiful and includes a 10.25-inch touchscreen that blends seamlessly into the 10.25-inch digital cockpit display. This creates one uninterrupted display stretching two-thirds of the dashboard that can be configurated to taste.
There is full smartphone connectivity via Apple CarPlay and Android Auto, sat nav, a wireless charging pad, heated seats, an advanced sound system and the company's clever voice-activated personal assistant that is brought to life by saying 'Hey Mercedes'.
Then it's just a case of selecting and asking your question from programming the navigation system, reducing the climate control to finding a favourite radio station and much, much more.
So, the Mercedes A-Class is very easy on the eye and packed to bursting with creature comforts, but how does it handle when put to the test? The answer is exceptionally well.
The acceleration through the eight-speed automatic gearbox is nicely timed with ample power on tap for swift bursts of pace to overtake. There are steering wheel-mounted paddles for added driver engagement and also drive modes called Eco, Comfort, Sport and Individual that alter the reactions of the car considerably with Sport being the most fun on the quieter B roads.
The road holding is ultra-confident and there is little sign of any body sway through the bends. The car cruises effortlessly on motorways eating up the miles for fun and is beautifully nimble in city centre environments too, where the great all-round driver visibility is another plus point.
The cabin is nicely refined with excellent insulation protecting occupants from engine, road surface or wind noise, and the highly effective suspension system somehow manages to make our UK roads seem smooth.
There is room for a trio of passengers in the back, although two would be far less cramped, especially if the front seats are pushed well back. Storage options are impressive too with a boot capacity that ranges from 345 litres with the rear seats upright to 1,185 with the 40:20:40 split-folding seats dropped flat.
In addition, there is a glovebox, front and rear cup holders, deep door bins, a central cubby, a tray and seat back pockets to store away other bits and bobs.
And when you factor in the comprehensive list of safety features that helped the car secure a maximum five-star Euro NCAP rating when tested, the fourth-generation A-Class really is the complete all-round package.
Test Drive
Mercedes A-Class – first drive (2018)
When a car manufacturer choses the international consumer electronics show in Las Vegas to showcase its latest multimedia system then it must be pretty special and after a guided tour around the all-new Mercedes MBUX set-up I can confirm it is indeed out of this world.
These days, the on-board technology is a crucial selling point and has become as important to many buyers as a car's performance stats. If you're in any doubt then check out the number of mobile phones on show at any restaurant dining table – we simply can't be offline for a minute without going into meltdown.
The vast majority of modern cars have some form of infotainment system built in these days, some are relatively primitive, some require computer programming knowledge to navigate successfully, others work quite efficiently and then there is the Mercedes MBUX which takes personalisation and connectivity to a whole new level.
The all-new fourth generation A-Class is the first car to feature the MBUX system which stands for Mercedes-Benz User Experience. It looks ultra-slick and modern with two 10.25-inch touchscreens that seem to blend into one another beneath a sheet of glass.
The rotary dial used to navigate the car's systems in previous A-Class generations has been replaced by a simple touchpad and there is a "Hey Mercedes" voice recognition system which can help with anything from traffic hot spots, to finding music, phone contacts, weather updates and even the nearest coffee shop with star ratings – after all who wants a bad coffee?
The screens can be configured individually to display a whole host of information and after a 30-minute guided tour, I was still only skimming the surface of its capabilities. There is a clever profile facility which allows different users to store settings such as their favourite seating positions, car temperature, radio stations, ambient lighting levels and so much more – this is a great idea if the car is shared by more than one person.
But the MBUX system is just one of the many impressive features on the new A-Class which was originally launched back in 1997. It has had quite a growth spurt – it's 14mm wider, 30mm longer and is available with a choice of punchy petrol or diesel engines all mated to a seven-speed automatic gearbox.
At the moment the engines on offer in the A-Class are the A 180 d 1.5-litre 116hp diesel, the A 200 1.3-litre 163hp petrol and the A 250 2.0-litre 224hp petrol, but there are plans in the pipeline to introduce additional engines along with a six-speed manual transmission later in the year. The A 250 is the quickest with a 0-62mph sprint time of just 6.2 seconds and top speed of 155mph while the A 180 d is the most economical with combined fuel efficiency of 68.9mpg and carbon emissions of 108g/km.
Prices start from £25,800 and rise to £30,240 (without any options) and there are three well-equipped trim levels to choose from called SE, Sport and AMG Line. All models come with the MBUX system, but the screen sizes are reduced to seven inches unless optional packs are added.
SE models boast 16-inch alloys, sat nav with real time traffic information, DAB radio, air conditioning, active lane keep assist, speed limit assist and lowered comfort suspension.
Move up to Sport and you will see the introduction of 17-inch alloys, LED high performance headlights, upgraded upholstery and automatic climate control.
The range-topping AMG Line adds 18-inch AMG alloys, AMG body styling, improved seat upholstery again, sports seats plus a three-spoke sports steering wheel.
As one would expect from a premium car maker, there are a number of packs to factor in if you want a car that boasts all the bells and whistles. For example, an Executive pack costing £1,395 introduces the stretched 10.25-inch touchscreen media display along with active parking assist, heated front seats and a Mirror package. The £2,395 Premium pack adds the second 10.25-inch cockpit display creating the widescreen effect plus 64-colour ambient lighting, illuminated door sills and a few other extras. And finally, the Premium Plus pack costing £3,595 includes the two full-sized screens and adds extras such as further memory functions, multi-beam LED headlights with adaptive high beam assist and a panoramic roof.
The boot has increased slightly in size and has a 370-litre capacity which increases to 1,210 litres with the 40:20:40 split-folding rear seats dropped flat. The width of the boot opening has also grown making it easier to load awkwardly-shaped items.
We tested a couple of the new A-Class models and both versions had their own individual charm. The first car was the A 180 d diesel model in AMG Line costing £28,540 (£28,660 with options). This car could sprint to 62mph from a standing start in 10.5 seconds, maxed out at 125mph and could deliver combined fuel economy of 68.9mpg with carbon emissions of 111g/km.
As there were no additional packs added to this model it had the more basic seven-inch screens which still looked really smart although they were not flush behind a sheet of glass.
When it comes to performance and handling capabilities, the A-Class is a delight to drive shifting effortlessly through the gears. Driven with a heavy right boot, there will be a lot of loud revving but if given a little respect, the transition through the gears is a lot smoother. Paddle shifts offer extra control over the gear changing.
The diesel powertrain is nicely refined with barely a sound filtering through into the cabin and, of course, you get the great economy with this particular model. We were seeing just shy of 62mpg after 90 minutes driving.
Next up was the A 200 petrol model, also in AMG Line. This car was priced at £28,700 but the addition of a Premium package and a few other options saw the cost climb to £31,710. It could complete the 0-62mph dash in a rapid 8.0 seconds, topped out at 139mph and delivered 53.3mpg on a combined run with emissions of 123g/km.
This version featured the fabulous new double screen set-up which is very user-friendly. Within minutes we were saying: "Hey Mercedes" which brought the computer to life and we asked it to increase the temperature, find radio stations and other random stuff. I particularly liked the way favourite icons such as navigation, phone or radio could be moved and prioritized similarly to a smartphone's apps.
When it comes to performance, the petrol model is definitely sharper and the driver can flick through various drive modes to liven things up even further – sport certainly makes the car edgier. On the downside, you lose the excellent fuel economy of the diesel model. We were seeing 44mpg.
All in all, when you factor in the generous array of top notch safety features the latest A-Class is a tremendous piece of kit. Yes, you have to pay out for the most advanced system, but you will be driving a car packed to bursting with state-of-the-art and innovative technology.
Test Drive
Mercedes A-Class (2015) – first drive
While you may need to search quite hard for any radical changes to the latest face-lifted third generation A-Class model, the Mercedes has some subtle design cues, offers increased power, improved efficiency and better comfort levels.
And for motorists looking to take extra control over their driving experience, all models apart from the entry level SE spec now feature Dynamic Select with four varying modes – Individual, Eco, Comfort and Sport – which all adjust the car's handling and characteristics.
There are four trim levels to choose from called SE, Sport, AMG Line and AMG and standard equipment levels are impressive even on lower grades with the likes of 16-inch alloys, speed-sensitive power steering, a multi-function leather sports steering wheel, ambient lighting, a great sound system which is compatible with all modern media devices, Bluetooth connectivity and plenty more besides. In fact, Mercedes claims an extra £1,100 worth of equipment has been added for a price increase of just £350.
And as you move up through the range additional features such as larger alloys, a bigger colour touchscreen, climate control and AMG body styling are included.
There is a wide choice of powertrains with the A 180 d model achieving a claimed 80.7mpg with carbon emissions of 89g/km. (Mercedes has ditched the CDI label for a simple 'd' on its diesel models).
While the design tweaks are not earth shattering, the car's looks have been sharpened up thanks to the diamond grille, revised tail lights, more angular front bumper and new rear bumper with integrated exhaust pipes.
Prices start from £21,065 and rise to a whopping £39,995 for the mighty A 45 AMG 4MATIC with its 381bhp and 475Nm of torque which can burst to 62mph from a standing start in just 4.2 seconds and tops out at a limited 155mph.
Obviously that sort of performance does impact on economy with combined fuel efficiency of 40.9mpg. That said; we saw well below that figure on a three-hour run in Germany which included long stints on the autobahns.
The handling was mind blowing at times with blisteringly fast acceleration through the automatic gearbox – you can use the steering wheel-mounted paddles if you choose to take extra control.
The road-holding was assured and the pin-point steering was another plus factor and meant the car could be pushed hard into tight bends. The sound effects are pretty effective too with a real wake-up-the-neighbours fizz, crackle and bang from the exhaust which means you are unlikely to pass by unnoticed
I also had the opportunity to test out two of the more reasonably priced and slightly more sedate models – the A 200 d and A 200 petrol versions – both in Sport trim. These vehicles are likely to account for a large percentage of sales and although they don't have the same blistering performance and mind-numbing driving dynamics as the A 45 AMG 4MATIC, they both handled beautifully.
The petrol version mated to a six-speed manual gearbox was priced at £23,715 and can reach from 0-62mph in 8.1 seconds with a top speed of 139mph. It can achieve combined fuel economy of 49.6mpg with carbon emissions of 132g/km.
Noise levels within the cabin are impressively low with next-to-no engine, road or wind noise and comfort levels are high with supportive sports seats and ample space for two adults to stretch out in the back. The generous boot can accommodate 341 litres of luggage, a capacity that can be increased to 1,157 litres with the split-folding rear seats dropped flat.
Finally, the highly economical A 200 d with a six-speed auto box priced at £25,660. This model can reach 62mph from a standing start in 8.8 seconds and redlines at 130mph. It can deliver combined fuel efficiency of 74.3 with emissions of 103g/km. Once again the handling was sharp, responsive and smooth with a constant supply of power on tap which helps make light work of overtaking. There was a little more engine noise from this model, but it wasn't loud by any means and obviously the diesel variant does offer the improved fuel efficiency along the way.
Mercedes has always delivered a thoroughly comprehensive range of safety specifications, but the German marque has really upped the ante with the new A-Class. It now boasts, as standard, collision prevention assist with partial autonomous braking, attention assist to detect driver fatigue, seven airbags, acceleration skid control, an active bonnet and plenty more. Optional extras introduce the likes of blind sport assist, lane keeping assist, pre-safe and Distronic Plus.
Obviously the compact family car segment is fiercely competitive with strong opposition from BMW and Audi, but sales figures for the A-Class continue to grow steadily with the UK being the second biggest market in Europe and the latest version is likely to see that successful trend continue.
Test Drive
Mercedes A 250 AMG BlueEFFICIENCY
If you're the sort of person who likes to wander through life going unnoticed and is quite satisfied with "average" as a benchmark then the Mercedes A 250 AMG is most definitely not the car for you.
That's because this striking model is anything but average. It looks amazing, boasts incredible driving dynamics and is packed to bursting with high quality and very distinctive features.
Guaranteed to draw attention wherever it goes the A 250 looks great from every angle thanks to the AMG bodystyling, LED tail lights, polished chrome twin tailpipes, privacy glass, 18-inch alloys, panoramic sliding roof and intelligent lighting system with Bi-xenon headlamps, adaptive high-beam assist, cornering light function and plenty more besides.
And if those distinctive features don't instantly grab your attention, it's impossible not to be wowed by the sophisticated interior design with its beautiful contrast of colours and materials throughout.
The test model featured the AMG Exclusive package which added an additional £1,080 to the asking price.
This pack introduces a black roof lining, heated leather seats with four-way lumbar support, Lava Black leather upholstery with red perforations, a matching leather upper dash with contrast red stitching plus special mats.
This is all finished off perfectly with the eye-catching circular air vents with red inserts and black surrounds, the flat-bottomed sports steering wheel and neat carbon fibre looking trim that adorns the cabin to create a really appealing and charming driving environment.
And, as one would expect, there are techno treats galore such as a brilliant surround-sound multi-media system, sat nav, luxury automatic climate control and much, much more.
So the A 250 AMG looks amazing and will instantly capture your attention with its craftsmanship and design, but how does it handle?
Once again, it's a total winner. Bright red seatbelts are an indication of what's to come
The 2.0-litre petrol-powered engine delivers plenty of gusto, and acceleration through the seven-speed automatic transmission is very rapid. There is also the option to change gears manually thanks to steering wheel-mounted paddles if so desired.
In busy traffic, the car cruises along effortlessly. Then out on the open road it's like a caged animal has been unleashed – road-holding is superb and the driving dynamics really impressive. There is a bit of engine noise and you are guaranteed to feel the occasional bump or two, but that all adds to the A 250's appeal.
One criticism would be the poor visibility through the rear screen which is rather hampered by the trio of headrests, but that aside, the car is an absolute pleasure to drive.
Storage is good with a capacity of 341 litres of space which can be increased to 1,157 litres with the rear seats folded flat.
Mercedes has packed a very comprehensive range of safety features into the car including electronic stability programme with anti-lock brakes and brake assist, blind-spot assist, lane departure warning system, collision prevention assist and an efficient security alarm and immobiliser to keep away any unwanted attention.
The A 250 AMG is not cheap, the test model's price-tag rose from £28,775 to £40,365 with a number of optional extras, but this is a premium car filled to the brim with premium appeal.