Suzuki
SX4/SX4 S-Cross
With low running costs and a very appealing initial outlay price, the SX4 S-Cross has plenty to offer in today's climate. There is a choice of petrol or diesel engines, a selection of trim grades and transmissions and it is also available with an all-wheel-drive option.
The good
Nice sleek design
The bad
Not as spacious as some rivals in the segment
Tech Specs

Price from
£13,999

Combined Fuel up to
67.3mpg
0-62 from
11.4 seconds

max speed up to
112mph

co2 from
106g/km
Test Drive
Suzuki S-Cross 1.0 Boosterjet SZ-T
Gaining attention in the fiercely competitive compact SUV sector is no easy task, but thanks to its sporty good looks, wealth of on-board technology and attractive pricing structure, the Suzuki S-Cross is turning plenty of heads.
It faces stiff competition from the likes of the Vauxhall Mokka and Renault Captur but after a week behind the wheel of our test car, it's evident that the S-Cross can more than hold its own. It's a great looking five-door model powered by a punchy, yet efficient three-cylinder, 1.0-litre petrol engine and it certainly delivers on the performance front.
Our car, in SZ-T trim level, carried a £20,749 price-tag but the optional Sphere Blue paint job added an extra £500 to the final cost. The tiny Boosterjet engine can power the S-Cross from 0 to 62mph in 11.0 seconds and it has a maximum speed of 112mph. According to official figures, it can deliver combined fuel economy of 44.9mpg with carbon emissions of 142g/km (WLTP).
The S-Cross is beautifully proportioned with 17-inch polished alloy wheels, a distinctive chrome front grille, rear privacy glass, wheel arch extensions and under protection mouldings, body-coloured door handles and mirrors, black A and B pillars, LED daytime running lights and silver roof rails.
Move inside and the clutter-free and modern interior offers enough space for four adults to travel in comfort and there's plenty of storage room too with a boot capacity that ranges from 430 to 875 litres with the 60:40 split-folding rear seats dropped flat. Elsewhere, there are plenty of handy compartments to store away any goodies, including an underfloor storage area in the boot.
The upmarket interior is complemented by a range of techno treats such as a neat touchscreen complete with navigation system, a six-speaker sound system, DAB radio, dual zone air conditioning, rain sensing wipers, automatic lights, full smartphone connectivity, Bluetooth and lots more besides.
And when it comes to performance, Suzuki seems to have hit the jackpot with its lively three-cylinder, 111PS 1.0-litre Boosterjet engine which is mated to a nicely timed five-speed manual gearbox. It pulls strongly and can cruise effortlessly at the national speed limit on motorways. Admittedly, the noise within the cabin is more elevated with additional road surface, engine and wind noise filtering through, but there is ample power on tap from this compact powertrain.
In busy town centres, the S-Cross is beautifully nimble and easy to manoeuvre. The light steering is ideal for lots of weaving in and out of traffic and for squeezing into tight parking spaces where the all-round sensors and reversing camera are a bonus.
Then out on the faster country lanes, the car also proved great fun as it willingly showed off its more dynamic characteristics. The road holding is confident and there is minimal body movement even when driven at pace into bends. The suspension does a fairly thorough job of ironing out the poor road surfaces, but an unexpected pothole will send the car off track.
The S-Cross achieved a maximum five stars when it was tested for its Euro NCAP rating and boasts a wealth of features to protect occupants and passengers alike, as well as a number of driver aids to help prevent accidents from happening in the first place. Specifications include the likes of anti-lock brakes with electronic brakeforce distribution and brake assist, electronic stability program, side impact protection beams, ISOFIX child seat fixtures, hill hold control, a tyre pressure monitor, parking sensors, a rear parking camera, cruise control with speed limiter and seven airbags.
All in all, the Suzuki S-Cross is a fabulous compact crossover that is excellent value for money. It's athletically styled, drives well, is packed with creature comforts and has a competitive price-tag too.
Test Drive
Suzuki SX4 S-Cross 1.6 DDiS ALLGRIP SZ5 TCSS
The demand for crossover vehicles and all the practicality they bring with them has never been greater, so there is always room for new models that are easy on the eye and easy on the bank balance.
And the perfect example of those virtues is Suzuki's SX4 S-Cross priced from £13,999. All cars are generously equipped and offer five-door practicality, and whilst two-wheel drive and a manual gearbox are standard, there is the option to upgrade to Suzuki's ALLGRIP technology and introduce a CVT automatic transmission.
We tested the range-topping SZ5 model powered by a 1.6-litre 120PS diesel engine mated to a twin clutch automatic gearbox with all-wheel-drive costing £25,149. This particular car can sprint to 62mph from a standing start in 13.0 seconds and redlines at 108mph. According to official figures it can deliver combined fuel economy of 62.8mpg with carbon emissions of 119g/km.
When it comes to first impressions, the SX4 S-Cross is certainly eye-catching with numerous stand-out features, such as 17-inch alloys, silver roof rails, a smart black grille with chrome surround, silver front, rear and side skid plates, front fog lamps, LED daytime running lights, rear privacy glass and the world's first double panoramic glass sunroof.
Step inside and you'll soon discover that this is one very upmarket Suzuki. Admittedly, if you look hard enough there is some cheaper hard plastic materials incorporated into the design, but it's worth remembering this is not a premium car and doesn't carry a hiked up premium price-tag. The cabin is light, bright and spacious with ample head, leg and shoulder room for four adults to travel in comfort – five at a bit of a squeeze.
And there is a whole range of techno treats to be discovered, such as a colour touchscreen, sat nav, DAB digital radio with CD player, a six-speaker sound system, Bluetooth connectivity, cruise control with speed limiter, a rear parking camera, automatic wipers and headlights, dual zone air conditioning with pollen filter, and plenty more besides. Also worthy of note is the clear and precise instrumentation with smart blue dials.
The comfort levels are good throughout with leather seats that can be heated. And with practicality in mind, the boot has a capacity of 430 litres which can be increased to 875 litres with the 60:40 split-folding rear seats dropped flat. There are bag hooks, four cupholders, practically-sized door pockets, a deep glovebox and a handy central bin.
In busy town centres, the SX4 S-Cross proved very nimble and easy to manoeuvre, plus the high-seated driving position offered excellent all-round visibility which is a 'must' on a vehicle that will feature prominently on the school run with cars, children and parents darting out from all angles. Then out on the faster roads and motorways the SX4 S-Cross proved it could also hold its own alongside fast-moving traffic. Acceleration through the six-speed automatic gearbox was nicely responsive and it was a bonus to have steering wheel-mounted paddles to take a little extra control over the gear changes out on the twisting country lanes.
The ALLGRIP set-up offers four driving modes – auto, sport, snow and lock – and adds the extra reassurance that the vehicle will be capable of dealing with any unexpected weather patterns. In addition there is a host of other safety features, including anti-lock brakes with electronic brakeforce distribution and brake assist, hill hold control, electronic stability programme and seven airbags.
If I were to be really picky, then the auto stop/start system was a tad clunky when starting up, but it's easy to disable if it gets on your nerves.
However, that minor gripe aside, the latest Suzuki is a pleasing addition to the ever-growing crossover segment and with its striking looks, wealth of on-board technology, excellent economy and smart handling it's yet another model worth considering when looking for a car to suit an active family without breaking the bank.
Test Drive
Suzuki SX4 S-Cross
The crossover market is awash with vehicles but there's a new kid on the block and it's likely to make quite an impression.
That's because the stylish Suzuki SX4 S-Cross is very competitively priced, boasts, a choice of engines, transmissions, drive options and four richly-equipped trim levels.
And if that's not enough, it handles really agreeably too.
With prices starting from £14,999, Suzuki hopes to take on the likes of the Nissan Qashqai, Kia Sportage and Hyundai ix35 with its new arrival and Ed Norman, Product and Planning Manager Suzuki GB, believes it is the beginning of something very positive for the company.
He explained: "The SX4 S-Cross is the start of the reinvention of the Suzuki line-up. It will appeal to family buyers, help develop new opportunities in the fleet sector and bring new people to the Suzuki brand."
The name may sound a little familiar to Suzuki fans and that's because there is already an SX4 model, but the SX4 S-Cross is an all-new car with the emphasis firmly on the S-Cross label.
I tested out a couple of variants on an interesting road route incorporating busy town centres, open country roads and motorways.
The first car was the 1.6 ALLGRIP petrol model with CVT gearbox in top-of-the-range SZ5 trim, priced at £22,879 which included £430 extra for metallic paint.
This car can reach from 0-62mph in 13.5 seconds and has a top speed of 102mph. According to Suzuki figures, it has carbon emissions of 130g/km and combined fuel efficiency of 49.5mpg. I managed to achieve 43.8mpg which isn't too far off the mark.
It has to be said, the S-Cross has plenty of eye-catching features with smooth streamlining, black wheel arch extensions, a rounded front bonnet, daytime running lights, neatly contoured shoulders, smart 17-inch alloys, silver skid plates, silver roof rails, privacy glass and plenty more besides.
There is a real sense of upmarket quality to the interior too and the days when Suzuki models seemed to be overrun with cheap plastic seem long gone. There is a soft-touch dashboard and lots of other quality technology and creature comforts to admire.
For example, there is that massive double-sliding sunroof, heated leather front seats, parking sensors, a rear parking camera, sat-nav, keyless entry and start, a good sound system which is compatible with modern devices, dual-zone air con, LED lights, rain-sensing wipers and Bluetooth connectivity.
The interior is very bright and spacious with light flooding into the cabin via that massive sunroof. There is ample room for four adults to stretch out in style – five at a push and the boot is a good size too with a capacity of 430 litres that can be increased thanks to split-folding rear seats. Elsewhere, there are plenty of smaller storage options throughout the car including an under-floor compartment in the boot.
With the ALLGRIP system, the driver can choose from four driving modes – auto, sport, snow and lock (which can be used to get the car out of potentially sticky situations such as heavy snow or sand).
The S-Cross handled really well and the high-seated driving position means excellent all-round visibility. I did find the CVT gearbox a little jumpy at times, but that aside the performance was impressive with next-to-no engine or road surface noise.
The next car to be tested was the 1.6 diesel model in 2WD with six-speed manual transmission and SZ5 spec level. This was priced at £22,179 and once again included £430 for metallic paint.
This particular model can reach 62mph in 12 seconds and tops out at 111mph. According to Suzuki it has emissions of 110g/km and a combined fuel economy of 67.2mpg. I managed to achieve 59.1 which again is pretty impressive.
In my opinion, this model was the pick of the two with far superior acceleration and more responsive driving dynamics. The all-round handling seemed more refined and the ride much smoother.
An all-wheel-drive version of this model adds a further £1,800 to the asking price.
As one would expect these days, the S-Cross boasts a fully comprehensive range of safety and security features.
All in all, the S-Cross is definitely a welcome arrival in the segment and it will be interesting to see how competitors react.
Test Drive
Suzuki SX4 1.6 SZ4 petrol manual
Admittedly, the Suzuki SX4 is not the biggest sports utility vehicle you'll ever come across, but it is great fun, very economical to run, packed to bursting with quality features and even has a price tag to keep your bank manager smiling.
Billed by Suzuki as the sports crossover for all seasons, the SX4 certainly has a multitude of qualities and there is a certain sense of practicality about the vehicle too. The mid-spec SZ4 model supplied for my test drive boasted good looks with eye-catching alloys and a chunky front end.
Then inside, features include central locking, air conditioning, pollen filter, tinted glass, a CD player with eight speakers including a centre dashboard speaker and MP3 compatibility – although I have to say the radio never quite sounded tuned in!
There are four electric windows, keyless entry and start, heated door mirrors and plenty more besides.
The driver benefits from a relatively high seated position which means all-round visibility is outstanding and any reversing into tight parking spaces is simplified by the rear sensors.
Although the vehicle is designed to hold five adults, in reality four can travel in comfort or five at a push.
But all passengers benefit from the light and airy atmosphere in the cabin thanks to the high sides.
In and around town, the SX4 was a pleasure to drive as it zipped through the busy congested traffic with ease and the five-speed manual transmission was both responsive and easy to use.
Out on the more open and faster roads, the 1.6-litre petrol-driven engine provided ample power to hold its own in faster moving motorway traffic. But the vehicle did die a little on steeper inclines if fully laden.
The vehicle is capable of carrying plenty of luggage with a generously-sized boot which can be expanded further thanks to the 60:40 split rear seats which can quickly and easily be folded flat.
Suzuki has fitted the SX4 with a very comprehensive list of safety features including anti-lock brakes, electronic brake force distribution, plenty of airbags, top-of-the-range seat belts and lots more besides.
All in all, the SX4 is a great vehicle for the family that enjoys the active lifestyle and with a price tag of less than £12.5k it means they can carry on enjoying it too.
Related Reviews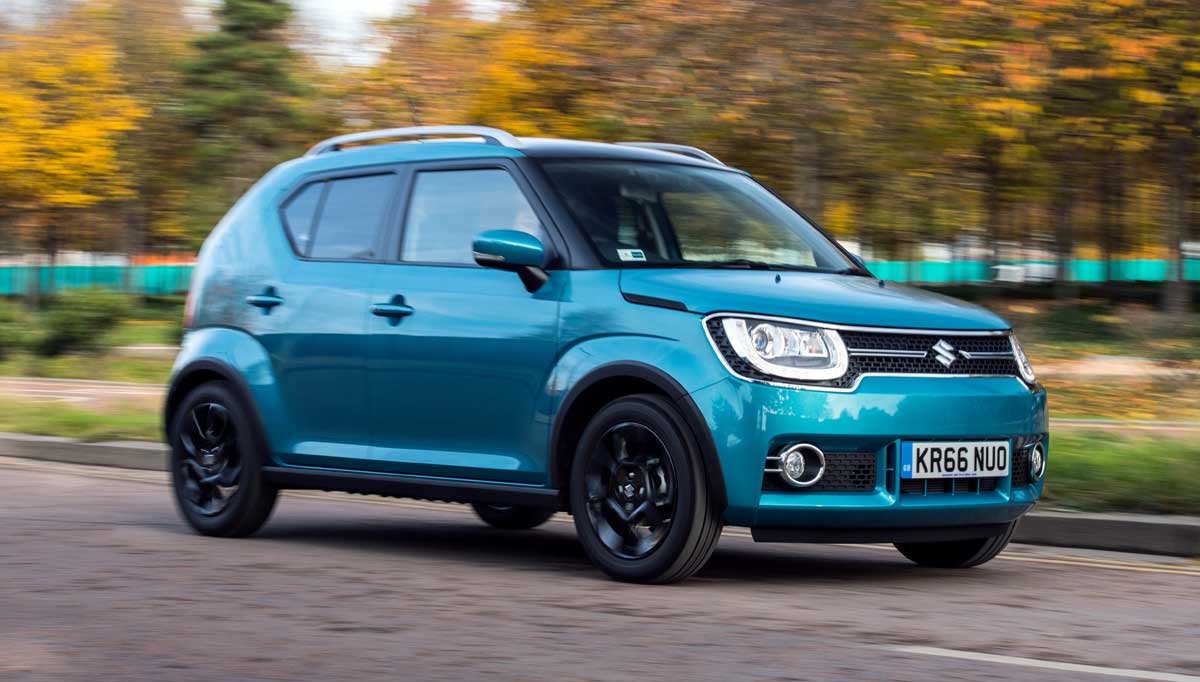 Suzuki Ignis