McLaren
720S
The McLaren 720S is a supercar with real attitude. It boasts a 4.0-litre 720PS V8 petrol engine delivering 770Nm of torque, and can blast its way to 62mph from a standing start in just 2.9 seconds and doubles that speed reaching from 0 to 124mph in 7.8 seconds. Top speed is a whopping 212mph.
The good
Styling, dynamics and all-round handling
The bad
Waiting list
Tech Specs

Price from
£218,020

Combined Fuel up to
26.4mpg
0-62 from
2.9 seconds

max speed up to
212mph

co2 from
249g/km
Test Drive
McLaren 720S (2017) – first drive
IF you happen to have a couple of hundred thousand pounds stashed away and have a particular liking for supercars then McLaren may have the perfect investment.
It comes in the shape of the all-new McLaren 720S – a supercar that delivers ridiculously fast sprint times and boasts a top speed that would only be achievable on an unrestricted section of the German autobahn or a disused private runway.
The McLaren name goes hand in hand with Formula 1 racing, but the company decided to branch out seven years ago and so McLaren Automotive was created. It brought the marque's know-how to 'everyday' drivers – or rather those with a massive bank balance.
Since 2010, the company has celebrated fabulous sales success and with all its cars hand-assembled at Woking there is never any fear of mass production. That means McLaren owners enjoy a certain sense of exclusivity.
Road cars at McLaren Automotive form three tiers called Sports Series, Super Series and Ultimate Series. The 720S sits in the Super Series class and is available in three trim grades – 720S, 720S Performance and 720S Luxury. The test car was the 720S Performance spec costing £218,020.
Priced from £208,600, the 720S replaces the 650S, but it's not just a simple renaming exercise because the latest car is fresh from the ground up and features 91 per cent new parts.
Viewed from any angle the 720S is guaranteed to turn heads and bring out the green eyed monster in the most placid of characters – and that's before it's even started up because it has a soundtrack to match its appearance and performance.
Design cues include twin-hinged dihedral doors with soft-close function that look like wings when open, full LED headlights with daytime running lights, sport cast alloy wheels with coloured brake calliper and glass C-pillars. Every crease, curve, cavity and intake is there for a reason as the design ethos is dedicated to improving the car's aerodynamics. And thanks to the introduction of a lightweight, yet ultra-strong carbon fibre cage, the 720S is lighter than its predecessor.
That weight loss translates into improved performance capabilities and on that matter, let's get down to the nitty gritty. The 720S is powered by a 4.0-litre 720PS V8 engine delivering 770Nm of torque and can blast its way to 62mph from a standing start in 2.9 seconds, it completes the 0-124mph dash in 7.8 seconds and has a top speed of 212mph.
The interior, like any two-seat supercar, is fairly snug, but there is ample leg, shoulder and head space. In addition, light floods into the cabin helping to create a bright, inviting environment. There is plenty of steering wheel adjustment and the seats can be moved manually to find the perfect driving position (this saves weight compared to automatic seats).
Admittedly you do need to possess a certain degree of agility in order to enter and exit the car with an ounce of dignity rather than a scene from Ab Fab, but the new dihedral door design does make the process slightly easier.
The cockpit is driver focussed and there are all the mod cons we have come to expect in cars these days, including sat nav, a great sound system, Bluetooth, air conditioning, smartphone connectivity and an eight-inch portrait touchscreen.
Without being over ostentatious, the cabin is beautifully refined with fine leather upholstery and flashes of carbon fibre. I particularly liked the new McLaren Driver Interface that introduces a revolving display screen that offers useful data when driven in Track mode and more traditional information when in Comfort or Sport.
Storage options are catered for via a 150-litre compartment beneath the bonnet along with room for a couple of holdalls behind the seats. There is even a cup holder beneath the central console stack if you dare carry a coffee!
If you are of a nervous disposition, then the McLaren 720S is certainly not for you. It's like a caged animal waiting to be released back into the wild. The driver can switch between Comfort, Sport and Track modes which alters the car's handling and performance. The seven-speed twin clutch automatic gearbox is beautifully tuned and there are paddles if you fancy a little more fun.
The acceleration is blisteringly quick and the grip is so good you can be confident it will take any bend at speed without a care in the world. It can be as aggressive as you want it to be and you know your nerve will give way before reaching anywhere near the car's full potential. But the surprising factor is how composed and refined it can be when simply bumbling along in congested traffic. It's like that wild beast has been sedated and reverted to its more gentle manner.
The all-round visibility has been improved, but the long bonnet and high hedges can be an issue when turning out onto a country lane. Yet considering the driving position is just inches above the Tarmac I didn't get out of the 720S armed with my mobile phone and a chiropractor's number on speed dial. I also like the fact that the vehicle's height can be raised at the flick of a lever if approaching a rather large speed bump.
When it comes to economy, the 720S officially delivers combined fuel efficiency of 26.4mpg with carbon emissions of 249g/km. However, the running costs and hiked up tax charges are hardly likely to deter someone who is about to order a McLaren.
And, of course, the car is packed with safety features, including superb carbon ceramic brakes that will bring the car to a standstill from 186mph in just 6.9 seconds.
All in all, the McLaren 720S is a fantastic piece of engineering that would feature high on any petrol head's wish list. But the overwhelming demand means that even if you put in an order today, you will have to wait about six months before you get the keys.
Related Reviews
McLaren 650S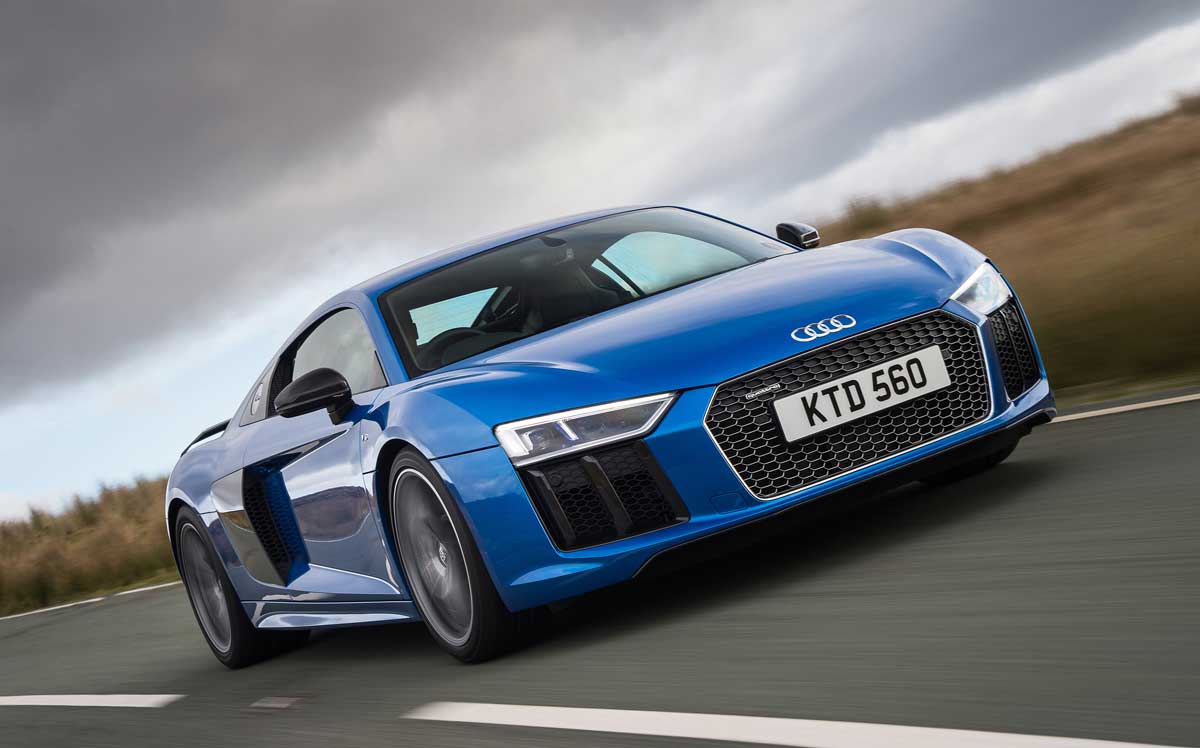 Audi R8
McLaren 570S