SEAT
Ibiza
Boasting striking lines and a host of classy features and infotainment systems the SEAT Ibiza range has plenty to offer the fun-seeking and the more serious driver. Guaranteed to deliver bundles of power, it offers great pace, excellent driving dynamics and good road-holding.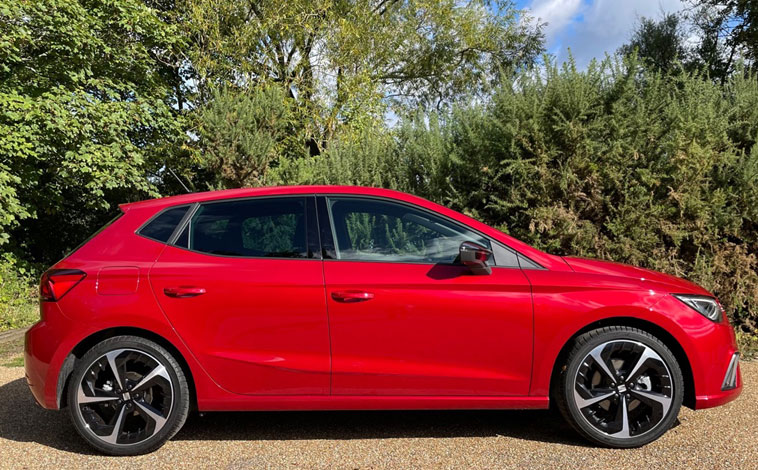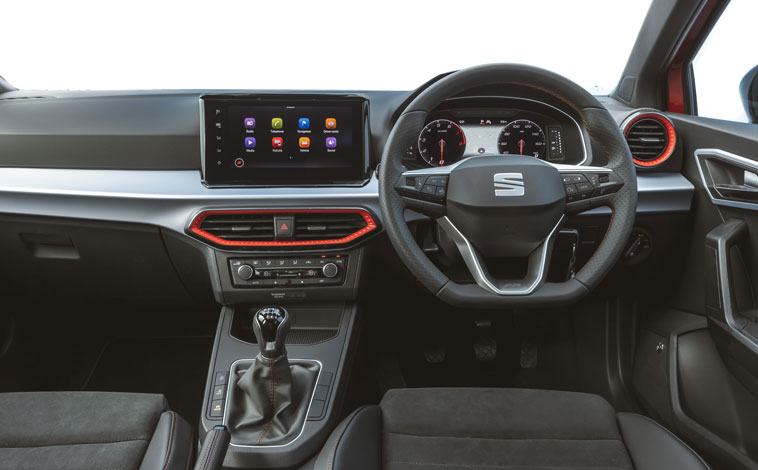 The good
Looks, driving dynamics, on-board technology and economy
The bad
Fiercely competitive segment
Tech Specs

Price from
£16,790

Combined Fuel up to
54.3mpg
0-62 from
10.3 seconds

max speed up to
121mph

co2 from
118g/km
Test Drive
SEAT Ibiza – first drive (2021)
Almost four decades ago, SEAT changed the way we viewed the city car sector by launching its fun, funky and functionable Ibiza model and now the fifth-generation model has been given a refresh.
The five-door city run-around is the Spanish manufacturer's most successful model with more than six million sales and the latest version boasts a fresh design, lots of extra tech and new safety kit.
With six trim levels to select from, the engine choice has been simplified with just one three-cylinder, 1.0-litre petrol engine with power outputs of 80PS, 95PS or 110PS. There is the option of a six-speed manual or seven-speed DSG automatic gearbox and prices for the Ibiza range from £16,790 to £22,030.
We selected the high-end Ibiza FR Sport model, which is likely to prove very popular with buyers, and it was powered by the 1.0 TSI 110PS engine mated to a six-speed manual gearbox.
Costing £20,860, increased to £22,145 with options, this Ibiza could sprint to 62mph from a standing start in 10.3 seconds, topped out at 121mph, while delivering a combined 48.7mpg with carbon emissions of 123g/km along the way.
The Ibiza has always been a youthful looking vehicle that has bundles of energy and appeal, so it will come as little surprise that the styling upgrades have improved further on that charm. There is now full LED lighting and the 'Ibiza' name is handwritten on the tailgate with a bolder looking SEAT badge.
There are new-look alloys along with additional bodywork colours to choose from and our FR Sport model certainly looked the business with twin exhaust pipes, a rear spoiler, dark tinted rear windows, exclusive FR bumpers and 18-inch alloy wheels.
The interior is more modern in its design with a new floating console and 9.2-inch infotainment screen. There is a soft touch dashboard for the first time, along with illuminated air vents for added charm.
Creature comforts are plentiful with full smartphone integration via Apple CarPlay and Apple Android, a Beats sound system, a digital tft display and a voice recognition system that is activated by uttering the magic 'Hola, Hola' wake up call. This can then be used for all manner of functions such as setting the sat nav, searching for music and contacts, plus lots more besides.
A SEAT Connect app allows you to control many functions directly from a smartphone such as locking or unlocking the doors, setting up speed alerts, checking the driving range and even sounding the horn in a busy car park so it's easier to find the vehicle. Clever stuff.
The Ibiza has long been regarded as one of the best city cars when it comes to both practicality and performance and this latest upgraded version is as appealing as ever.
Out on the country lanes, the punchy little three-pot engine is eager to perform and there is ample power on tap to overtake slower moving vehicles. The road holding is confident with perfectly weighted steering offering good driver feedback.
Various drive modes called Eco, Normal, Sport and Individual alter the reactions of the car and the six-speed manual gearbox is beautifully smooth and responsive.
It's a car that is happy firing through the lanes, cruising at 70mph on motorways or weaving through the city crowds. You will notice a little road surface noise at higher speeds, possibly due to the larger 18-inch wheels, and the firmer sports suspension on the FR Sport variant means you can expect to feel the occasional bump along the way. But generally the ride and comfort levels do impress.
The cabin is deceptively spacious for its size with ample room for a couple of adults in the back and light floods through the sunroof for a light and airy feel.
The deep boot, with a low loading lip for convenience, can swallow 355 litres of kit – a limit that increases to 1,165 litres with the 60:40 split-folding rear seats dropped flat. In addition, there's plenty of convenient storage options scattered throughout the car, including a glovebox, seat back pockets, cup holders and door bins with room for a water bottle.
The Ibiza was awarded a maximum five stars when tested for its Euro NCAP safety rating and SEAT has just added extra driver assist systems to the mix for the facelifted model. These include traffic sign recognition, lane assist and high beam assist.
All in all, the SEAT Ibiza still possesses all its youthful charm despite its aging years. It's fun to drive, stylishly designed and well-priced too – all attributes that will keep it ahead of an ever-growing chasing pack.
Test Drive
SEAT Ibiza 5dr SE Technology 1.0 EcoTSI 95 PS 5-speed manual
When tiny three-cylinder 1.0-litre engines first hit the scene, there were many sceptics who feared they would never have enough power to drive cars. How wrong they were.
And SEAT is one of the latest companies to prove that big things do indeed come in small packages with the introduction of its Ibiza model powered by a fabulous little three-pot engine.
The Ibiza received quite a major refresh recently and now boasts sharper styling with the addition of new lighting along with some personalisation options. But the real changes definitely came from within … or rather beneath the bonnet.
There is now the option of a 1.0-litre 95PS petrol engine which powered my test car and proved an absolute delight to whizz around town. And any concerns that the power levels would drop off at motorway speeds were quickly dispelled during a 150-miles run that incorporated lengthy spells of motorway driving.
One of the other factors that helps to keep the five-door Ibiza in the spotlight is its economical pricing. My test car, in SE Technology trim, was priced at £14,945 (increased to £16,435 with options).
It was generously equipped and very easy on the eye thanks to its modern styling. Techno treats included the likes of an easy-to-use sat nav system, Bluetooth, full connectivity via MirrorLink, Apple CarPlay and Android Auto, DAB radio, plus air conditioning and a great little sound system.
Comfort levels are good too and there is ample room for a couple of full-sized adults in the back of the car. The boot, although not massive, can accommodate 292-litres of luggage which is enough space for overnight bags or the weekly shopping and split-folding rear seats increase that limit considerably. Elsewhere there are numerous convenient storage options scattered throughout the car, including cup holders, door pockets, a glovebox and handy trays.
The interior seems more clean and upmarket since its revamp and despite there being quite a lot of hard plastic on display, it seems less easy to scratch than in the former model.
Onto the Ibiza's performance then. In congested town centres, the car's compact dimensions make it an absolute doddle to park and the auto stop/start along with gear change prompts will help to maximise fuel efficiency.
But as I mentioned earlier the car is equally at home when faced with the open road and the acceleration through the five-speed manual gearbox was both smooth and responsive. I did find the Ibiza was pushed around a little when cross winds were particularly strong, but that was my only slight criticism of the car.
Out on the winding lanes, the road-holding was assured and the cabin remained well-insulated against engine, road surface and wind noise, except when driven particularly hard.
According to official figures the Ibiza can deliver combined fuel economy of 67.3mpg with carbon emissions of 98g/km. It can sprint from 0-62mph in 10.4 seconds and has a top speed of 119mph. During my week-long loan, I was seeing in the region of 56.5mpg which is not that far short of the official mark.
All in all, when you factor in the refreshed interior, improved infotainment system and punchy new engine, the Ibiza is certainly worth considering when looking for a small family run-around. It may not be quite so dynamic to drive as some competitors or look quite as sharply dressed as certain superminis out there, but look at the bigger picture and the all-round package is very competitive indeed.
Test Drive
SEAT Ibiza (2015) – first drive
SEAT's name is synonymous with punchy, edge-of-the-seat driving dynamics that are matched by sharp dressed design cues, first class technology, plus economy that doesn't break the bank, and the very latest Ibiza model is no exception to those rules.
One glance in the direction of the sporty car and it's easy to see that it lives up to its fun-loving name-tag and will party long into the night without showing any signs of waning or lagging behind.
The Ibiza is now in its fourth generation and has just celebrated its 30th anniversary. To date there have been more than five million sales globally and the facelifted version is sure to keep the sales figures ticking over very nicely.
Admittedly, most of the updates are under the skin with new suspension and steering systems to improve performance and dynamics. There is a range of seven diesel and petrol engines to select from with efficiency increased by up to 32 per cent and customers can choose from the five-door hatchback, sports coupe (SC) or sports tourer (ST) body designs. There is also a wide mixture of trim levels with prices starting from £10,000.
The Ibiza has always been viewed as the fun model compared to its siblings from the VW group stable – the VW Polo and Skoda Fabia – and that is still apparent with the Spanish model retaining its flamboyant characteristics with LED daytime running lights, neat body creases, angular headlamps, short overhangs and a whole host of personalisation options to add that touch of individuality.
The interior has been given a completely fresh makeover and is very modern and clutter-free in appearance, boasting a new colour touchscreen and media system which keeps occupants connected to their smartphones on the move. There is a freshly-styled steering wheel, new dials, plenty of colour packs, plus a choice of new colours including Chilli Red, Mediterranean Blue and Moonstone Silver.
Trim levels begin with a relatively basic E grade and rise through, S, SE, Vista, Connect, FR and FR Red Edition. As you move up though the spec lines special attention is given to connectivity with seamless and future-proof smartphone integration regardless of the handset manufacturer. There are special apps to mirror your phone's features and numerous other functions that allow you to track journeys, find your car, find a dealer, check the weather and plenty more besides.
All these systems are a clear indication that the SEAT Ibiza is staying ahead of the game when it comes to technology and infotainment which is vital when the average age of buyers is just 43.
We tested out a couple of models on a road route comprising winding country lanes, dual carriageways and busy village centres.
First up was the highly-economical three-cylinder 1.0-litre 75PS petrol model with five-speed manual gearbox in five-door hatchback style and Vista trim – a car SEAT predicts will be one of the best-sellers in the range.
This particular car, priced at £13,445 (£14,305 with options fitted) can sprint to 62mph from a standing start in 14.8 seconds and has a top speed of 107mph. According to official figures it can deliver combined fuel efficiency of 54.3mpg with carbon emissions of 118g/km.
The first thing that impresses is the clutter-free, yet feature-rich interior. There is plenty of on-board technology to be explored and it's nice and simple to operate. There is a six-speaker sound system with DAB radio, Bluetooth connectivity, a five-inch colour touchscreen, cruise control, air conditioning and lots more but it is all very well contained within the stylish dashboard layout with clear and precise instrumentation.
Up front there is plenty of space and the all-round visibility is excellent. Legroom is a little tight in the back especially for taller adults, but it's not too bad and pretty much in keeping with most rival five-door hatchback models.
One thing SEAT really prides itself on is the driving dynamics of its vehicles and the Ibiza certainly lives up to all the hype. Despite the tiny and very economical engine, the acceleration was punchy, responsive and sharp with a constant supply of power on tap which helped make light work of overtaking slower vehicles.
The steering feels quite light compared to the outgoing model, but is precise and delivers good feedback to the driver. Elsewhere, the road-holding proved excellent and cabin noise was kept to a minimum. I did find on more open roads I was searching for a non-existent sixth gear, but that aside, the new Ibiza delivered a fabulous driving experience.
Obviously with so many body styles, engine choices and trim levels there is an extensive line-up of Ibiza models to select from. So we couldn't resist a spin in the range-topping Sports Coupe FR Red Edition with a 1.2-litre 110PS petrol engine and six-speed manual transmission. This model costs £15,285 rising to £17,665 with extras fitted and can sprint from 0-62mph in 9.1 seconds and tops out at 122mph. It can achieve combined economy of 54.3mpg with carbon emissions of 119g/km.
This three-door coupe model really looks the business with its red colour theme apparent on the grille frame, alloys, door mirrors, seatbelts, air vent surrounds, steering wheel trim and gearstick casing.
And the performance seemed much sharper too with more dynamic handling, quicker responses and what seemed like more grippy road holding as it accelerated at pace into tight bends.
Once again, the engine, road surface and wind noise levels were well contained within the cabin and once more the Ibiza was a delight to drive.
The vehicle has a practical side too with the three-door sports coupe and the five-door hatchback boasting 292 litres of boot space. But if you are looking for maximum room then the sports tourer can accommodate 430 litres which is increased to a whopping 1,164 litres with the rear seats dropped flat.
All in all, the latest Ibiza isn't likely to shock anyone with radical design alterations. After all, the car is immensely popular with existing SEAT customers and that appeal is certain to grow to a wider audience with the increased efficiency, state-of-the-art technology and improved ride and performance capabilities.
Test Drive
SEAT Ibiza
It may be SEAT's best-selling model, but the Spanish giant is not resting on its laurels and has just introduced a new Ibiza model that is sharper, smarter and better value than ever before.
Most of the car's alterations are external with a new-look sculpted bonnet featuring a central crease, a distinctive arrow appearance to the headlights, more angular fog light surrounds, a top grille that appears more sporty and the lower grille has been turned upside down to give the car a more planted and flowing appearance. Elsewhere, the B-pillars are gloss black on many models.
The interior changes are more subtle with more mature instrumentation, additional steering wheel detailing and a glove box that has doubled in capacity.
Customers can choose from three or five door versions with a choice of four trim levels and eight engines. And with prices starting from £9,995 SEAT has even reduced some models in the range.
The Ibiza's body styles include the sporty three-door SC, more traditional five-door models and the spacious ST estate model, which for the first time is now available in high performance FR guise.
Trim levels are E, S A/C, SE and FR. Even the most basic E models are feature-rich and include tinted windows, remote central locking, 14-inch steel wheels, electric front windows and a good quality four-speaker MP3 compatible radio/CD player.
Move up the range to the S A/C and you can expect to see air con, split folding rear seats and 15-inch steel wheels.
The SE trim then adds a leather steering wheel and leather gear knob, 15-inch alloy wheels, a trip computer and front fog lights with cornering function.
Finally, the sportier FR trim introduces LED rear light clusters, cruise control, twin exhaust pipes, sports seats, sports suspension, 16-inch alloys, FR front and rear bumpers and plenty more besides.
And there are lots of ways to truly personalise the Ibiza with a whole host of optional extras to select from.
I tested out three new models in pretty atrocious driving conditions on roads awash with surface water and they all came through with flying colours.
SEAT believes the 1.2 petrol model in SE trim could be the biggest crowd-pleaser, so that was first on the agenda.
The test car was fitted with an automatic transmission which proved very smooth as it accelerated through the gears.
The road-holding was equally impressive and it was most reassuring that the vehicle gripped the road proficiently even on much tighter bends.
The driver benefits from excellent all-round visibility and comfort levels are good even for back seat passengers who are treated to ample leg room so long as the front seats are not pushed right back.
Cabin noise was relatively low and all dials and readouts are ideally positioned driver usability.
There is a simplistic yet stylish feel to the cabin as SEAT has incorporated a clever combination of textured plastic and contrasting colour schemes which results in a bright and cheerful atmosphere.
In fact, my only gripe after a lengthy test drive was the central armrest which, when lowered, still seemed too high to get a comfortable driving position.
But that minor issue aside, the Ibiza handled really nicely.
Next up was the very efficient five door 1.2 diesel model in SE Ecomotive, which boasts amazing combined fuel economy of 80.7mpg and emissions of just 92g/km.
I did find it was a little slower off the mark initially, but once it picked up pace the three-cylinder model coped admirably with the driving route.
The five-speed transmission was smooth and responsive and with its brilliant economy, this model will prove a big hit with anyone seeking outstanding value for money.
Finally, the spacious ST with 1.6 diesel engine in FR trim was next to be put through its paces.
One cannot fail to be impressed with the stylish interior built into this model.
It features neatly contrasting black seats with red stitching, leather trim and flashes of colour throughout. In fact, this model oozes sportiness and the drive lives up to the big build up too.
This car is perfect for any Ibiza fans that require the additional space, but still rate fun-factor high on their wish list.
The five-speed manual transmission is once again impressive and the sporty ride really adds to the all-round appeal of this particular Ibiza model.
SEAT has packed a comprehensive list of safety specification into the Ibiza range, such as anti-lock brakes, electronic stability control, electronic brake assist, numerous airbags and lots more.
The Ibiza recorded new record sales in 2011 and with this latest model SEAT is guaranteed to build on that success story.
Test Drive
SEAT Ibiza SE Copa 1.2 TDI CR E Ecomotive
When a car is named after a holiday destination that has a reputation for outrageous fun then it has a lot to live up to. Thankfully, SEAT's Ibiza is up to the challenge and a whole lot more besides.
For the Ibiza looks great from all angles, has a top notch list of gadgets on board, handles really well and boasts a combined fuel economy of 80.7mpg – that means it will keep going all night and well into the early hours!
First impressions are vital to attract buyers and the Ibiza has some very attractive features such as sleek lines and curves, 16-inch alloys, body-coloured door handles and mirrors, tinted windows and plenty more.
And the quality is just as apparent once you take your seat behind the multi-function steering wheel. Creature comforts include climate control with refrigerated glove box, a great six-speaker sound system with CD player and MP3 compatibility, stop/start technology and electric windows.
The test model had a few optional extras such as a winter pack that introduced heated seats and headlight washer system, plus a convenience pack that added rear parking sensors, rain sensing wipers, an auto-dimming rear view mirror and a coming home headlight function.
Despite its three-cylinder, 1.2-litre, diesel-powered engine and just 75PS, the Ibiza is certainly no slouch. In fact, acceleration through the five-speed manual transmission was pretty responsive.
Admittedly at higher motorway speeds, the noise within the cabin becomes a little louder, but in a way that just adds further to the Ibiza's appeal.
Another impressive factor is how well the Ibiza held the road in windy conditions when other cars were being buffeted from side to side.
In and around town, the car proved nippy and easy to manoeuvre into tight parking spaces and excellent all-round visibility was another bonus.
There is ample room for four adults to travel in comfort, especially if the front seats are not pushed all the way back and storage is not a problem either.
The generously-sized boot in this five-door model can hold lots of luggage and the area can be increased further thanks to split folding rear seats.
Elsewhere, there's an array of smaller storage options at your disposal.
And as one would expect, the Ibiza boasts a very comprehensive list of safety features, including electronic stability programme with hill-hold control, anti-lock brakes, numerous airbags, a tyre pressure monitoring system and a whole lot more besides.
All in all, the Ibiza is the perfect car for anyone who likes a bit of fun in their life but wants to keep a watchful eye on their pennies in the process.