Kia EV6 GT takes on famous Hill Climb
June 29, 2022
When prototypes of your fastest ever electric vehicle arrive and it coincides with the Festival of Speed, what better opportunity to show off its capabilities.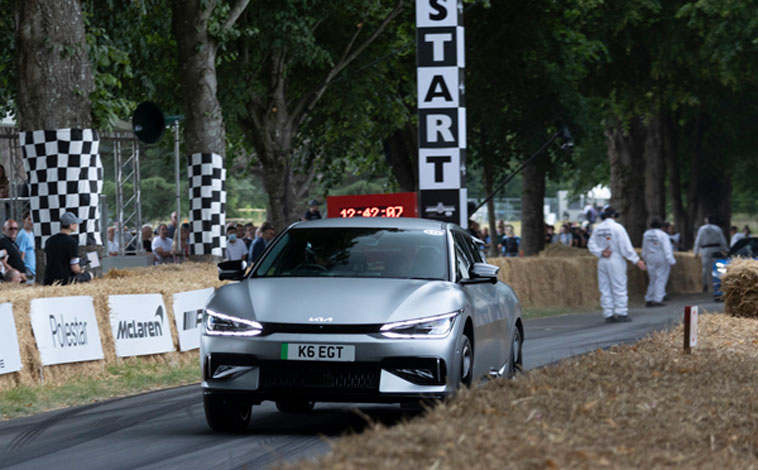 That's exactly what happened to Kia when a couple of EV6 GT pre-production models became available. The next step was to approach successful racing and rally driver Jade Paveley, 29, to take on the famed Goodwood Hill Climb behind the wheel for its dynamic debut.
It was an opportunity that was simply too good to miss and we managed to catch up with the Llandudno-born driver after her first run up the famous 1.16-mile, nine-corner track.
"This is going to sound so staged, but I absolutely loved it and I want one", she said.
"As a petrol head, driving a car that's electric is a bit different. On the public roads, I drive very carefully obviously, but I can get bored driving some models. That car would never bore me. It was just so engaging the whole time. It was really good because I felt relaxed and I felt comfortable, but the power was brilliant. You turn it on and go and that acceleration is instantly there. I think it has really converted me into going forward with electric."
Jade started karting at 15 and then, at 17, she became the youngest person to complete a 24-hour endurance race at Silverstone. The rallying took hold when she was 19 and she hasn't looked back becoming the 2021 British Rally Cross Country Championship (BXCC) Class T2 Champion.
She said: "My dad rallied so it was in the blood. I have competed in rally championships, but also work as a presenter travelling round the world too. I like speaking to the drivers and hopefully pick up some really good tips."
And driving the Kia EV6 GT on its first public dynamic run was quite an honour, despite some tricky road conditions.
Jade explained: "The EV6 GT is a blueprint for the Kia brand. It handled really well. The bends were fine despite it being a bit greasy out there because of the rain. The grip was outstanding, but that burst of instant pace – it's nearly 600bhp and that's just wild. Everyone was so impressed when they saw it launch off the line.
"The best points for me were the acceleration, the engagement as a driver, the comfort and space because I always have so much stuff!"
Jade has been familiarising herself with the EV6 by driving an GT-Line S AWD version of the car recently and really loves its practicality.
"The fact it's a Grand Tourer is ideal as I've actually come to Goodwood in an EV6 car. I have three race suits, a ball dress, race helmets, a big suitcase and five pairs of shoes to choose from for the ball … and I can fit it all in.
 "It so nice to drive on the road too. It looks amazing with the lime green flashes. I charged it at home and on the way down to Goodwood from Cheltenham so there were no issues. I hooked it up at the services, went inside for a coffee, grabbed something to eat, came back out and it had almost a full charge.
"I was worried about the range anxiety because I'd driven electric cars with about 120 miles of range. But the range on the EV6 is so good, I didn't need to worry or feel I had to keep checking."
And the plaudits for the EV6 are most complimentary as Jade and her fiancé have an impressive driveway that consists an Audi R8, Honda Type R and a Range Rover.
Jade said: "The EV6 just fits perfectly into place alongside them. It's just such a nice place to be. As a race driver, I'm now converted. I actually enjoyed driving it – it wasn't a job.
"Kia has evolved so much over the years and the EV6 will further change the perception of the brand. It will appeal to such a wide audience – it's definitely a driver's car."
The EV6 GT's dynamic styling certainly turned plenty of heads at Goodwood with a sporty, muscular exterior and neon green brake calipers behind 21-inch alloy wheels.
The interior is driver-focused with an infotainment screen that stretches two thirds of the dash. There is a two-spoke steering wheel with a dedicated GT button (in neon green) for an even more engaging driving experience. It automatically optimises the vehicle's e-motors, braking, steering, suspension, e-LSD and Electronic Stability Control systems for their most dynamic settings.
Reflecting on an already successful career, Jade said: "Everything I have done has given me a really good grounding for where I am now. The karting gave me a really strong work ethic. There was the support from my mum and dad with a lot of travelling and money involved. So it's a real family venture. Then racing for a brand is also good, but the rallying has been an opportunity for me to prove to myself and other people that I was capable of doing that."
And somehow Jade finds time to sing in a band too. She said: "Singing is a form of relaxion. Rallying is quite demanding and expensive, but singing is much easier – it's just me and my voice … and the band."
We had to conclude by asking Jade if she had any ambitions. Well, of course she does. She explained: "I would love to convince Kia to get more involved in motorsport. They could bring the electric and environmental element to the sport. Motorsport needs to be in line with the rest of the motor industry – it is in a lot of ways, but there's still a long way to go. So driving a Kia on a rally stage would be so cool.
"And also to give girls of a younger generation the inspiration to take up motor sport. It's so rare to see females on a podium yet they can do it. But with open eyes because motorsport is hard. You need support and have to be really committed, it's expensive and there's a lot involved."
The EV6 has already been met with numerous global accolades and this GT version really ups the ante. With its 77.4kWh 577bhp of power and 740Nm of torque, the all-wheel drive car can hit 62mph from a standing start in just 3.5 seconds and it maxes out at 162mph.
It's not cheap, but few performance cars are. The EV6 GT costs from £61,595 and the driving range between charges is a combined 263 miles or 339 miles in the city.
The vehicle, which is on sale now with deliveries expected at the end of the year, can be charged from 10 to 80 per cent in 18 minutes via a fast charger.
Compiled for Regit