Mazda
CX-3
Boasting all the striking design cues of modern-day Mazda, the CX-3 is a stunning looking car that is packed with class-leading technology and delivers outstanding driving dynamics.
The good
Styling, handling, economy and uniqueness
The bad
Fiercely competitive sector
Tech Specs

Price from
£17,595

Combined Fuel up to
70.6mpg
0-62 from
8.7 seconds

max speed up to
124mph

co2 from
105g/km
Test Drive
Mazda CX-3 2.0 121PS 2DW Sport Black+ (first drive – 2018)
Mazda has a reputation for doing things well so when it announced the introduction of its first compact crossover back in 2015 we expected a big deal. We weren't disappointed.
Arriving a little late to the compact crossover party, the CX-3 is a beefed-up, high-riding version of the highly rated Mazda 2 and it soon established itself as an accomplished smaller sibling to the Mazda CX-5.
Now, three years down the line, the CX-3 has been given a refresh and there's lots of exciting new enhancements. The exterior has been spruced up, there is a newly styled cabin, there's been improvements to the ride and handling, lots of extra safety kit is now included as standard and, most recently, we have seen the introduction of a striking limited-edition Sport Black+ version that's limited to just 500 units.
This special edition CX-3 is based on the 2.0-litre SKYACTIVE-G petrol 121PS 2WD SE-L Nav+ model and comes in manual or auto guise priced at £22,195 and £23,195 respectively. We opted for the manual version which can sprint to 62mph from a standing start in 9.0 seconds, maxes out at 119mph and, according to official figures, can deliver combined fuel efficiency of 45.6mpg with carbon emissions of 141g/km.
But the real headline-grabbing news about the Sport Black+ model is its dynamic styling. There is a revised grille and more blacked out windows and pillars to give the car a somewhat menacing look. And that theme continues further thanks to a brilliant black roof spoiler, a roof mounted shark fin antenna, brilliant black door mirror caps and 18-inch silver alloy wheels.
The interior is modern in its appearance and quite minimalist in its layout. Yet it's rich in techno treats and creature comforts with smart leather upholstery, a head-up display, sat nav, a great sound system, heated powered seats, a heated steering wheel and Mazda's MZD-Connect in-car connectivity system with a seven-inch colour touchscreen that sits high on the dashboard. Most of the car's systems can be accessed via a controller dial, but the multi-function steering wheel also offers access to many features so you don't have to take your hands from the wheel.
The comfort levels within the latest CX-3 have been improved thanks to the introduction of high-damping urethane foam cushions in the front seats and the car is better protected against any noise intrusion thanks to thicker sound insulation in the doors, improved glazing, upgraded door sill trims and a better headliner.
When it comes to performance, just like all Mazda models, the CX-3 delivers on all counts. It shifts smoothly and responsively through the six speeds with plenty of power on tap at all times from the punchy petrol engine. The road holding is ultra-grippy and it's a car that's also happy clocking up the motorway miles cruising effortlessly at the national speed limit. In busy town centres, it's an agile vehicle to manoeuvre and the light steering is an added bonus with lots of twisting and turning.
Passenger comfort levels rather depends on where you sit in the car. There is bundles of room if you are up front, but if you're relegated to the back it gets a tad cramped, especially if the front seats are pushed back. But, it's ideal for a couple of youngsters to travel in comfort and it's worth remembering this is a compact crossover. There is a bigger CX-5 model if more cabin space is the order of the day.
Storage options are pretty good, although not the best in the sector with a boot capacity that starts at 350 litres and increases to 1,260 litres with the 60:40 split-folding rear seats dropped flat. There is a practical double boot floor which is ideal for hiding stuff away from view or keeping muddy boots separate from other items in the boot.
In addition, there are numerous convenient storage compartments scattered throughout the car, including decent-sized door bins, a partially covered central cubby with a single cup holder that springs into position, a glovebox, a sunglasses holder, a tray in front of the gear lever, along with two cupholders in the rear armrest. On the new CX-3, Mazda has replaced the traditional handbrake with an electric parking brake and that has freed up some additional space between the front seats.
On the safety side, the CX-3 is well equipped and scored four out of five stars when it was tested for its Euro NCAP safety rating. The car boasts the Japanese marque's SKYACTIV body which is lightweight yet exceptionally strong so offers maximum protection to anyone on-board. Front, side and curtain airbags are standard across the range, and thanks to pressure sensors in the doors, the curtain airbags react faster than ever to side impacts. If the car is involved in a head-on collision, the steering column moves forward to protect the driver, while reinforced seat-backs prevent luggage from injuring passengers if the car is hit from behind.
Our car also came equipped with Smart City Brake Support which automatically stops or reduces the speed of the car when there is a risk of collision with the vehicle in front. And Lane Departure Warning System was another safety system on our car.
All in all, the latest Mazda CX-3 has certainly upped the ante in the compact crossover sector and another point worth mentioning is that our test car wasn't packed with a raft of optional extras that see an original price soar. Some rival manufacturers, especially those carrying premium badges, could learn a lesson from this.
Test Drive
Mazda CX-3 2.0 120ps 2WD GT Sport
Mazda has launched a limited edition GT Sport model into its stylish CX-3 compact SUV line-up but there are just 500 models being built so buyers need to be quick to snap one up.
The CX-3 received a technology upgrade earlier this year with extra safety systems added along with a new diesel engine, improvements to the suspension, the introduction of G-Vectoring Control and increased sound insulation for a more refined cabin.
And joining the 2.0-litre petrol line-up is the GT Sport model, priced from £22,895. It boasts the same generous levels of kit as the Sport Nav version but adds unique design cues and a high-class interior upgrade.
From a styling point of view the CX-3 GT Sport features front, side and rear skirts with silver inserts, a black rear roof spoiler and 18-inch silver alloy wheels. That premium feel is carried over into the cabin with Nappa leather upholstery and unique GT floor mats.
These are just the additions to an already generously-equipped and beautifully crafted model that boasts the likes of a premium Bose sound system with seven speakers, a 7-inch colour touchscreen with sat nav and three years of free European mapping included, a reversing camera, rear parking sensors, heated seats, air conditioning, Bluetooth, LED headlights, LED fog lights and plenty more besides.
The five-door test car was powered by Mazda's highly-efficient 2.0-litre 120PS SKYACTIV-G petrol engine and priced at £22,895. It featured a six-speed manual gearbox (an automatic version is available costing £24,095). It could reach 62mph from a standing start in 9.0 seconds, maxed out at 119mph and, according to official figures, delivers combined fuel economy of 47.9mpg with carbon emissions of 137g/km.
Comfort levels within the car are very high with ample room in the back for a couple of six footers. The interior is certainly very premium in its appearance and the contrasting brown leather and suede seats are very striking as are the brown leather-trimmed dashboard and door inserts.
The driver benefits from an elevated driving position which results in excellent all-round visibility. In addition, all the controls and dials are perfectly positioned for driver usability and systems like the sat nav are nice and easy to operate on the move. The test car also featured a head-up display which is always a bonus and offers vital information direct to the driver's eye-line.
Mazda has always been proud of the way its cars handle and the CX-3 is no exception. The acceleration through the manual gearbox is sharp and responsive with a constant supply of power on tap. The road-holding is ultra-assured which means tight bends can be attacked with a degree of confidence and the cabin is well insulated against outside noise.
Despite its tweaks, the suspension does feel a little hard at times, but that was my only minor gripe during an otherwise most enjoyable test drive.
The CX-3 GT Sport is also packed with safety systems and driver aids, including the likes of dynamic stability control with traction control, hill hold assist, lane departure warning, smart city brake support plus numerous airbags.
All in all, the CX-3 is a great compact SUV that is bags of fun to drive. The limited edition GT Sport models simply add a little X factor to the range.
Test Drive
Mazda CX-3 – first drive (2015)
WITH sales soaring, Mazda has picked the perfect time to launch its all-new model in the baby SUV segment and it's likely to cause quite a stir.
That's because the CX-3 look fantastic, is richly-equipped, drives beautifully and has an attractive price-tag too.
It's certainly following in the tyre tracks of its big brother the CX-5 which was launched in 2012 and it has the likes of the Nissan Juke, Renault Captur and Fiat 500X firmly in its sights. And after a lengthy and rather splendid test drive through Northumberland and the Scottish Borders, it would seem the company has come up with a sure-fire winner.
The 18-strong line-up is priced from £17,595 to £24,695 and buyers can choose from five generously-equipped trim levels called SE, SE Nav, SE-L, SE-L Nav and Sport Nav.
In addition there is the choice of two-wheel or all-wheel drive, six-speed manual or automatic transmissions along with a selection of highly efficient powertrains. In fact there are 11 petrol and seven diesel variants – so something for everyone!
The CX-3 adopts the same KUDO design ethos as the CX-5 but on a more compact and I would say more dynamic-looking scale. It features the signature 'wing' front grille, sculpted bonnet, sharp coupe profiling, predatory headlamp clusters and smart alloys which together combine to give the car a truly athletic stance.
Step inside and it's difficult not to be wowed by the beautifully-crafted cabin kitted out in high quality materials which is a clear indication that Mazda is making a move towards the premium marques. The build quality is far superior to many vehicles in its class with a clutter-free cabin that has a very modern, sophisticated and elegant feel to it.
From the entry model upwards all CX-3s boasts a smart 7-inch touchscreen, Bluetooth connectivity, a multi-function steering wheel and DAB radio as standard.
Then the range-topping Sport Nav models add the likes of a seven-speaker BOSE premium sound set-up, a sat nav system with three years free European mapping updates and a head-up display – which is a first in the sector.
And as one would expect from Mazda, the safety spec is impressive too with all models featuring the light, yet strong SKYACTIV body which absorbs and disperses the impact in the event of a collision, plus a full complement of airbags, hill-hold assist, traction control and emergency stop signalling as standard. In addition the SE-L and Sport Nav introduce smart city braking and lane departure warning systems.
The deceptively spacious interior can easily accommodate two adults in the back where they are treated to generous levels of head room thanks to the high roofline.
And luggage limits are good too with a capacity of 350 litres which can be increased to 1,260 with the 60:40 split-folding rear seats down flat.
This space is reduced on Sport Nav models to accommodate the BOSE subwoofer. And there is an underfloor compartment too to store more permanent items away from view.
So the CX-3 looks stunning, is specced to the limit and is fully versatile to meet the demands of the compact SUV customer, but the really vital factor has to be performance and once again the car came through with flying colours.
First out of the starting blocks was the 2.0-litre 120PS petrol Sport Nav model in 2WD with six-speed manual gearbox. This car is priced at £20,495 (£21,155 with options) and can sprint to 62mph from a standing start in 9.0 seconds and onto a top speed of 119mph. According to official figures it can achieve combined fuel efficiency of 47.9mpg with carbon emissions of 137g/km.
Just like its big brother, the CX-3 is a vehicle that you can instantly feel at home in. It's comfortable, beautifully-styled and all controls, dials and readouts are perfectly positioned for ease of use.
In addition, the driver benefits from excellent all-round visibility thanks to the elevated driving position and the head-up display can be adjusted to the ideal height and can offer information on speed, warnings and navigational directions.
A 150-mile road route in some models can be a daunting prospect, but not so in the CX-3 which absolutely lapped up the sweeping open roads with testing s-bends and narrow tracks.
The acceleration was blisteringly fast and gear changes were both smooth and responsive. It was a tad jittery if bends were attacked a little too aggressively but that aside the road-holding was flawless and the steering fabulously precise.
There was also a little wind noise from the large door mirrors but otherwise the car was efficiently insulted with engine and road surface noise kept to a minimum.
Next up to the mark was a 1.5-litre 105PS diesel SE-L Nav model in 2WD with six-speed manual gearbox. This car is priced at £20,995 which is increased to £21,535 with optional extras. It can reach from 0-62mph in 10.1 seconds and has a top speed of 110mph. It can deliver a combined 70.6mpg with emissions of 105g/km.
Once again this particular CX-3 was a delight to drive and coped admirably with the open road. When everything slowed down and we crawled at a snail's pace through busy little villages the great all-round visibility was a plus factor and the punchy gearbox quickly helped to pick up the pace again as we headed out to the open lanes.
There was a little more engine noise, but to be honest it is a minimal increase and you are guaranteed far superior fuel economy with the diesel model.
All in all, the CX-3 certainly seems to tick all the right boxes. It has sharp distinctive styling, is feature-rich with class-leading technology, it's fantastic to drive and is definitely a very welcome newcomer to a fiercely competitive sector.
Related Reviews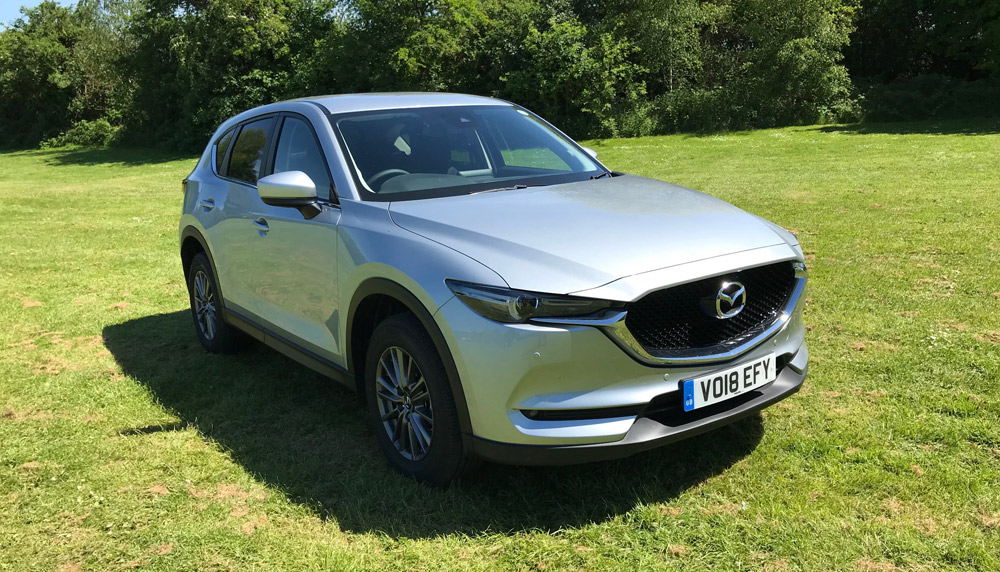 Mazda CX-5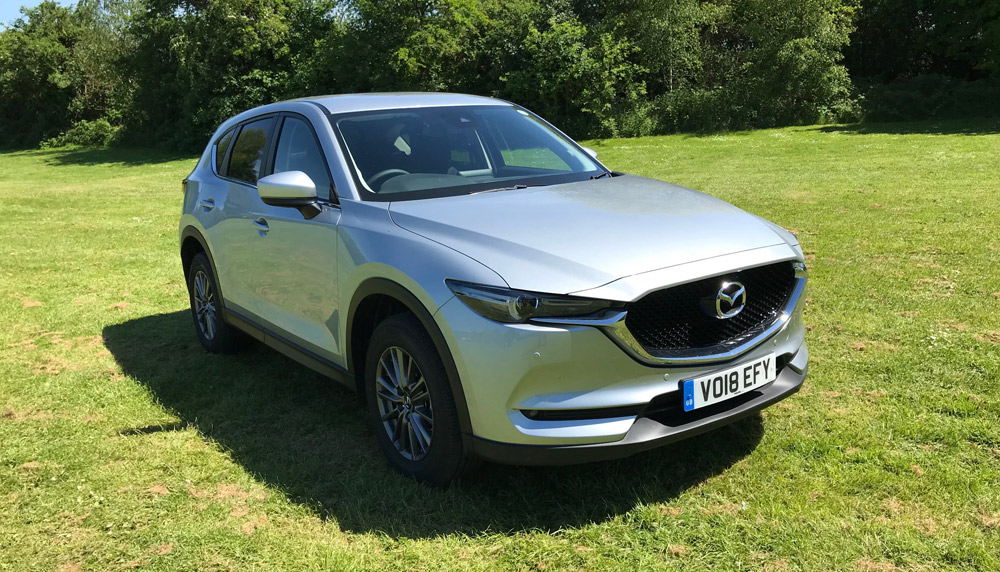 Mazda CX-5