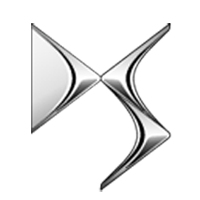 DS
DS 4
The DS 4 is true to the DS ethos boasting stunning lines, outstanding performance and luxury galore. Since cutting its ties with Citroen, DS models proudly stands alone as premium vehicles packed with technology. The DS 4 is available as a hatchback or rugged Crossback.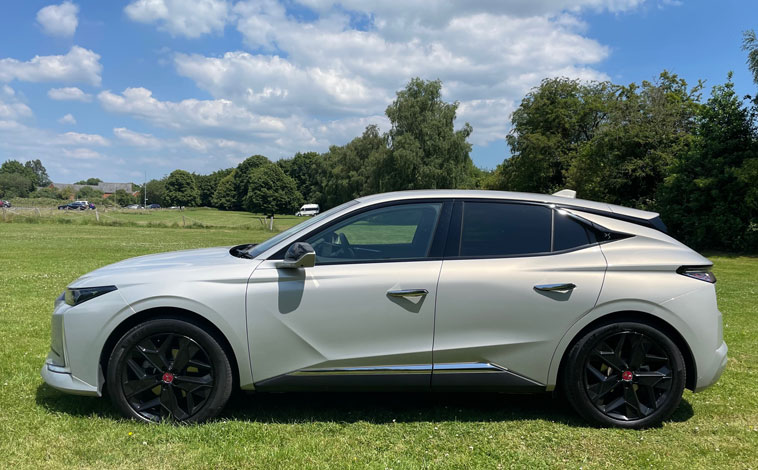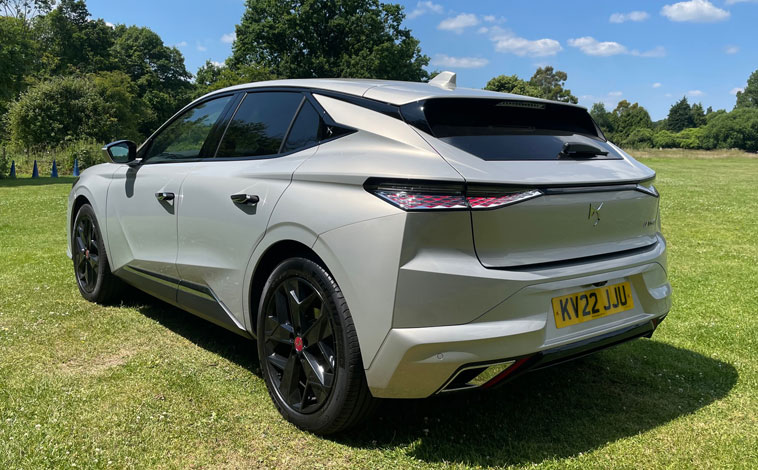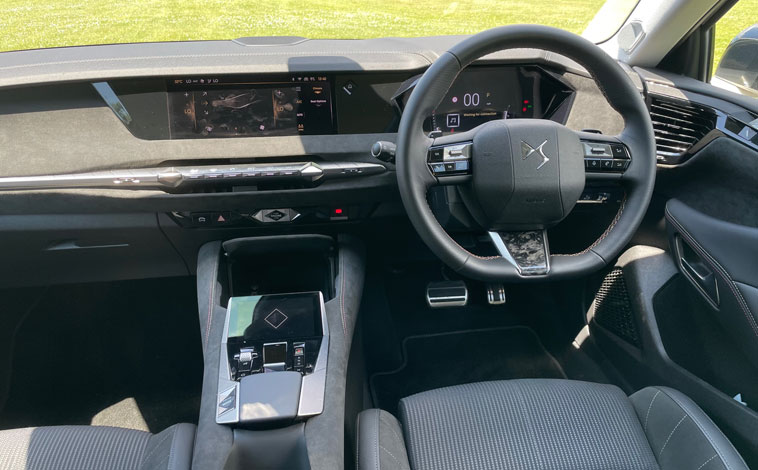 The good
Beautifully crafted, premium styling and great performance
The bad
Stiff opposition from German marques
Tech Specs

Price from
£26,860

Combined Fuel up to
232.3mpg (Hybrid)
0-62 from
7.7

max speed up to
146mph

co2 from
30g/km (Hybrid)
Test Drive
DS 4 Performance Line PureTech 130 Auto (2022)
Anyone who regularly clocks up the motorway miles will know that every other car these days seems to be a German model, but there is an alternative and it's a rather good one too.
It's called the DS 4 and is a classy five-door hatchback that is easy on the eye, packed with tech, nice to drive and competitively priced. And it also has quite an exclusive French feel to it.
There's a choice of trim levels and powertrains to suit all requirements and we opted for the sportier Performance Line model with a 130PS, three-cylinder petrol engine delivering 230Nm of torque.
It featured a slick eight-speed automatic gearbox and, although the 0-62mph sprint time on the test car is yet to be confirmed, other models in the line-up can complete the dash in 7.7 seconds. It has a maximum speed of 130mph.
Our model was priced at £28,360, but a few optional extras including a Focal sound system, DS Night Vision, bi-tone roof, powered seats, a sunroof and active scan suspension saw the final cost rise to £32,905.
When it comes to styling, the DS 4 certainly has plenty of road presence with a striking, modern look that will turn heads wherever it passes. It has a gloss black grille with gloss black DS wings, flush fitting door handles, Performance Line badging, the DS emblem on the bonnet, dark tinted rear windows and smart 19-inch alloy wheels.
Move inside and the interior is ultra-modern in its design and layout with a head-up display, a 10-inch touchscreen, Apple CarPlay and Android Auto, 3D navigation and voice control.
The latest DS 4 has an all-new infotainment system that does take a little getting used to with a smart touch pad to access shortcuts. There are swipe screen functions, widgets and new air vents with unusual directional controls. It's all a little clunky until you are familiar with how everything works.
But when it comes to performance, the DS 4 is a delight to drive. The acceleration is smooth and rapid out the starting blocks and it is perfectly balanced as it fires through the twisting country lanes with confident levels of grip and well weighted steering.
It eats up motorway miles for fun and is also nimble in busier town centres. Drive modes called Eco, Normal and Sport alter the reactions of the car and there are steering wheel-mounted paddles to take charge of the gear changes when you want.
The cabin is refined and a clever active scan suspension set-up will monitor the road ahead and adjust each wheel accordingly to help smooth out any bumps and dips.
Comfort levels are impressive too with ample room for two adults to stretch out in the back or three youngsters, and there are USB-C ports galore so everyone can stay connected on the move.
The boot, which is accessed via a powered tailgate, can accommodate 430 litres of luggage, increasing to 1,240 litres with the 60:40 split-folding rear seats dropped flat. In addition, there are lots of convenient storage compartments scattered throughout the car, including a glovebox, front and rear cup holders, door pockets, a central cubby bin, nets in the seatbacks, plus a strap and hooks to secure items in the boot.
There is also a wealth of safety features included as standard, such as emergency braking system, front and rear parking sensors with a reversing camera, hill start assist, speed limit recognition, driver attention alert, lane keep assist, cruise control with speed limiter and a full suite of airbags.
All in all, the DS 4 in Performance Line specification is an attractive, sporty alternative to the more widespread models from the likes of Audi, BMW and Mercedes. They may deliver a more dynamic performance, but this French newcomer has plenty of character and appeal of its own.
Test Drive
DS 4 Prestige BlueHDi 150 6-speed S&S manual
With its eye-catching design, a wealth of on-board techno treats and impressive handling capabilities, the DS 4 is the perfect option if you want to stand out from the crowd.
The DS Automobiles brand went it alone and became independent when it shifted away from its Citroen identity back in June 2014. But for some reason that message hasn't got through to the masses and you will still get plenty of puzzled looks when you explain the car is a 'DS'.
One such encounter happened to me at the supermarket when a young gentleman was looking admiringly at the vehicle and asked me what the car was. I explained it was a DS and from the expression on his face, I just knew he was unaware what/who DS was. And so the usual explanation followed and he left a little wiser … hopefully.
I say hopefully because the new DS models are upmarket and certainly worth exploring. Long gone are the Citroen chevrons and badging and in their place is the striking DS emblem sitting proudly on the black 3D-effect grille. There are dark tinted windows, sweeping light clusters with LED daytime running lights and 18-inch alloys. Personally, I think by losing the chevrons the car looks far more premium than previous models did and that top-quality design is carried through to the interior where the car is packed with technology.
Amongst the creature comforts on the test car were a seven-inch colour touchscreen with sat nav, multimedia connectivity via MirrorLink and CarPlay, a DAB digital radio, dual zone air conditioning, a chunky gear stick, flat-bottomed steering wheel, premium cloth upholstery and sports pedals.
The car carried a £23,745 price-tag and was powered by a 2.0-litre 150bhp diesel engine mated to a 6-speed manual gearbox. It could reach 62mph from a standing start in 10.9 seconds and maxed out at 117mph. According to official figures the DS 4 can deliver combined fuel economy of 72.4mpg with carbon emissions of 103g/km.
The interior has a premium feel to it with lots of soft touch materials and all the instrumentation is modern in its design.
Comfort levels within the DS 4 are very high and it's spacious too with room for a couple of adults to stretch out in the back seats. The boot has a capacity of 385 litres which, whilst not the biggest in its segment, is practical enough to carry suitcases etc.
When it comes to performance the DS 4 may not be the most dynamic car in its class, but it's an absolute delight to drive. In and around town it weaves its way through the crowds and parking is made easier thanks to the rear parking sensors. The manoeuvrability is good and the driver benefits from good all-round visibility.
Then out on the faster lanes and motorways, the DS 4 is fun to drive. The acceleration is swift and the road-holding nice and confident with precise steering. Another plus factor is the cabin remains beautifully insulated against road, engine and wind noise even when the car is pushed along at quite a click.
DS has packed the vehicle with safety features such as electronic stability control, cruise control with speed limiter, electronic brake force distribution, along with numerous airbags and a great Thatcham alarm system to keep any unwanted attention at bay.
All in all, the DS 4 is a fabulous car that is competitively priced, beautifully styled and offers all the infotainment and connectivity features you could wish for. Admittedly there are more dynamic cars out there when it comes to performance, but the DS 4 is the ideal all-round package for anyone who likes something a little bit different from the norm.
Test Drive
DS 4 and DS 4 Crossback – first drive (2015)
The DS brand split from its Citroen roots in June 2014 and now stands as a fully established premium brand with its very own distinctive identity.
Up until that date all DS models carried the Citroen badging along with its styling traits such as the company chevrons. But those days are a distant memory as the DS brand marches forward with its clearly-defined aim to design and create premium vehicles in France.
And the new DS 4 – which comes in two very different guises – is proof of that ambition. The traditional hatchback is an elegant, dynamic and eye-catching model aimed at customers seeking a premium quality car with sleek styling and great driving dynamics. But there is also an all-new DS 4 Crossback version with go-anywhere looks and a raised driving position.
The hatchback is priced from £19,495 and boasts flowing graceful lines, flashes of chrome trim along with two-tone roof and body options, which means customers can choose from 38 different colour combinations and stamp their very own identity on the car.
New DS 4 also has the signature front end that was introduced on the DS 5 which includes a vertical grille with the DS emblem, distinctive energy-saving LED and xenon lighting technology and a panoramic windscreen for greater visibility.
Step inside and there is luxury and technology at every turn with a clutter-free interior featuring a 7-inch touchscreen from which many of the in-car functions are accessed and controlled. There are 12 fewer buttons and the screen connects to features such as music and sat nav etc. The DS 4 is also the first car in the PSA Group to offer Apple CarPlay compatibility to iOS devices from the iPhone5 onwards. In addition, the Mirror Link technology can duplicate both Android and iOS content onto the screen.
Other luxurious features include a soft-touch dashboard, clear instrumentation with colour and brightness-adjustable dials, the finest leather upholstery with heated and massaging front seats finished in the distinctive watchstrap design, a full colour reversing camera and plenty more besides.
Customers can select from two generously-equipped trim levels – Elegance and Prestige – along with a choice of six Euro 6-compliant engines with carbon emissions from 100g/km and combined fuel economy up to 74.3mpg. There are also manual or fully automatic gearboxes.
The Crossback, costing from £21,745, is based on the Prestige model, but adds a number of more robust styling traits. For example, it has a 30mm raised ground clearance, large black wheels, black mirrors and door sills, a rear spoiler, special wheel arch trims, aluminium roof rails and the CROSSBACK lettering along the tailgate.
We tested out a couple of models – one hatchback and one Crossback – on a varying range of country lanes, fast-moving dual carriageways and quaint village streets and both cars were up to the challenge.
First up was the all-new DS 4 Crossback BlueHDi 120 6-speed S&S manual priced at £23,495 (£24,315 with extras). This diesel-driven model can reach 62mph from a standing start in 10.9 seconds and has a top speed of 117mph. According to official figures, it can deliver combined fuel efficiency of 72.4mpg with carbon emissions of 103g/km.
First impressions are vital and the Crossback really looks the business with its athletic, rugged stance and bold action-ready features.
The 1,560cc engine delivered ample power and the acceleration through the gears was both smooth and responsive. The steering was beautifully precise and the road-holding very assured although a little bouncy at times on particularly poor surfaces.
All the controls and dials are perfectly placed for driver-usability and the comfort levels within the cabin are excellent. That said; back seat passengers of the taller variety will find the legroom a little restricting.
Elsewhere storage options are good with a deep boot which can accommodate 385 litres of luggage – a capacity that can be increased with the 60:40 split-folding rear seats dropped flat. In addition there is a compact glovebox, central bin and door pockets to stow away other items.
Next up was the DS 4 Prestige PureTech 130 S&S 6-speed manual in hatchback style priced at £20,745 (£23,615 with options). This petrol model can sprint from 0-62mph in 9.9 seconds and tops out at 123mph. It can deliver combined fuel economy of 54.3mpg with emissions of 120g/km.
This three-cylinder, 1,199cc model was an absolute delight to drive. It was sharp, snappy, responsive and delivered great driving dynamics. It was a car that could be thrown into corners and the handling actually seemed more assured on bumpy roads compared to the Crossback model.
The hatchback also featured the beautiful Habana full leather pack costing £1,550 which introduced the finest leather watchstrap design seats with massage function and heater feature. It's these extras that truly convey the premium status that DS is striving to achieve throughout its range.
Although we must wait until 2017 for the first all-new DS model to emerge as the company heads towards a six-vehicle line-up, the rebranded and upgraded DS models are a clear indication of what's to come.
And just like the new DS 5 the latest DS 4 is already displaying a more premium character and is clearly capable of standing alone and shaking off any of its Citroen links.
Test Drive
Citroen DS4 DStyle HDi 160 manual (PRE-2015)
Citroen has never been one to conform when it comes to designing new cars and the DS4 stands out from the norm for all the right reasons.
With a bold, athletic stance and dramatic coupe bodylines, this beauty looks the business from every angle with 18-inch alloys, twin tailpipes, tinted windows and tailgate, chrome trim and rear door handles that are flush to the bodywork.
Although the DS4 is roughly based on the C4 it certainly boasts its own style and personality and the test model was supplied in Babylon Red which helped it stand out in any crowd. It really can be spotted from a distance and on more than one occasion, I caught a bystander admiring the car.
And the quality of build and technical wizardry is just as apparent once you take your seat – heated of course – behind the multi-function steering wheel.
Creature comforts are plentiful and include automatic lights and wipers, a six-speaker surround sound audio system with CD player, Bluetooth connectivity, dual-zone digital air conditioning, guide-me-home headlamps, auto electric park brake, LED interior mood lighting and plenty more besides.
There is ample room for four adults to sit comfortably with plenty of leg, head and elbow space in the back.
Elsewhere, the generously-sized boot can accommodate all luggage requirements and the split-folding rear seats can increase storage capacity if required.
There is a certain sporty feel to the appearance of the DS4 and that is reinforced by the aluminium drilled pedals and the throaty roar of the engine.
The DS4 is fitted with a very efficient 2.0-litre diesel-powered engine and has a smooth six-speed manual transmission.
In and around town, the car cruises along effortlessly through the busy traffic and good all-round visibility is another bonus.
But out on the faster, more open roads, the DS4 comes alive. Acceleration is impressive as is the torque and ability to overtake with ease. The car can reach from 0-62mph in just 9.3 seconds with a top speed of 132mph.
To be honest, it was hard to find any fault with the DS4 – the brakes were a tad sharp initially and, at times, the ride was a little bouncy – but that's about it.
The vehicle boasts a comprehensive list of safety specifications, such as anti-lock brakes with electronic brakeforce distribution, emergency brake assist, intelligent traction control, numerous airbags and lots more.
All in all, Citroen has certainly produced an all-round winner in the DS4 – it looks great, handles superbly and with an asking price of just shy of £23k it won't break the bank either.