Dacia
Duster
The Dacia Duster is outstanding value for money with a great range of built-in techno treats. And beneath the highly versatile vehicle's rugged, ready-for-action body is a perfectly capable 4×4 system. The all-new second generation model really raises the bar with more robust styling, improved safety features and a fresh upmarket interior.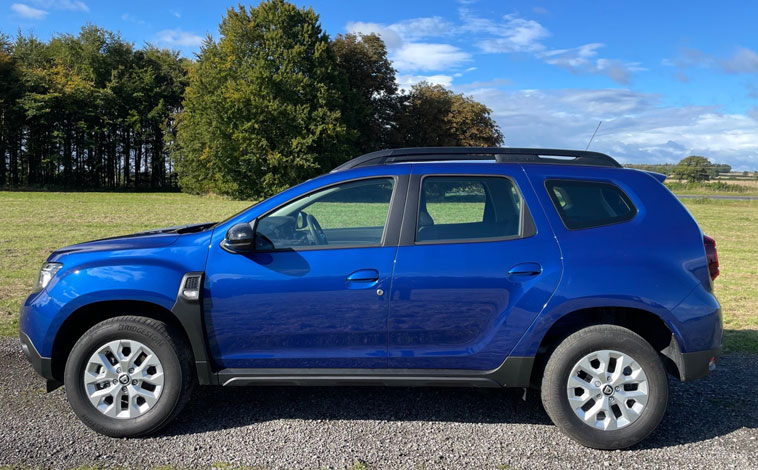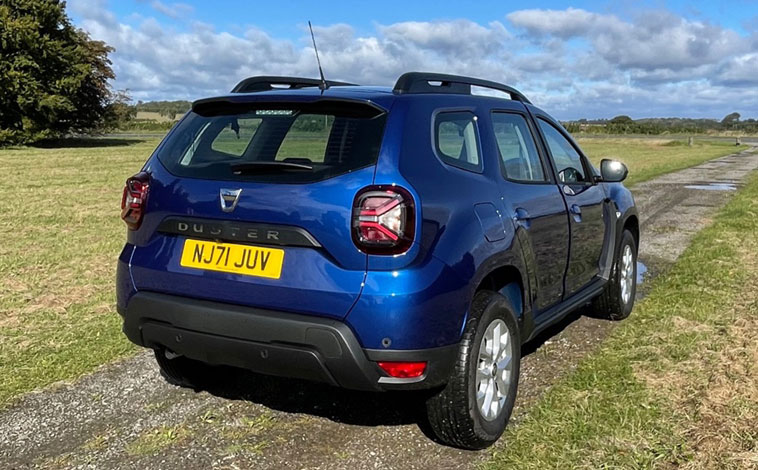 The good
Muscular styling, capable off road and as cheap as they come
The bad
Some horrible plastic materials inside the car
Tech Specs

Price from
£13,995

Combined Fuel up to
53.8mpg
0-62 from
9.7 seconds

max speed up to
124mph

co2 from
124g/km
Test Drive
Dacia Duster – First Drive (2021)
Dacia's value-for-money Duster SUV has been given a refresh for 2021 boasting a striking new look and lots of extra technology.
Prices for the five-door Duster range from £13,995 to £20,845, and the car is available in three trim levels called Essential, Comfort and Prestige. There will be an additional limited-run Extreme model introduced next year.
Buyers can select from efficient petrol, diesel and bi-fuel engines with manual or auto gearboxes, plus the choice of 2WD or 4WD.
The new-look Duster has a more distinctive appearance with Y-shaped signature daytime running lights, a 3D-effect chrome grille with new badging, upgraded alloy wheels, fresh paint colours and an improved interior.
We opted for the Duster powered by the 1.3-litre TCe petrol model in Comfort trim level with a six-speed automatic gearbox and two-wheel drive. It cost £18,845, although it also included the only two optional extras available as Dacia likes to keep its pricing structure as simple as possible. The options were a spare wheel and metallic paint which bumped the final price up to £19,690.
The punchy petrol engine delivered 110hp and 250Nm of torque which resulted in a respectable 0-62mph sprint time of 9.7 seconds and top speed of 124mph. According to official WLTP figures, the Duster could deliver a combined 44.8mpg with carbon emissions of 142g/km.
If long distances are regularly covered with lots of motorway driving, then the diesel-driven Duster could prove preferable with the Blue dCi 115 model delivering up to 53.8mpg combined with carbon emissions from 124g/km.
The automatic gearbox on our car proved nice and smooth and, although there are no paddles to change gears manually, the driver can use the gear shift lever to do so.
There is an Eco mode, but don't expect to see anything flashy such as Dynamic or Sport settings. This is a bargain basement car without any unnecessary expensive add-ons.
The acceleration is impressive with ample power on tap, and the steering has been reconfigured for extra precision at speeds above 43mph. It is still nice and light in busier town centres with a good turning lock for ease of manoeuvrability.
The Duster is nicely balanced through bends if driven with a degree of respect and the cabin is refined with very little road surface or wind noise filtering through – until you hit 60-plus mph that is.
From the outside, the latest Duster has a more stylish and distinctive appearance and the designers have paid attention to the interior too with improved materials, extra tech and more storage options, including a 1.1-litre central cubby box beneath a sliding front armrest.
Creature comforts are plentiful with full smartphone connectivity via Apple CarPlay and Android Auto, an eight-inch infotainment touchscreen, climate control, a six-speaker sound system, a DAB radio and four USB charge ports – two front and two rear.
Comfort levels are high and although three adults could squeeze into the back of the Duster, two would definitely sit more comfortably on a longer journey – especially if the front seats are not pushed right back.
The boot can swallow 478 litres of luggage, increasing to 1,623 litres with the 60:40 split-folding rear seats dropped down. This capacity is slightly less on the 4×4 versions which can accommodate from 467 to 1,614 litres.
There are a number of convenient storage compartments throughout the cabin too with an illuminated glovebox, a central cubby box, door bins, seat back pockets and a handy tray. However, the shallow and small cup holders have not been designed with carrying hot drinks in mind as they would almost certainly topple over at the slightest turn of the wheel.
Another area where the budget-priced Duster still falls a little short is safety as many rivals feature automatic emergency braking as standard these days. Unfortunately, it's not even available on the highest Duster trim levels and is part of the reason the car only achieved a three out of five star safety rating when tested by Euro NCAP.
On a plus point though, the latest car is an absolute delight to drive and although it no longer dips in at under the £10k mark, the design, build quality and level of on-board technology has vastly improved over the years.
And since launching in the UK in 2013, the Duster has built up an enviable reputation for reliability along the way which is another tick on any motorist's wish list.
Test Drive
Dacia Duster Comfort Blue dCi 115 4×2
Dacia has always been regarded as the bargain basement brand when it comes to cost and value, but they are upping the stakes – the cars may still be cheap as chips, but these days they are the triple cooked variety for extra quality.
A perfect example of this is the all-new second generation Duster SUV. Every panel is new and it boasts lots more kit, but the pricing is still attractively scaled.
The car is also a lot more robust and muscular in its design and build quality and there are numerous trim levels and powertrains to choose from, along with two or four-wheel-drive variants.
We opted for the Comfort grade in 2WD which is just one level below the high-end Prestige version, and this car was supplied fully loaded with lots of techno treats and creature comforts.
From a design point of view, the Duster is very easy to spot on the road with its athletic stance and raised waistline. It has a rippled bonnet, traditional grille, sweeping light clusters, front and rear skid plates, satin chrome roof bars with 'DUSTER' inscription and 16-inch alloys.
Step inside and the spacious cabin can easily accommodate four adults, five at a bit of a squeeze. There is however ample space in the back for a trio of youngsters to stretch out making it the ideal car for any school run or family outing.
On-board technology includes a seven-inch touchscreen with navigation system, Bluetooth with audio streaming, a DAB radio with a traffic message channel, a rear parking camera with sensors, plus SIRI Eyes Free voice activated control system.
While the interior build quality is quite unassuming and low-key with lots of practical hard plastic, the design has been well thought out with all controls, dials and readouts ideally positioned for ease of use. And with its elevated seats, the driver benefits from excellent all-round visibility. In addition, the cloth seats are very supportive and comfortable and there is plenty of scope for adjustment to the driver's seat so it's easy to get a good driving position.
Our test car was priced at £15,400 (£16,045 with options) and it was powered by a 1.5-litre 115hp diesel engine mated to a six-speed manual gearbox. It could sprint from 0-62mph in 10.5 seconds and topped out at 111mph, delivering a combined 51.3-57.6mpg (WLTP) along the way with carbon emissions of 111g/km.
Out on the open road, the Duster is deceptively quick and fizzes along. It is quite a light car weighing in at 1.2 tonnes, so effortlessly skips across the Tarmac. The acceleration is smooth and the power is constant, but it's not the sharpest when it comes to rapid bursts of power so overtaking takes a little planning.
In busy town centres, the Duster is nimble and easy to manoeuvre with nice light steering that's perfect for lots of twisting and turning. The rearview camera and sensors are really useful when squeezing into a tight parking space.
It also impresses out on the country lanes where the road holding was confident and assured provided tight bends were treated with a degree of respect. You can expect to hear a little engine rumble and wind noise, although it's not too loud.
On the practicality front, the Duster really impresses. There is a spacious cabin and the boot can swallow 445 litres of luggage. Drop the 60:40 split-folding rear seats and that limit rises to a generous 1,623 litres. Elsewhere there are door pockets, a glovebox and some rather small and shallow cup holders.
One area where the Duster does fall short though is safety. The outgoing model only secured three out of five stars when it was tested for its Euro NCAP rating. That said, the new model does boast a reinforced frame, cruise control with speed limiter, new curtain airbags, along with new seat structures to improve safety.
All in all, the Dacia Duster is excellent value for money and, after clocking up almost 600 miles during my week behind the wheel, I concluded that although there's no sign of soft touch surfaces or flashy on-board technology, the latest model is still an exceptionally good buy.
Test Drive
Dacia Duster – first drive (2018)
Despite its bargain-basement pricing structure the all-new second generation Dacia Duster is a charming five-door SUV that's good on road and can confidently wander off track when necessary.
Priced from £9,995, the latest Duster is completely new with not one single body panel carried over from its predecessor. It's more robust with larger 17-inch wheels, a distinctive Dacia grille that sweeps into the headlight clusters to create a wider appearance, a raised waistline, new signature lights, skid plates and a sculpted bonnet.
There are four trim levels to choose from called Access, Essential, Comfort and Prestige (the two mid-level grades are new and replace the outgoing Ambiance and Laureate trims).
And, at launch, customers can choose between two powertrains – a 1.6-litre SCe petrol engine with 115hp with 156Nm of torque which is available in 2WD or 4WD format, or a 1.5-litre Blue dCi diesel powertrain delivering 115hp with 260Nm of torque. As standard the Duster features a six-speed manual gearbox, except for the 4×2 petrol model which is five-speed.
We tested the petrol-driven Duster 4×2 on a road route that incorporated lots of twisting lanes, faster dual carriageways and stop start town centre driving and it was most accomplished.
Priced at £13,195 our Duster in Comfort spec could reach from 0-62mph in 11.9 seconds and topped out at 107mph. They may not seem like the most dynamically quick performance figures, but the Dacia Duster has always been a car that focused on comfort rather than blistering pace. According to official figures, our car could deliver combined fuel economy of 43.5mpg with carbon emissions of 149g/km.
The driver benefits from good all-round visibility and the trio of rear headrests are positioned low enough so as not to obscure the view. There is space for a couple of adults to sit comfortably in the back – three at a squeeze if you don't mind rubbing shoulders.
There is also a generous level of kit to explore, including a seven-inch touchscreen with satellite navigation system, Bluetooth connectivity, a DAB digital radio with steering column-mounted controls, leather steering wheel, a front armrest, plus a rear parking camera and sensors,
In addition, the Duster is the first model from Dacia to boast the likes of climate control, blind sport warning, curtain airbags, automatic headlight activation, a multi-view camera and keyless entry on high-end models.
When it comes to performance, the Duster is a good all-rounder. The acceleration through the five gears is nice and steady although you would need quite a lot of courage and space to overtake at short notice. That's because there's no sudden bursts of power on tap – it takes a gradual steady build up. My only other slight gripe was the vehicle's lightweight frame. It gets buffeted a little during high winds or when travelling alongside a larger-than-life juggernaut.
But that aside, the Duster was up to any challenge. The road holding was confident with minimal body lean into bends and the cabin is nicely refined with next-to-no road surface or engine sounds filtering through unless the car is driven particularly enthusiastically.
The Duster also features a new electric power steering set-up that reduces the effort needed by the driver to turn the wheel by 35 per cent. This new system was a delight in busy towns where there was lots of weaving in and out of traffic, but it felt a tad light with not much in the way of driver feedback on bumpy country lanes.
Certain Duster models are billed as being very capable off-road and with that in mind, we took a European spec diesel 4×4 model away from the trusty Tarmac. And it was certainly accomplished as it skipped across boggy tracks, climbed and manoeuvred up and down steep hills and waded through some water obstacles. Admittedly, it wasn't a hardcore 4×4 course, but it's clear to see just why the Duster is such a favourite with farmers.
Storage options on the car are good with the boot capacity remaining the same as the outgoing model rated at 445 litres for the 2WD and 411 litres for the 4WD version which increases to 1,478 litres and 1,444 litres with the 60:40 split folding rear seats dropped flat. Throughout the cabin the storage capacity has increased by 20 per cent to 28.6 litres.
So, all in all, when you sum up the complete Duster packageone thing becomes very clear – the asking price for the car could easily be much, much higher.And that's one reason why the factory in Pitesti, Romania, where the Duster is built, is working round the clock seven days a week to keep up with the high demand.
Test Drive
Dacia Duster Ambiance dCi 110 4X4
It's fair to say that the majority of people are keeping a watchful eye on their pennies these days, so when a car comes along and claims to be the most affordable off-roader in the UK it simply has to be explored.
Dacia proudly bills itself as a budget, no frills brand similar to easyJet whereby you start with a very basic price that gradually increases as you add the spec you want.
And the Duster is exactly that, although in its defence it does have a fairly extensive trim level as standard and is capable of 4×4 driving if put to the test.
The mid-range Ambiance model that was tested had an asking price of £13,495 which increased to £14,315 with a few optional extras such as metallic paint and traction control with ESC stability control added.
The Duster looks pretty smart and upmarket with a strong front end giving the vehicle a ready-for-action stance.
It has 16-inch alloys, black roof rails, black door mirrors and handles, black trim around the windows and a shiny chrome plate on the tailgate with the word DUSTER proudly embossed on it.
The interior is a little simplistic in design although all the necessary mod cons are present such as a CD radio, Bluetooth connectivity, remote central locking and steering wheel-mounted controls.
There is an abundance of cabin space and five adults can stretch out in comfort. The generously-sized boot can accommodate all luggage needs and can be extended further thanks to the 60:40 split-folding rear seats.
Depending on the driving conditions and terrain, the Duster can be driven in a choice of modes – 2WD, auto or 4WD – and these can be altered quickly and simply by turning a dial.
My only negative comment is in relation to the dashboard with its undulating, rolling contours – it looked a bit tacky and rather like an afterthought.
That aside though, all controls are clear and easy to use and the driver is treated to a high seated position which results in excellent all-round visibility.
The test vehicle was fitted with a 1,461cc diesel-powered engine which produced plenty of oomph and although the Duster isn't exactly the fastest kid out of the blocks, it can reach from 0-62mph in 12.5 seconds and on to a top speed of 104mph as it accelerates through the six-speed manual transmission.
The Duster coped really well on its test run. It's not exactly the quietest of driving experiences, but the road-holding was good as were comfort levels.
According to Dacia the model has a combined fuel efficiency figure of 53.33mpg which is impressive for its size and carbon emissions of 137gh/km.
All in all, the Duster may be billed as a bargain-budget model, but there is certainly a whole lot more to this vehicle than its attractive price-tag.