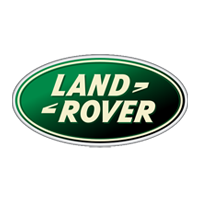 Land Rover
Range Rover
Viewed as the most luxurious 4×4 vehicle in the world, the Range Rover is the flagship of the Land Rover range. It boasts colour touchscreen controls, finest quality leather and state-of-the-art features throughout. Not cheap, but sometimes, you get just what you pay for.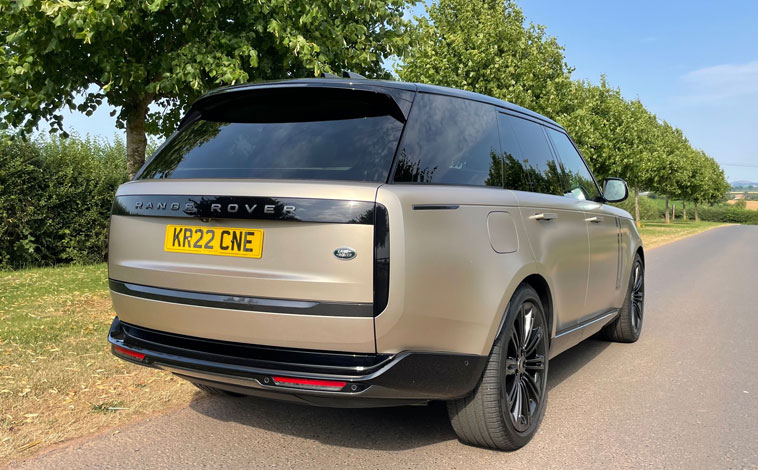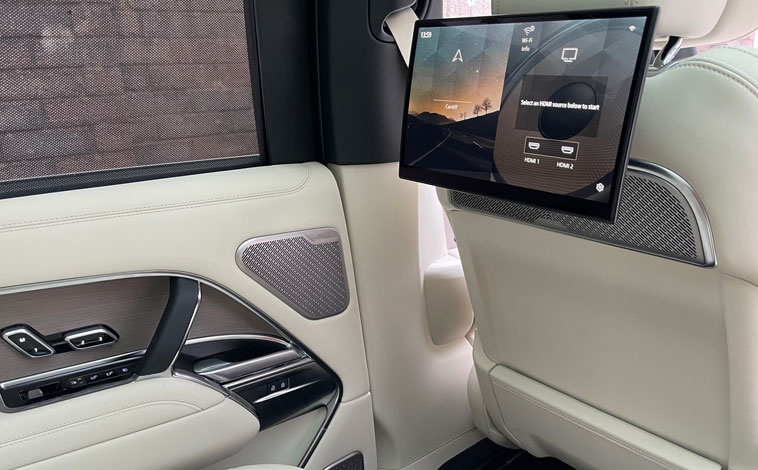 The good
It may be luxurious, but it's one hell of a performer!
The bad
Throw away those bank statements
Tech Specs

Price from
£99,375

Combined Fuel up to
36.7mpg (PHEV 287.2)
0-62 from
4.4 seconds

max speed up to
162mph

co2 from
202g/km (PHEV 19g/km)
Test Drive
Range Rover Ingenium 3.0 MHEV AWD (2022)
For more than 50 years, the mighty Range Rover has been 'the' model to beat when it comes to combining awesome off-roading ability with luxurious refinement.
And now, Land Rover has introduced its all-new fifth generation model that raises the bar even higher.
A simple glance in its direction and you would be hard pushed to instantly name major physical differences compared to the outgoing model. But that is a skill the Range Rover designers have perfected over the decades. It is such a winning formula so there's no need for drastic design upgrades when more subtle improvements will do just fine.
New Range Rover is on sale with mild-hybrid petrol and diesel engines and plug-in hybrid5 powertrains, with the highly anticipated arrival of a fully electrified version in 2024. Customers can choose between generously-equipped trims called SE, HSE and Autobiography with a First Edition model on sale during the first year of production.
And the vehicle can also be specified in four, five or seven-seat guise with Standard or Long wheelbase designs.
We opted for the First Edition model powered by an efficient Ingenium 3.0-litre, six-cylinder turbocharged diesel mild hybrid engine with all-wheel drive.
Priced at £127,000, increased to £138,500 with options, it delivered 350hp and 700Nm of torque and that translates into impressive performance figures. The Range Rover can sprint to 62mph from a standing start in 6.1 seconds and maxes out at 145mph. That's not too shabby for a vehicle that weighs in at 2.5 tonnes. On the economy front, it can deliver combined fuel efficiency of up to 35.2mpg with carbon emissions of 211g/km.
Design cues include a bold upright appearance with flush door handles, sweeping light clusters, a black contrast roof, privacy glass, 23-inch alloy wheels and black brake calipers. The test car was a Sunset Gold colour that looked gorgeous and seemed to change shade when viewed in different lighting.
Moving inside, the interior is pure quality throughout with the finest upholstery and 24-way powered seats that are crafted from perforated semi-aniline leather. They can be heated, cooled and offer a multitude of massage functions.
The 13.1-inch infotainment system and interactive driver display are both simple to operate on the fly and creature comforts are plentiful, with the likes of a head-up display, wireless Apple CarPlay and Android Auto, wi-fi with a data plan, Bluetooth streaming and plenty more besides.
With the possibility of being chauffeur-driven, back seat passengers also receive particular attention when it comes to comfort and elegance. They benefit from individually power-adjustable seats that have memory settings and there is a separate air con set-up, along with automatic window blinds for added privacy. They have a button to open or close the sunroof and numerous speakers deliver pitch perfect quality from the high-end Meridian sound system.
There are two 11.4-inch HD touchscreens fitted to the rear of the front seatbacks and they can be operated independently. They are compatible with most devices that have an HDMI port, and making full use of the Wi-Fi hotspot capability allows rear passengers to watch smart TV entertainment too.
The rear central armrest is power operated and has its own eight-inch touchscreen to automatically control the climate, lighting, seats, blinds and infotainment screens. Press an icon resembling a cup and the armrest extends to offer a couple of cup holders.
When it comes to performance, the Range Rover is an absolute dream to drive with bags of power on tap. It effortlessly eats up the motorway miles and the auto transmission is perfectly timed with steering wheel paddles for added driver fun.
Drive modes alter the characteristics and reactions of the car and there are all the settings you would expect to find inside this king of the off-road to cope with any terrain imaginable.
The Range Rover has a huge amount of road presence stretching more than five metres in length and two metres across, so it does feel huge when driving down narrow country lanes, but the elevated seating does result in excellent visibility across the hedgerows.
Storage facilities are excellent with a powered two-part tailgate – the lower section folds out to make a nice picnic bench. In addition, there is a chilled central cubby box, a double glovebox, covered trays, door bins with bottle holders and seat back pockets to store bits and pieces.
And, of course, the vehicle is packed with safety tech and driver assistance aids to protect occupants and other road users alike.
If there were ever any doubts that Land Rover could improve on its iconic Range Rover, then they were most definitely unwarranted. In fact, there is so much new kit inside the new Range Rover that Land Rover filed 125 patents.
This is a masterpiece of a vehicle that offers everything we could expect from a flagship model and a whole lot more.
Test Drive
Land Rover Range Rover 4.4 SDV8 Autobiography
When a car is delivered in podium-topping Rio Gold then expectations are high and it has plenty to live up to –the Range Rover powered by a mighty 4.4-litre 339bhp engine does just that.
It carries a £100,950 price-tag (not including the £21k worth of optional extras), and this go-anywhere SUV not only offers all the off-roading capabilities that are associated with the Land Rover marque, but it also delivers a certain refinement, sophistication and elegance that is lacking in many rivals.
And if performance is high on the wish-list, then the Range Rover certainly ticks all the boxes as it blasts its way from 0 to 60mph in a rapid 6.5 seconds and onto a top speed of 135mph. But as I mentioned previously, it is refined and it's the manner in which it eats up the road or ambles across rocky terrains without a care in the world that cannot fail to impress.
Out on the open road, it seems to glide along with the highly efficient suspension system absorbing all the bumps and dips along the way. The acceleration through the automatic 8-speed transmission is blisteringly quick yet also very smooth and the constant level of power at your disposal seems endless. There are paddle shifts if you fancy taking a little more control over the gear changing.
Yet, despite its larger-than-life dimensions, the Range Rover can be thrown around with confidence. Admittedly there is a slight amount of body roll if pushed too enthusiastically into tight bends, but it feels exceptionally composed and safe at all times. And no matter how hard it is driven, the cabin remains beautifully hushed and insulated against any engine, wind or road surface noise.
In busy villages and town centres, the Range Rover happily displays its softer side and is deceptively agile and easy to manoeuvre for such a large car. But should Mother Nature have a bad day that results in horrendous weather conditions, this full-sized 4×4 SUV can cope with the unexpected. It has a wading depth of 900mm – that's almost three feet; and it can conquer unbelievably testing angles to get from A to B if necessary or just for the hell of it. All these off-road systems are accessed via a terrain response set-up that does almost everything apart from steer the vehicle for you.
During my two-week test drive, I stuck firmly to the Tarmac and the Range Rover was an absolute delight to drive.
The top-of-the-range Autobiography version looks amazing, not just because of the striking two-tone black and gold paintwork, but also thanks to 21-inch alloys, a panoramic sunroof, sweeping light clusters, privacy glass and that imposing, upright design. Step inside the cabin and the interior oozes luxury with a whole host of creature comforts at your disposal.
Techno treats include a head-up display, rear seat entertainment system with 10-inch screens, an easy-to-operate touchscreen with sat nav along with a dual screen function so the passenger can watch a movie while the driver sees the standard read-outs, plus a heated wood and leather steering wheel.
Other features on the test car included a gesture control tailgate which is very useful when returning laden down with shopping bags, an electric deployable tow-bar and the most comfortable seats imaginable complete with massage function. I particularly liked the winged headrests that are similar to airline seats but obviously better!
Comfort levels within the Range Rover are sublime and back seat passengers will not be complaining either as they are treated to oodles of leg, head and shoulder space and, of course, have their very own entertainment system along with electrically-adjustable, heated and massaging seats.
If I were looking for a downside, then I would have to focus on economy. On a combined run the official fuel economy is 33.6mpg with carbon emissions of 219g/km. On average I was seeing just shy of that figure at 29.8mpg. But, if economy is the order of the day there are more economical Range Rover models to choose from and it's worth noting that the test car proved more frugal than many of its premium German rivals.
As one would expect, Land Rover has packed a whole host of safety features into the vehicle. As well as the more standard features, the car also boasts blind spot assist with reverse traffic detection, traffic sign recognition and intelligent speed limiter, adaptive cruise control with queue assist and intelligent emergency braking.
All in all, the Range Rover is the ultimate in luxury, but also offers that unmatchable off-roading capability. Land Rover does the finer things exceptionally well such as the soft close doors or the remote heating system that will get the car all nice and warm in advance. But Land Rover also does the basics very well too as this car is a dream to drive and certainly lives up to its top-of-the-podium gold medal billing.
Test Drive
Land Rover Range Rover 3.0L TDV6 Autobiography
I'm not absolutely certain what 'living the life of Riley' actually means but I think I've come pretty close this week sashaying around in a car that costs almost £100k.
It's the mighty Range Rover Autobiography – Land Rover's flagship model – and it's definitely a worthy recipient of any title or plaudit that comes its way thanks to its commanding stance, luxurious comfort, blistering performance and innovative technology.
The Range Rover looks remarkable from any angle. It's imposing without being aggressive and is very refined with every attention to detail. Eye-catching design cues include 21-inch ten-spoke alloys, a sliding panoramic roof, adaptive xenon headlights with LED signature lighting, a gesture tailgate, privacy glass, an electrically-deployable tow-bar and soft closing doors.
Step inside and you are greeted by a welcoming and beautifully crafted environment boasting the finest materials and complete with every possible luxury imaginable.
The seats are exceptionally comfortable and even the rear seats can be electrically-adjusted and heated or ventilated. Up front the driver and passenger have an additional massage feature and the passenger can even watch TV or a DVD on the dual view screen whilst the driver only sees the standard readouts and data.
Techno treats are plentiful and include the likes of a pitch perfect 17-speaker Meridian surround-sound system, DAB radio, a premium sat nav set-up, Bluetooth and all the connectivity facilities you could wish for. Then there is the head-up display, an 8-inch high resolution touchscreen, four-zone climate control, a heated steering wheel and even a park assist system featuring parallel and perpendicular parking along with parking exit which is great if other motorists have boxed you in.
Despite its larger-than-life dimensions, the Range Rover is an absolute delight to drive as it glides across the Tarmac. Even potholed and bumpy surfaces pose no threat to the sublime comfort levels as the highly efficient suspension irons out all the creases. And, of course, no outside noise dare infiltrate the cabin where you could hear a pin drop were it not for the luxuriously thick carpets!
Comfort levels for all occupants are of the highest order and back seat passengers can really stretch out in style. Storage is catered for via the 550-litre capacity boot – a limit that increases to a whopping 2,030 litres with the rear seats dropped flat. Elsewhere there are plenty of practical and handy storage areas, including a chilled compartment, double glovebox, practical door bins, cup holders and a convenient hide-away section tucked away in the front doors.
The driver benefits from excellent all-round visibility thanks to the high seated position and all the dials, controls and readouts are perfectly positioned for ease of use making for a very rewarding all-round driving experience. In fact, I drove the Range Rover for 300 miles without a stop and arrived as fresh as I would after a 10-minute trip.
The test model, priced at £91,555 (£96,500 with options), was powered by a 3.0-litre 258bhp diesel engine mated to an 8-speed automatic gearbox. It sprinted to 60mph from a standing start in 7.4 seconds and on to a top speed of 130mph. According to official figures it can achieve combined fuel efficiency of 40.9mpg with carbon emissions of 182g/km.
And despite these figures looking pretty impressive, it's the manner in which the Range Rover behaves that really provides the overwhelming 'wow' factor. It's beautifully agile and very sure-footed, which means fast country lanes with twisting bends are fun, fun, fun all the way home.
The steering is nice and precise and the manual paddles offer a little more control over the shifts if the mood takes you. Acceleration is smooth and very rapid with a constant supply of power on tap no matter how hard you push the vehicle.
In busy town centres, the park assist along with sensors and a 360-degree camera make light work of any manoeuvrability issues and on the motorways the car cruises effortlessly along.
Then, when you factor in all the 4WD and off-road and rough terrain capabilities the Range Rover possesses, it's easy to see why it sits so proudly at the top of the Land Rover tree and will certainly take some shaking if it's ever to be toppled.
Test Drive
Range Rover 3.0L TDV6 Diesel Automatic Autobiography
It's difficult to improve on near perfection, but the latest fourth generation Range Rover is the most capable Land Rover yet according to those in the know – Land Rover.
And to prove the point they invited us to test out the mighty vehicle not just in its comfort zone on the Tarmac but over a demanding off-road course too.
Admittedly, few owners who splash out the equivalent of a small mortgage on a car are likely to get it door deep in mud and filth, but it is nice to know just what your vehicle is capable of.
The latest Range Rover looks magnificent from any angle – it has a refined, yet inviting appearance with flowing lines and a choice of contrasting roof colours.
The roofline is lower and the overall length has been increased by 27mm which means more interior space as well as a more agile, nimble ride.
And it's the world's first SUV to feature an all-aluminium body shell. Replacing the steel frame and other weight saving ingenuities has resulted in a vehicle that is 420kg lighter than its predecessor. Yet it's stronger, more fuel efficient, offers lower carbon emissions and boasts improved aerodynamics.
The finished article was shaped after months of testing in the most grueling conditions around the globe in temperatures ranging from minus 40 to plus 52 degrees.
It can wade through water 900mm deep – an increase of 200mm which is the best ever for a Range Rover and best in class. It also boasts class-leading ground clearance which is another factor that comes into play when off-roading.
But despite the changes, the car still features the traditional company DNA and is instantly recognisable as a Range Rover.
Sean Henstridge, Land Rover Design Manager, said: "Our customers have incredibly high expectations and want products with true integrity.
"This model recognises the past but isn't harnessed by it. There is a flowing elegance with a sense of power and control.
"It's a new range Rover for a new era."
The test car – a 3.0 TDV6 diesel model in top-of-the-range Autobiography spec – was priced at £87,895 including a number of optional extras. It delivers a combined fuel economy of 37.7mpg with carbon emissions of 196g/km.
Inside, the pure luxury is apparent at every turn. It's impossible not to be wowed by the build quality and the fact that Land Rover uses only the very best to achieve such high standards. It features the finest leathers available and a choice of seven real wood veneers sourced from sustainable forests.
So with the thought of sustainable forests in mind and a very comfortable road route already under our belt it was off to the woodlands for some real 4×4 fun.
All Range Rovers have been able to deal with different challenging terrains but with the Terrain Response 2 – another upgraded feature – the vehicle can now detect the surface and automatically adapt as necessary.
In fact with that and the hill descent in operation steep inclines, sharp ascents, muddy water pools and deep trenches were a complete breeze and – hand on heart – all I actually did was steer and apply the occasional bit of pressure to the accelerator as mud and water splashed across the bonnet and windscreen from all directions.
Back on the open road, the vehicle received a few horrified glances from puzzled motorists who couldn't understand how a Range Rover on a 62 plate could look so filthy.
But that's all part of the package.
Dealing with extreme elements and driving conditions may not be a factor that will be important to all Range Rover buyers but it is still rather reassuring to know how accomplished this vehicle is.
Anyone who buys a new Range Rover receives a voucher for a Land Rover training session with the opportunity to take a vehicle off-road under truly expert guidance of an instructor.
And with Mother Nature's unpredictable mood swings of late who can predict when the next snow storm, sleet blizzard or extensive surface water will put in an appearance.
Test Drive
Range Rover V8 4.4 diesel Autobiography
Should you ever stumble upon £84k I think I know the perfect way to spend the cash – a luxurious Land Rover Range Rover in top-of-the-range Autobiography spec.
For this mighty vehicle oozes quality at every turn and the level of on-board technology is second to none.
The Range Rover looks magnificent from all angles with it very high stance and bold lines. Add in the privacy glass, smart light clusters and neat alloys and this really is a vehicle guaranteed to turn heads.
But for me, it was once you check out the interior that the wow factor really kicks in. The technical wizardry at your disposal is seemingly endless and the build quality would suit any first class limousine.
For the Range Rover has it all and every minute detail has clearly been given plenty of tlc.
Seats front and rear, offer incredible comfort levels and all can be heated if so desired. There is varnished wood trim with the word autobiography neatly engraved in them. The controls resemble a flight deck and for those looking for extra detail, there is even a fluffy carpet rather than the dull mats in most vehicles.
A sunroof stretches the length of the vehicle and the spacious interior means plenty of leg, elbow and head room for back seat passengers.
There is a massive boot with split rear tailgate can be increased further thanks to fold-flat rear seats and elsewhere there are plenty of more discreet storage options.
Creature comforts are plentiful and include a brilliant audio system compatible with all modern devices, a highly efficient air con system, individual DVD players for back seat occupants (£2,450 extra), Bluetooth connectivity, a colour dual view screen that allows the front seat passenger to watch TV while the driver is shown normal information viewings, plus plenty more besides.
The steering wheel can be raised or lowered via an electric lever to find the perfect driving position and there are more controls than an octopus could handle.
Elsewhere all dials and readouts are ideally positioned for driver usability and the Range Rover can quickly and simply be transformed from a Tarmac-only vehicle into a very accomplished off-roader capable of taking on Mother Nature in all her glory!
Another amazing factor about the Range Rover is how nimble and deceptively agile it is.
In and around town, it cruises effortless alongside slow moving traffic and parking is made easier thanks to sensors, cameras and the excellent all-round visibility.
Then, out on the open road, the 4.4-litre diesel engine bursts into life with excellent acceleration and road-holding. Fore such an imposing vehicle to race from 0 to 62mph in just 7.8 seconds gives some idea of its performance capabilities.
The eight-speed transmission is both smooth and responsive and the driver has the option of changing gears manually via the steering wheel-mounted paddle shifts.
Even at higher motorway speeds and on rougher pothole-ridden road surfaces, cabin noise was virtually non-existent and the ride nice and smooth.
As one would expect, Land Rover has piled the very best safety features into the Range Rover and the test model also included a vision assist pack priced at £1,085 which added blind spot monitoring, surround camera system including tow assist and automatic headlamps with high-beam assist.
All in all, the Range Rover has always been the forerunner in luxury performance combined with rugged off-road capabilities and that's a crown it still calls its own.