EV6 GT takes on famous Goodwood hill
June 15, 2022
The Kia EV6 GT will make its dynamic debut at the 2022 Goodwood Festival of Speed taking place from June 23 to 26.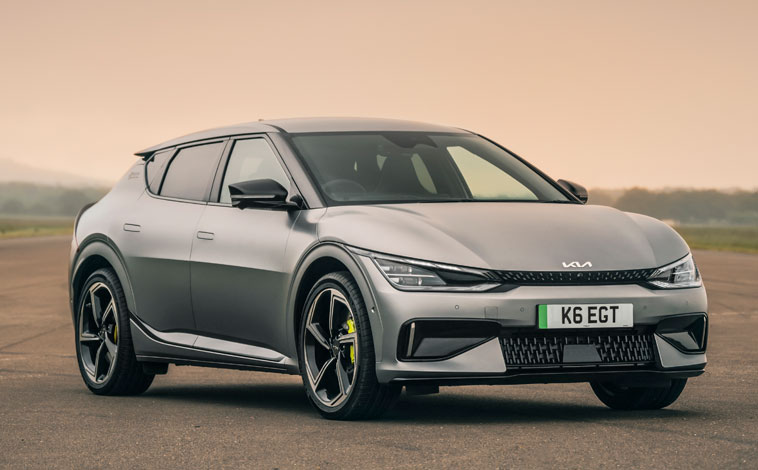 The all-electric high-performance crossover will be taking on the Festival's famous hill climb several times throughout the weekend, demonstrating its segment-defining performance in public for the very first time.
The EV6 GT combines exhilarating performance, first-class long-distance travel capabilities, ultra-fast charging tech, and an impressive real-world driving range for effortless cross-country touring.
It is also Kia's most powerful production car to date. Based on Kia's advanced Electric-Global Modular Platform (E-GMP), its all-electric dual-motor powertrain delivers 577bhp (585PS) and 740Nm torque. Perfect for Goodwood's famous hill climb, these credentials enable the EV6 GT to accelerate from 0-62mph in just 3.5 seconds. It boasts a top speed of 162mph.
The car also features a GT button on the steering wheel, activating its 'GT' mode. This automatically optimises the vehicle's e-motors, braking, steering, suspension, e-LSD and Electronic Stability Control (ESC) systems for their most dynamic settings producing a more engaging drive. Drivers can also tailor the car's ride, handling and performance characteristics to suit their individual preferences by selecting the 'My Drive' mode.
The car will be driven throughout the weekend by rally pro Jade Paveley. The perfect driver to tackle the nine-corner, 1.16-mile track, Jade was 2021 British Rally Cross Country Championship (BXCC) Class T2 Champion and 2018 Junior Welsh Tarmac Rally Champion. She is also the end-of-stage reporter for the World Rally Championship and European World Rally Championship, and Marketing Director for Llandudno Kia, a Kia dealership in North Wales.
Between drives, the EV6 GT will be on display throughout the event in the 'First Glance Paddock'. One of two new EVs that Kia will exhibit at the Festival of Speed, the all-new Niro EV will also be shown at the event in the 'Electric Avenue' area.
UK customer deliveries of the EV6 GT start at the end of 2022, with the car available to order from £59,995. The Niro EV is also now available to order from £34,995, and replaces the brand's best-selling EV to-date, the e-Niro.