Go online to specify Maserati Grecale
June 17, 2022
Maserati has confirmed the UK prices of the new Grecale and launched the new online car configurator where customers can select the options for their model.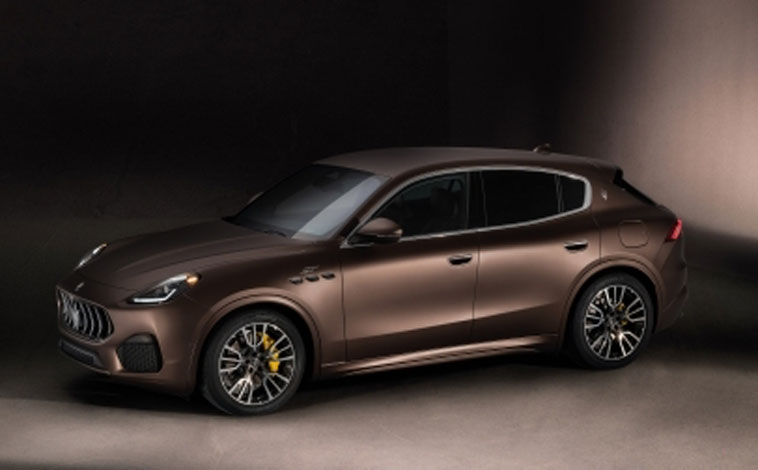 Developed at the Maserati Innovation Lab in Modena, the new SUV is produced at the Cassino plant.
Grecale strikes the right balance between versatility, elegance, handling and innovation, guaranteeing performance, comfort and safety, all at the same time. These features are combined with off-road capabilities and uncompromising driving pleasure.
An extremely wide range of engines is available with conventional internal combustion, hybrid and, in a year's time, Grecale will also be the first full-electric SUV in Maserati history.
Three versions will be rolled out at launch – a GT, powered by a four-cylinder mild-hybrid engine capable of delivering 300hp, the Modena, with a four-cylinder 330hp mild-hybrid engine and the powerful Trofeo, equipped with a high-performance 3.0L 530hp petrol V6 based on the Nettuno engine fitted to the MC20.
To complete the range, there will be the Grecale Folgore, the 100 per cent electric version with 400V technology.
The new SUV can power from 0-62mph in 3.8 seconds (Trofeo), top speed of 177mph (again on the Trofeo).
The design of Grecale embraces Maserati's new visual symbol, which distinguishes every new model since the MC20. The front features a low and imposing grille. The profile is notable for its contrast between purity and technique, with a highly fluid body featuring meandering, visual forms and its technical components highlighted by the use of carbon fibre. In the rear, the boomerang taillights are inspired by the Giugiaro 3200 GT and fit in with the trapezoidal line, made even more striking by the coupé effect of the cabin and its finish like a sports car.
Inside, the standout tech specs include the traditional Maserati clockface. Digital for the first time, it transforms into a veritable in-car concierge, courtesy of voice control.
The in-car experience is managed from the Maserati Intelligent Assistant (MIA) Multimedia system, from the state-of-the-art infotainment and from Maserati Connect.
The prices for the various trims are as follows: Grecale GT £58,500, Grecale Modena £64,500 and Grecale Trofeo £95,590.
For more information, please visit https://www.maserati.com/gb/en