Gee – what a Class act from Mercedes
January 17, 2018
The latest Mercedes-Benz G-Class is due to be launched in Germany in June and will arrive in UK dealerships later in the year with a price-tag starting from £95,100.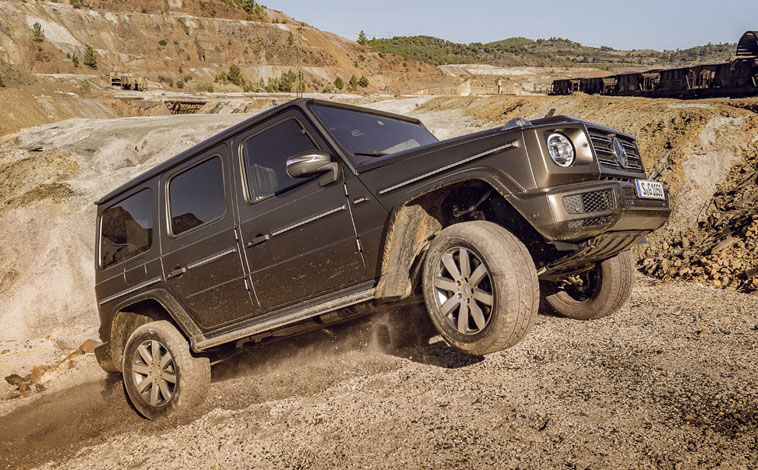 The iconic 4×4 has been around since 1979, but the latest version really ups the ante with a raft of new features that help bring the striking G-Class bang up-to-date.
Features include a number of driver assist systems, a higher-quality interior with leather upholstery, LED headlights, a new suspension and the opportunity to upgrade to even more luxurious surroundings.
From the outside, the changes are fairly minimal so the G-Class maintains its unique styling and Mercedes proudly states that the new model hangs onto  popular features like the exposed spare wheel on the rear door, the prominent indicator lights, the distinctive door handle and the characteristic closing sound.
On the road, the performance is more dynamic, agile and comfortable than before and the G-Class is even more accomplished off-road.
Inside the vehicle, there is extra leg, shoulder and headroom and as far as driving dynamics go the new off-roader comes with four programmes called Comfort, Sport, Eco and Individual.
The vehicle is fitted with clever technology such as systems that can detect the condition of the road and set the appropriate damping characteristics. This means the damping on rough terrain is stiffer, whereas in Sport mode the G-Class has a more agile response when driving on the Tarmac.
Although the engine power output has not yet been finalised for the UK market, the German model is powered by a high-performance 4.0-litre V8 petrol engine with an output of 422bhp.