Hyundai
i30/Tourer
With its perfect blend of space, design, economy and performance the i30 has plenty to boast about. Packed with outstanding technology and state-of-the-art equipment levels, it offers plenty to attract modern day motorists. There is also a highly charged i30 N model for performance driving.
The good
Great value and plenty of choice
The bad
Competing against very stiff opposition
Tech Specs

Price from
£16,995

Combined Fuel up to
74.3mpg
0-62 from
6.4 seconds

max speed up to
155mph

co2 from
99g/km
Test Drive
Hyundai i30 N 2.0 T-GDi 250PS Manual
When you consider the excitement associated with hot hatches, Hyundai isn't exactly the first name that springs to mind. Yes, the highly anticipated Veloster arrived in a blaze of glory that soon fizzled out, but now the Korean marque has launched the blisteringly-fast i30 N.
The 'N' labelling will be very familiar to any rally fans around the world, but for day-to-day drivers this is a whole new dimension for a fairly straight forward family hatchback. And if any further explanation was necessary, the i30 N was created at Hyundai's R&D centre in Namyang and then further developed at the Nurburgring so hence that 'N' suffix.
From a design point of view, the i30 N stands out from the standard car thanks to some dynamic styling cues such as N Exclusive bumpers and radiator grille, smoked tail lights, a rear spoiler, tinted windows, twin exhaust pipes, 18-inch alloys with performance tyres and red brake calipers which is always a hint as to what's in store.
And when you factor in the N Exclusive rear diffuser, N Exclusive Sport cluster, N Exclusive Sport seats, aluminium pedals, an N Mode button (I'll come back to that), plus the active sound design this car is anything but a run of the mill vehicle to potter around in.
Power is courtesy of a punchy 2.0-litre 250PS petrol engine with 353Nm of torque. It can blast its way from 0-62mph in just 6.4 seconds, tops out at 155mph and can deliver combined fuel economy of 36.7mpg (if driven with a certain degree of respect) with carbon emissions of 176g/km. And when it comes to pricing, it's competitively marketed at £26,345.
The interior is elegantly styled with supportive and quite firm seats plus a wealth of techno treats to explore. There is full smartphone connectivity via Apple CarPlay or Android Auto, a DAB digital radio, a six-speaker sound system, an eight-inch touchscreen navigation system, Bluetooth with voice recognition, air con and wireless phone charging.
Up front, the comfort levels within the i30 N are great, but anyone relegated to the back will soon discover the leg room is quite restricted. When it comes to storage, the boot can swallow 395 litres of luggage – a capacity that increases to 1,301 litres with the 60:40 split-folding rear seats dropped flat. Elsewhere there are door pockets, a glovebox, cup holders, a front armrest with storage bin and a rear armrest with cup holders.
But getting onto the real nitty gritty, this is car that's all about performance and that's where it excels. It starts up with a roar and the driving dynamics perfectly match the raucous outburst. There are different driving modes called Normal, Sport and Eco that alter the way the i30 N handles. The Normal and Eco modes are ideal for more relaxed driving or travelling in wetter conditions when the i30 N behaves in a calm, responsible manner. Sport mode is for a far more spirited driving experience and certainly livens up all the responses.
But the most interesting button is discovered on the steering wheel with a chequered flag design. It's called the N mode – press that and the i30 N suddenly behaves like a hot hatch that's sizzling with heat.
The active exhaust sound becomes more vocal and booms when you change down through the gears. The display screen alters to show G-force and power flow readouts and the handling is perfect for a day at the track. On our somewhat 'ruined' UK road network, you'd have to take a bravery pill before travelling too far in the N mode because the car's responses become incredibly sharp. It's easy to lose grip and composure especially if a little rain has fallen and bends need to be given a fair amount of respect.
For me, Sport mode ticked all the right boxes for a thrilling driving experience and leave the chequered flag to the track where it was designed to show off its true capabilities. That said; it is still guaranteed to put a smile on your face on a winding country lane with little other traffic as company and glorious sunshine.
For day to day driving, the i30 N is very easy to live with. The visibility is fine looking forward or to the sides, but is more restricted through the narrow rear window or over the shoulder. But that aside, it's a fabulous everyday hatchback that is raring to be unleashed should the perfect opportunity arise.
Test Drive
Hyundai i30 – first drive (2017)
Hyundai has really upped the ante in the family car market with the arrival of its all-new third generation i30 model and there is a car to suit all tastes and budgets.
With stiff opposition from the likes of the Ford Focus, Vauxhall Astra and VW Golf, competing in such a hotly contested segment is no mean feat, but Hyundai confidently describes the new i30 as 'a car for everyone' which, despite being quite a sweeping statement, is very accurate on so many counts.
The five-door hatchback has a modern, fresh design with a distinctive cascading grille with chrome-plated dots for an upmarket look. The new model features a lower front bumper which helps to achieve a wider, sportier-looking stance and the sweeping headlight clusters also include LED daytime running lights. There is a black rear spoiler to add some dynamic flair and the wide rear end conveys a truly muscular appearance. The optional panoramic sunroof completes the look.
Move inside and the interior is elegant, clutter-free and neatly laid out with lots of on-board technology and creature comforts to be explored. There are all the connectivity facilities you could wish for with Apple CarPlay, Android Auto, wireless charging, Bluetooth and USB points. Another design enhancement now sees the 8-inch touchscreen free floating so information such as sat nav instructions are easier to see with just a single glance and the sound system is also of a good quality. In addition there is a heated steering wheel, heated or cooled seats, climate control, parking sensors and, depending on the trim level, electrically-adjustable seats and smart leather upholstery.
All occupants are treated to high standards of comfort with plenty of head, leg and shoulder space in the back seats. And the storage options are impressive too with deep door pockets, a central bin, overhead sunglasses holder, a glovebox, cup holders, handy trays and a boot capacity of 395-litres that sees off most rivals. Drop the 60:40 split-folding rear seats and that capacity increases to a whopping 1,301 litres.
Customers can pick from five well-equipped trim levels called S, SE, SE Nav, Premium and Premium Nav with prices starting at £16,995 and rising to £24,745. All i30 models feature Hyundai's outstanding 5-year, unlimited mileage warranty and also boast a comprehensive list of safety specifications which is why the Korean company is confident the car will be awarded the maximum five stars when it is tested for its Euro NCAP rating.
Safety kit includes the likes of autonomous emergency braking, lane departure and forward collision warning, hill start assist, numerous airbags and smart high beam assist. The higher Premium and Premium Nav grades also feature rear cross traffic alert and blind spot detection.
When it comes to powertrains, there are two petrol engines – a 3-cylinder 1.0-litre 120PS and a 1.4-litre 140PS – along with a 1.6-litre 110PS diesel option. All cars are available with a five or six-speed manual gearbox and the 1.4 and 1.6 models can be fitted with a seven-speed dual clutch transmission.
The sweeping country lanes of Cornwall with their high hedgerows, along with some faster dual carriageways was the testing ground for the car and it was the ideal location to put the various engines through their paces.
First up was the 1.6 diesel model in Premium trim priced at £23,030. This model can reach 62mph from a standing start in 11.0 seconds, maxes out at 118mph and can deliver combined fuel efficiency of 74.3mpg with carbon emission of 99g/km.
This, in hindsight, is the sensible member of the family. It's economical, practical, spacious, and comfortable and the engine has ample get-up-and-go.  The six-speed gearbox is smooth and responsive and this car is the ideal model for anyone who clocks up the long motorway miles and wants to see good economy along the way. It's not that fast out of the starting blocks and at times feels a little heavy, but the road-holding is assured. And although there is a little engine noise when pushed hard, the car is generally nicely insulated against the outside world.
Next up was the three-pot 1.0-litre petrol car in SE Nav. This model costs £20,230 and can sprint from 0-62mph in 11.1 seconds. It topped out at 118mph and could achieve 56.5mpg on a combined run with CO2 emissions of 115g/km.
There was a time when the thought of a three-cylinder engine was dismissed pretty swiftly. But those days are long gone. Nowadays it's the power output that determines the car's performance rather than the cc and with 120PS at its disposal, this car has fun factor written all over it.
It's like the adolescent teenager in the i30 family and felt much lighter than the first test car as it fizzed around the Cornish lanes. The acceleration is sharper and the all-round driving experience is more for driving enthusiasts who like to see some feedback and demand a more exhilarating driving encounter. The engine tends to scream if revved too hard, but mostly this car is a delight to drive.
Next up was the 1.4 petrol model in Premium priced at £22,780. This is the fastest in the line-up and can reach from 0-62mph in 8.9 seconds, and onto a top speed of 130mph. Combined fuel economy is 52.3mpg with carbon emissions of 124g/km.
Like the little three-cylinder car this petrol model is a thrill to drive. It's the grown up family member who isn't quite as wild as the younger three-cylinder model, but neither is it as sensible as the 1.6 diesel.
Once again the response is sharper and quicker than the diesel counterpart, but on the downside, the economy is not so impressive. But when it comes to handling, it's a winner – the road-holding is super-gripper and assured, the steering precise and the acceleration responsive. Steep climbs are easily dealt with and this model is definitely the best performance car of the line-up and will get from A to B in the fastest time.
I also managed a short run out in a pre-production model fitted with the automatic box and whilst the length of time behind the wheel was limited, the DCT gearbox was exceptionally smooth. The gear changes were slick and there was ample power to overtake slower moving vehicles at short notice.
So, it would be fair to say the i30 really does come in many guises and each has its own character and appeal. Whether it's a sensible economical diesel car you are looking for or a more entertaining petrol derivative, the i30 is certainly worth a look.
Test Drive
Hyundai i30 Tourer Style Nav 1.6 CRDi 128PS Manual
There's no denying the fact that Hyundai is a brand that is going places and the stylish i30 Tourer – a compact estate car – is another excellent example of the company's ideal blend of elegant styling, practicality, technology and economy.
The four-door model looks great from any angle thanks to its smooth flowing lines, rear spoiler with high-mounted brake light, 16-inch alloys, body-coloured door handles and mirrors, chrome exterior beltline, hexagonal grille with chrome trim and roof rails.
And there's plenty of techno treats to be explored in the richly-equipped cabin too, including a rearview camera with parking guidance, Bluetooth connectivity with voice recognition, a great six-speaker sound system, dual-zone climate control, touchscreen sat nav with traffic messaging, automatic headlights, automatic wipers and plenty more besides.
It's very reassuring that despite having a price-tag just shy of £22k, all the built-in creature comforts come as standard. In fact the only additional extra on the test car was metallic paint costing £470.
The interior is bright and spacious with ample room to accommodate four adults – five at a squeeze – and the car's extra length compared to its hatchback sibling is another bonus with ample storage space.
The 60:40 split-folding rear seats means the capacity can be increased even further if needed.
The i30 Tourer handles beautifully and is extremely agile and easy to manoeuvre. The acceleration through the six-speed manual transmission is smooth and responsive and the 1.6-litre diesel-driven engine delivers all the power you could wish for.
It's a great car to weave through busy city centre traffic but can easily hold its own on faster country lanes and motorways too.
The test car featured Flex Steer, a system which allows the driver to adjust the steering response with a choice of comfort, normal and sport settings to select from.
And it also carried Blue Drive badging which means it is one of Hyundai's cleanest and most economical models with combined fuel efficiency of 64.2mpg and carbon emissions of 115g/km.
As one would expect, the i30 Tourer comes complete with a comprehensive list of safety features, such as anti-lock brakes with electronic brakeforce distribution, electronic stability control, emergency stop signal, hill-start assist and six airbags.
Long gone are the days when the South Korean brands were frowned upon by motoring purists.
These days both Hyundai and Kia deliver attractive, feature-rich, reliable and economical vehicles across their entire ranges.
Test Drive
Hyundai i30 Estate 1.6 CRDi Style
IN Europe we have become accustomed to cars that are packed with great technology, are comfortable, perform to high expectations and plenty more.
Thankfully, Hyundai has come up with the goods in its i30 and there are plenty of other plus-factors too.
It boasts excellent fuel economy, great performance figures and the appeal grows further with its price tag of £15,000.
Add in the five-year unlimited miles warranty factor and the i30 is really proving its pulling power in the small family car market.
The design is eye-catching with sweeping lines along with a distinctive lights cluster and the i30 boasts a whole host of top notch features at no extra cost.
These include roof rails, heated door mirrors, front and rear electric windows and even iPod compatibility.
The driver is treated to a high seated position, which means excellent all-round visibility and the placing of all the dials and controls have been well thought out with practicality in mind.
There are 20 different storage compartments throughout the cabin from sunglasses and cup holders to areas where larger objects can be safely stored – that could be a record!
Rear seat passengers are treated to a comfortable ride with plenty of legroom all round and the light and airy cabin helps to remove that claustrophobic back seat feeling experienced in some inferior vehicles.
The drive itself was above expectations with the i30 performing well both in and around town and out on the more open and winding roads.
Hyundai has also packed the i30 with safety features galore. To name just a few there is anti-lock brakes, electronic stability control, a state-of-the-art structure, numerous airbags and even a tyre pressure monitoring system.
And in a climate with everyone's attention focused on the economy, its a vehicle that will leave rival companies in the industry quaking in their tyres.
Related Reviews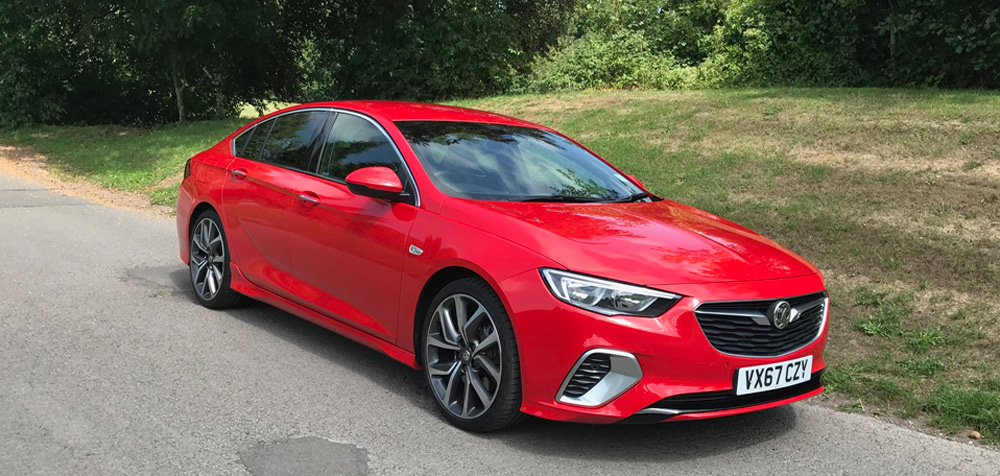 Vauxhall Insignia