Mazda
MX-5/RF

When it comes to putting the fun-factor back into driving, few models come close to the MX-5. Everything from the seat positioning, handy controls and even the cabin wind-controller has been carefully designed to increase the driver's pleasure. Now available with retractable hard-top roof.
The good
The ultimate two-seater sports car
The bad
Look out for potholes!
Tech Specs

Price from
£18,795

Combined Fuel up to
47.1mpg
0-62 from
7.3 seconds

max speed up to
133mph

co2 from
139g/km
Test Drive
Mazda MX-5 RF 160PS Sport Nav
"WOW – that was just brilliant fun" – I exclaimed as I pulled up in my Mazda MX-5 convertible after a blast in the countryside and it was only as all the heads turned to face me at once that I realised I was speaking a little too loudly.
That's probably down to the fact that the last hour had been spent whizzing round the twisting country lanes in the Cotswolds and despite it being early November with morning temperatures plummeting to single digits, I had spent that time with the roof down.
In fairness the sun was shining although not giving off that much warmth, but we Brits have a love affair with open-top motoring and the MX-5 I was testing was a little bit special. It was the latest MX-5 RF model and had a roof that could be automatically raised or lowered in 13 seconds at the flick of a switch at speeds up to 6mph. It also featured a three-section retractable steel hardtop which means when closed, the MX-5 RF transforms into a very sleek coupe.
It's a car guaranteed to stop onlookers in their tracks thanks to its beautifully styled profile, sporty curves, 17-inch bright alloys, body-coloured door mirrors, neat light clusters and muscular front haunches.
The interior is compact but perfectly proportioned with black leather sports seats featuring smart red contrast stitching. On board technology included a premium Bose sound system with nine speakers, sat nav, smartphone connectivity, a seven-inch display screen, smart keyless entry, rain sensing wipers, climate control and all-important seat heaters.
The MX-5 RF was powered by Mazda's highly-acclaimed 2.0-litre SKYACTIV technology petrol engine which delivers 160PS and is mated to a six-speed manual gearbox. And whilst the roof may be the show-stopper on the RF model (it stands for Retractible Fastback by the way), it's the MX-5's exhilarating performance and handling capabilities that never fail to impress any true driving enthusiast.
It takes 7.4 seconds to sprint to 62mph from a standing start but feels much faster and the maximum speed is 134mph. But it's the manner in which this lean, mean two-seater machine handles that has made it such a firm favourite over the years.
Sometimes manufacturers make drastic changes to their cars and the character and driving enjoyment is lost along the way. Not so with the RF which almost matches its roadster sibling when it comes to driving dynamics and performance stats.
The RF weighs 45kg more than the roadster because of the roof construction and Mazda has upgraded the suspension and steering systems to deal with the extra pounds. But you would be hard pushed to spot any differences when it comes to handling.
The acceleration through the six speed gearbox is thrilling, the ride breath-taking and the steering feedback is superb making the MX-5 RF another brilliant driver's car from Mazda. With the roof raised, the occupants are cocooned inside and protected from all the outside elements. But at the first hint of sunshine the roof is lowered and its back to that wind-in-the-hair excitement again.
Another fact that's worth noting about the MX-5 RF model is that there has been no compromise concerning boot space – the car maintains its 127-litre capacity as the retractible hood rather cleverly folds away behind the seats.
So, onto the nitty gritty then – how much of a dent will this car make in the savings? Admittedly, the RF model does work out a little more expensive to buy than the roadster and the test car was priced at £25,995 (£27,065 with options fitted). According to official figures it could deliver combined fuel economy of 40.9mpg with carbon emissions of 161g/km.
But all in all, Mazda has provided all the proof necessary that you can take something as popular and brilliant to drive as the MX-5 and raise the bar even further. The RF model is an amazing piece of kit and there is nothing in its price range that comes anywhere close to matching it.
Test Drive
Mazda MX-5 1.5 131PS Sport Nav
When I think back to my earliest cars it was back in the 1980s when I bought my Triumph Spitfire and oh how I loved that car. Every time I got behind the wheel I knew I was in for some awesome driving fun because you felt so connected with the vehicle. Then, with the first hint of sunshine, the roof was lowered for fabulous open-top driving.
Admittedly, it wasn't perfect. For instance, when it rained hard you could expect wet feet as there was some sort of osmosis effect through the worn chassis and floor linings, but whenever I think back to that bright red Spitfire sat outside my parent's home it still makes me smile.
The reason for this long-winded reminiscing is simple. Over the years, the only modern-day car that really comes close to that thrill-packed Triumph experience is Mazda's iconic MX-5 and that is what I have been driving this week.
This classic roadster is the world's best-selling two-seat sports car and it perfectly combines two very important factors. Firstly, it delivers on every aspect when it comes to sports car thrills. Secondly, it doesn't cost a fortune to buy with the latest fourth generation car priced from £18,795.
The MX-5 boasts a muscular stance and looks beautifully sculpted from any angle. Eye-catching features include striking LED headlights and beautifully smooth contours. The test model was fitted with 16-inch gunmetal alloys along with piano black door mirrors to complete the look. The MX-5 is the sort of car that immediately grabs your attention and then holds onto it.
Step inside and the compact cabin houses two passengers comfortably and there is plenty of on-board technology to be explored. Features include a nine-speaker BOSE sound system, sat nav, a seven-inch colour touchscreen, Bluetooth connectivity, DAB digital radio, air conditioning, three-stage seat heaters and steering wheel-mounted controls.
Leather adorns the seats, steering wheel and gear stick and the car certainly has a very upmarket feel. The latest generation model is smaller and lighter than previous versions and that means the new MX-5 can deliver even better driving dynamics. The roof is opened and closed manually (no fancy push buttons on this car) and the boot can actually hold a fair amount of luggage too with a capacity of 130 litres.
When it comes to performance, the Mazda MX-5 is guaranteed to be every thrill-seeker's perfect driving machine. The rear wheel drive test car was priced at £23,095 (£23,965 with options) and was powered by a 1.5-litre 131PS petrol engine mated to a six-speed manual transmission. It could sprint from 0-62mph in 8.3 seconds and topped out at 127mph. According to official figures, the MX-5 can deliver combined fuel efficiency of 47.1mpg with carbon emissions of 139g/km.
In busy town centres the car is agile and its compact dimensions make light work of parking. But, be warned, with the roof up, the all-round visibility is quite poor with virtually no over-the-shoulder vision. This does make reversing out of a supermarket parking space quite difficult and extra care is needed when changing motorway lanes.
But out on the faster open roads, particularly the winding country lanes, it's a completely different experience. The MX-5 has built a reputation for delivering exhilarating driving dynamics and it is a reputation that is justified. The steering is sharp and precise and the vehicle can be thrown enthusiastically into bends with a degree of confidence thanks to the ultra-grippy road holding. It is quite loud within the car and you will feel lots of bumps and dips along the way, but that adds to its appeal, so crank up the sound system and get on with it!
The switching through the gears is perfectly tuned to keep the momentum going and the acceleration feels blisteringly fast. In fact, when you are travelling at 50mph it feels much more like 70mph.
Mazda has kitted out the MX-5 with a range of safety features, including dynamic stability control with traction control, dual front and side airbags and a lane departure warning system.
All in all, the MX-5 is a superb roadster that leads the field for anyone who hasn't quite got the cash for a Porsche Boxster. It has survived the test of time and is growing old in anything but a gracious manner. As for my Triumph Spitfire – I traded it in for a motorbike!
Test Drive
Mazda MX-5 (2015) – first drive
Whoever it was that stated bigger is better obviously hadn't had the op-portunity to get behind the wheel of the latest fourth generation Mazda MX-5 otherwise they would take that statement right back.
For the latest MX-5 version has shed some pounds, it's shorter and lower than its predecessor and it's those dimensions and the weight loss that make this car such a wonderful prospect as it continues to be the world's best-selling two-seater sports car.
Boasting a sharp new design with slim LED headlights and a large front grille it looks rather muscular and slightly aggressive in appearance and the introduction of rounded taillights certainly give the car a striking identity from the back at night time. This new-look is all part of Mazda's KODO: Soul of Motion design philosophy which was adopted to help breathe life into their vehicles. And it's certainly working with the MX-5.
Move inside and the car oozes character with plenty of on-board technol-ogy. The canvas roof can be lowered manually, one-handed from the driver's seat with little effort. And because the roof stashes away behind the rollover hoops it doesn't eat into the boot's storage capacity at all.
Buyers can choose from two engines featuring Mazda's award-winning SKYACTIV technology and there are nine versions to select from ranging from the 1.5 131PS SE priced at £18,495 to the 2.0 160PS Sport Nav costing £23,295.
All models are richly equipped with the likes of alloy wheels, air conditioning, LED headlights and electric windows as standard. And as you move up through the range features such as a colour touchscreen, Bluetooth connectivity, DAB radio and cruise control are introduced. All models apart from the entry-level SE feature a superb infotainment system to access a range of services via your smartphone.
We tested out a couple of models on a road route consisting busy town centres, long winding country lanes and fast-moving motorways and both cars were certainly up for the challenge.
First up was the 2.0-litre 160PS SE-L Nav model priced at £20,695 (£21,235 with options fitted). This car can sprint rom 0-62mph in 7.3 seconds and tops out at 133mph. According to official figures it can deliver combined fuel efficiency of 40.9mpg with carbon emissions of 161g/km.
Whilst the MX-5 has never claimed to be the fastest roadster on offer it does deliver some of the finest driving dynamics and thrills of any model available in showrooms today.
The direct steering is beautifully refined, the handling incredibly respon-sive and that means tight bends can be attacked at pace for fun. Admit-tedly you will feel the odd bump or three! And you will possibly discover a few aches and pains after a lengthy spell behind the will, but those minor discomforts are easily outweighed by the sheer driving pleasure the MX-5 brings with it.
I was lucky that the sun put in a brief appearance during my test drive, so I pulled into a lay-by and in a matter of seconds the roof was lowered. This meant I could fully enjoy the wonders of open-top motoring in all its splendour with an accompaniment from the pitch perfect six-speaker sound system. There is even a speaker in the driver's headrest!
Next up was the 1.5-litre 131PS Sport Nav model costing £22,445 (£22,985 with extras fitted). This version can reach 62mph from a stand-ing start in 8.3 seconds and has a top speed of 127mph. Combined fuel economy is 47.1mpg with emissions of 139g/km.
Once again this MX-5 was up for the challenge and whilst it had slightly less power, it actually seemed to be more fun to drive… if that's possible. There was lots of gear changing and the driver/car relationship seemed more perfected in this particular model.
To be honest the MX-5 is the sort of car that will appeal to the majority, but obviously has its downsides too – namely practicality. The boot is not very large (130 litres) and there is very little room within the cabin. There isn't even a glovebox.
But at the end of the day, who cares? That's because the MX-5 is in a class of its own. It has always been ahead of the field and this latest in-carnation of the iconic roadster simply furthers the divide.
Test Drive
Mazda MX-5 1.8i SE Air Con
The iconic Mazda MX-5 has long been a firm favourite amongst thrill-seekers who want an open-top driving experience but at a price that won't break the bank.
With its drop dead gorgeous lines, rugged stance, smart light clusters, neat alloys and roof that can be opened at the push of a button, the MX-5 has always stood out in any crowded car park.
And its driving dynamics are outstanding with a renowned reputation for attacking and conquering bends at high speeds whilst offering road-hugging safety and stability.
That was true when testing out the 1.8 petrol-powered version in SE trim as it cruised rapidly through the five-speed manual gearbox.
Acceleration is very fast – 0-62mph in just 9.9 seconds – and there is a real thrill about the car.
It's exciting to drive and even the road surface noise and engine 's roar adds to its all-round appeal.
The interior was beautifully crafted with plenty of techno treats included in the standard asking price of £18,495.
In fact, the only extra cost was the dazzling crystal white pearlescent paint priced at £495 which possibly makes this car visible from the moon!
Storage is of course a tad limited, but the boot can easily accommodate a couple of large bags and there are a number of handy compartments throughout the cabin.
I have always been a fan of the MX-5 – it offers a glimpse into driving in its truest form. The bells and whistles may be missing, but the buzz is very evident.
But, sadly I think it may have met its match in the UK's atrocious road network.
While the MX-5 is happy taking on the bumps and dips out in the country, a lengthy 130-mile run along the notoriously bad M4 in the dark and pouring rain proved quite an eye-opener.
The car was shunted, pulled and pushed by the road's endless ridges and the unexpected potholes left me clambering for the nearest chiropractor.
I appreciate it's not the MX-5's fault that the motorways are in such a dire condition, but the harsher weather and lack of investment means they are not likely to improve in a hurry.
Thankfully, my faith was restored the following day. I took the car for another spin in the country and the sun even put in an appearance.
All in all, I'm still a fan of the MX-5 and would happily venture across Europe in one. But getting across the UK in the first place is another story altogether.
Related Reviews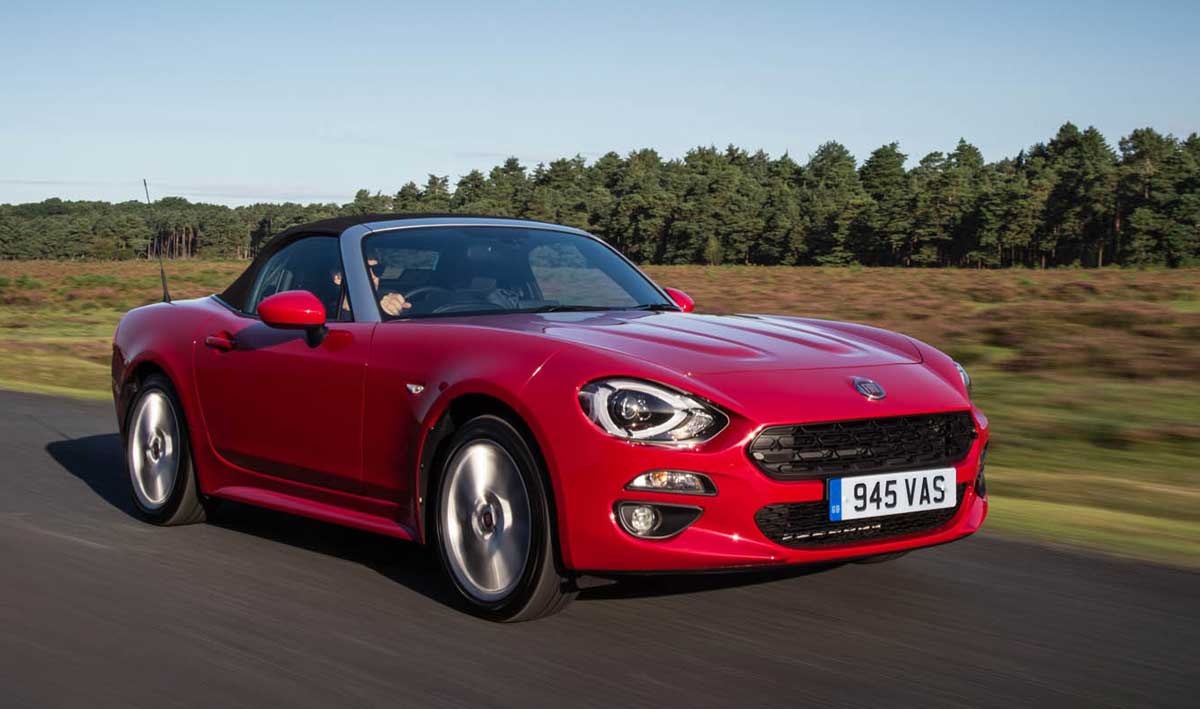 Fiat 124 Spider
Audi TT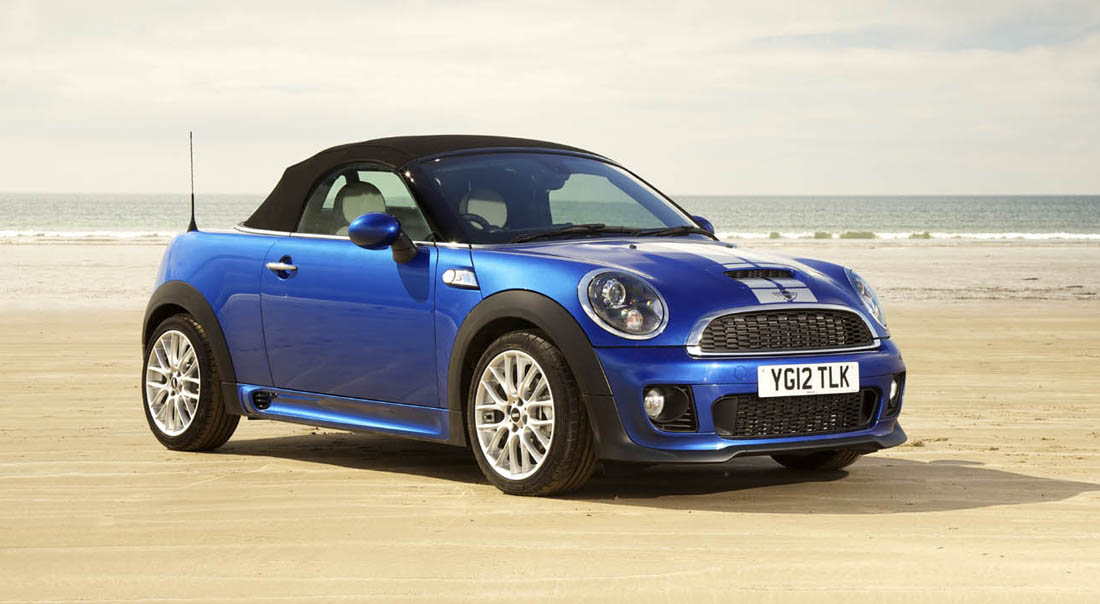 Mini Roadster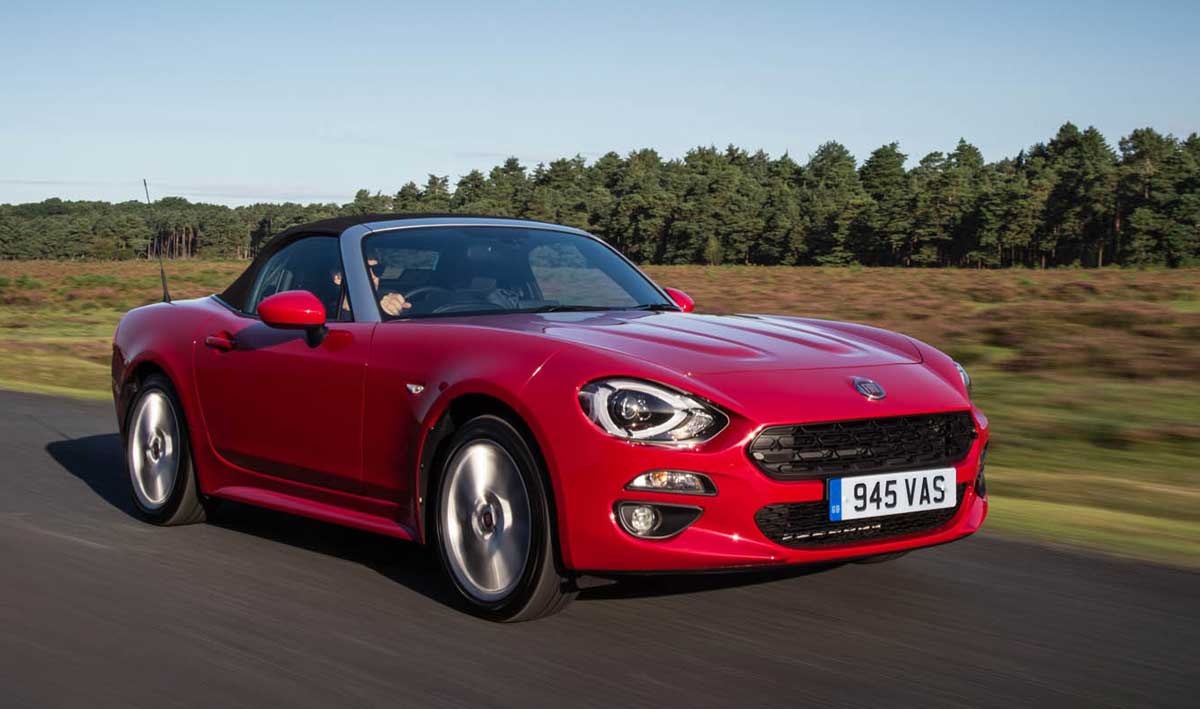 Fiat 124 Spider