JAGUAR
F-Type Roadster/Coupe
The Jaguar F-Type draws on all the company's sporting heritage to deliver two-seater excellence. Available in Coupe or Cabriolet body styles, the latest model really raises the bar in this exclusive sector.
The good
Amazing styling, driving dynamics and performance
The bad
Price, but who cares!
Tech Specs

Price from
£54,925

Combined Fuel up to
29.7mpg
0-62 from
3.5 seconds(0-60mph)

max speed up to
186mph

co2 from
215g/km
Test Drive
Jaguar F-Type P450 V8 R-Dynamic (2022)
It's difficult to believe the Jaguar F-Type was launched almost a decade ago amid the challenge of being the spiritual replacement to the iconic E-Type.
Replacing a legend or constantly being compared to one is no easy task, but the F-Type has certainly proved its worth in both hard-top coupe or cabriolet open-top body styling.
Each car is offered with three power outputs called P300, P450 and P575 with the numbers relating to the maximum PS on offer. In addition, all versions feature an eight-speed automatic gearbox, but customers can opt for all-wheel drive.
And when you factor in the generously-equipped trim levels to choose from, there is a lot of decision-making to do before signing on the dotted line.
We selected the F-Type Coupe in R-Dynamic specification powered by a mighty 5.0-litre V8 450PS Supercharged petrol engine with all-wheel drive. Priced at £83,695 (£95,345 with options), it delivered 580Nm of torque and that resulted in blistering pace.
In fact, this particular F-Type can sprint to 62mph from a standing start in just 4.6 seconds and tops out at 177mph. The day-to-day running costs don't make quite such good reading with a combined 26.2mpg and carbon emissions of 246g/km, under WLTP testing.
But, in all fairness, that is just what you would expect from such a powerhouse of a sports car and all those trips to top up with fuel will be met with gazes of green envy from onlookers.
That's because the F-Type is drop dead gorgeous when viewed from any angle, thanks to its powerful curves and sporting characteristics. It features premium LED headlights with daytime running lights, flush door handles, a large black grille housing the Jaguar emblem, quad tailpipes, a stretched bonnet, privacy glass, a fixed panoramic roof, deployable boot lid spoiler, plus 20-inch alloy wheels with black brake calipers.
An optional black design pack on the test car added a gloss black grille surround, side vents and window surrounds, and there was a black front splitter, black 'Jaguar' script and black F-Type badging.
The menacing dark theme continues within the cabin too with black Windsor leather performance seats, carpet mats and headliner.
Comfort levels inside this two-seater are deceptively good despite being so close to the Tarmac, although getting in and out with any resemblance to elegance is a challenge.
The powered seats can be heated or cooled and there is a wealth of technology to explore in the driver-focused cabin. There is a 10-inch widescreen Touch Pro infotainment system featuring full smartphone connectivity, built-in sat-nav, a pitch perfect Meridian sound system, DAB radio and Bluetooth connection.
So, the F-Type looks amazing and is packed with kit, but how does it perform when put through its paces? The answer is exceptionally well and definitely not for the faint-hearted.
The pace out the starting blocks is rapid and the acceleration is relentless as the car fires through the auto transmission. There are paddles for added driver engagement, along with drive modes to alter the reactions of the car called Normal and Dynamic.
Most people will hear the F-Type long before they see it thanks to the roar of the engine and noise levels can be increased further via an enhanced exhaust system.
The road-holding through tight bends is unrattled at pace and the car effortless cruises at 70mph on motorways. But it's worth keeping a watchful eye on that speedo as this model offers so much more pace.
And when the weather takes a turn for the worse, the all-wheel drive system has a setting called Rain/Ice/Snow to cope with more adverse driving conditions.
Visibility is not too bad although the rear screen is very narrow. However, a rearview camera and sensors make reversing easier.
As expected, storage options are quite limited, although the boot can accommodate 336 litres of goodies with hidden storage beneath the boot floor. In addition, there is a glovebox, a deep cubby bin, slim door pockets, plus cup holders for anyone brave enough to take a coffee along for the ride!
The F-Type is packed with a wealth of safety features too, but you do pay extra for a blind spot assist pack with rear traffic monitor.
All in all, the F-Type may be expensive to buy and expensive to run, but if money is not an issue, it is a brilliant piece of kit that will deliver hour upon hour of rewarding driving miles.
Test Drive
Jaguar F-Type Coupe 450PS First Edition – First Drive (2020)
With sharper, more dynamic styling, extra fire-power and upgraded on-board technology, the latest Jaguar F-Type offers the ultimate in two-seater sports car appeal.
The 2020 model boasts a muscular, assertive design but is also more sculpted in the process with super slim pixel LED headlights and subtly updated signature 'J' daytime running lights. Visual enhancements include a new clamshell bonnet, revised front bumper and larger grille for more visual impact. The styling is completed thanks to the flush deployable door handles and air vents.
Move inside and the compact cockpit is totally driver-focused and features a Touch Pro infotainment system, Smartphone connectivity via Apple CarPlay or Android Auto, a superb Meridian sound system and a whole lot more. But the new headline-grabbing feature has to be the reconfigurable high definition 12.3-inch Interactive Driver Display which can be personalised according to taste.
The F-Type's interior is quality through and through with a perfect mix of the finest leather upholstery, soft touch finishes and high-end decorative trim – it oozes class and elegance without being garish in any way and the sports seats are snug, supportive and easy to adjust along with the power-adjustable steering wheel.
Prices for the new model range from £54,060 to £102,370 and F-Type owners can choose between coupe or cabriolet body styles. There are generously equipped trim levels starting with the F-Type, then the F-Type R-Dynamic, followed by the First Edition and R models.
Powering the two-door sports car is a choice of 2.0-litre, four-cylinder or 5.0-litre, V8 petrol engines with outputs ranging from 300PS to 575PS. All the units are mated to an eight-speed Quickshift transmission with full driver control via steering wheel paddles or the SportShift gear selector. There is also the option of rear wheel or all-wheel drive.
We tested the F-Type First Edition Coupe version that is modelled on the R-Dynamic but gains lots of extra kit, such as an Exterior Design Pack in Dorchester Grey and five-spoke, 20-inch wheels. The First Edition cars will have a limited run of just one year.
This model also featured the new powertrain – a 5.0-litre V8 450PS engine with 580Nm of torque – and it didn't disappoint in the least. Priced at £80,890 or rather £85,395 with options such as a powered tailgate, 12-way heated and cooled electric memory front seats, plus privacy glass, the car could power its way to 60mph from a standing start in a blisteringly quick 4.4 seconds and maxed out at 177mph. And according to the latest WLTP testing it can deliver a combined 26.8-26.1mpg with carbon emissions of 239-246g/km.
But economy stats and ultra-efficient running costs will be the furthest thing from your mind when you start up the car with a very welcoming grumble that soon develops into a fully blown roar. And it's a sound that just gets better and better, especially if you shift across to Sport mode and fire up the enhanced exhaust tone. In fact, the F-Type is a car that is heard long before it's seen … and then just like that, it's gone!
Even when driven hard on dreadful, water drenched roads the all-wheel drive F-Type was beautifully balanced and grounded without a slightest hint of slip. Bends and corners can be attacked with total confidence and the steering is nicely responsive with ample driver feedback.
New F-Type feels much sharper on the open road than the outgoing model, which was starting to look a little jaded by comparison. This F-Type is anything but. It's agile, responsive and very potent with a wonderfully addictive and aggressive nature that seems to say: "Go on, dare you!"
Much of this attitude is down to the uprated chassis set-up along with new dampers and springs that aid the improved agility and all-round performance.
One of the newer features within the car is the new driver interface and that's definitely worth exploring. It's adaptable and can be personalised according to taste or requirements with the likes of a single dial for explosive pace work, the more traditional double dials for day-to-day use or a full navigation map.
As you would expect, storage options are quite limited, but in all honesty, who cares? There's boot space for 310 litres of kit along with a small central cubby box, narrow door pockets and a drop-down glovebox.
With such potent performance on hand, safety systems need to be comprehensive and they are just that with the likes of lane keep assist, traffic sign recognition with adaptive speed limiter, roll over protection system, emergency brake assist, anti-lock brakes, driver condition monitoring and a whole lot more besides.
All in all, Jaguar has brought its F-Type model bang up to date with the latest improvements and it now offers a very attractive and viable alternative to sports cars from the top German marques.
Visit Jaguar for more details
Test Drive
Jaguar F-Type R Convertible AWD
I'm not one that frequently looks up to the heavens for divine intervention, but after six days of pouring rain and one of the finest looking convertibles parked on my driveway, I admit I was becoming desperate.
And finally, my prayers were answered and it was down with the roof and off into the sunset in my Jaguar F-Type Convertible. Well, maybe it wasn't quite so dramatic as that, but I was pleasantly relieved when the weather tap was turned off for a good three hours enabling me to sample the attraction that is open-top motoring in one of the most beautifully-styled convertibles to grace our roads these days.
The vehicle I refer to is the Jaguar F-Type and I've come to the conclusion that on this occasion the 'F' definitely stands for fwor! That's because the two-seater looks amazing from every angle and you'll never tire of walking round the car admiring its muscular, athletic stance. There are 20-inch alloys, chrome side power vents, quad exhaust pipes, bi-function HID Xenon headlights with washers and LED signature lights, body-coloured roll bars, red brake callipers, power-folding mirrors and a red convertible roof which contrasted neatly with the glacier white paintwork.
Move inside and the sporty interior certainly has the wow factor and boasts the finest leather upholstery with an 'R' theme and badging. Techno treats include an eight-inch colour touchscreen infotainment system, sat nav, a 10-speaker Meridian sound system, bright stainless steel pedals, a flat-bottomed leather 'R' sports steering wheel, Bluetooth connectivity, dual zone automatic air conditioning, illuminated tread plates and lots more besides.
The cabin is cosy but not claustrophobic with the super-comfy and supportive seats offering 14-way electrical adjustment in order to find the perfect driving position. The instrument and dashboard layout flows beautifully and all systems are easy to operate without the distraction of taking your eyes from the road ahead.
So on to the performance then. The test car was priced at £97,165 (£101,465 with options) and was powered by a 5.0-litre V8 550PS Supercharged petrol engine. It could blast to 60mph from a standing start in just 3.9 seconds and topped out at 186mph. The combined fuel economy is 25.0mpg and carbon emission of 269g/km, but in fairness, this car was never designed for anyone with a watchful eye on the pennies or the environment.
That's because the F-Type was created for pure driving pleasure and it delivers on every count. It starts up with a mighty roar and that's without even touching the accelerator. Apply the slightest pressure to the throttle and the noise from the four exhausts is a hint at what's in store, because the F-Type's performance matches its loud fanfare and muscular looks.
It's blisteringly quick, yet somehow remains composed which means it can be thrown enthusiastically into bends with confidence. The power at your disposal seems unlimited and you just know you'll be the one to bottle out of a tricky manoeuvre long before the car does.
There are different driving modes to choose from – including a rain, ice and snow setting. But the most interesting one has to be 'dynamic' which is aptly highlighted by a chequered flag. Select this and the instrumentation turns racing red in colour and the exhaust volume cranks up to a whole new level.
The road-holding is incredibly assured with all-wheel drive and the steering precise with plenty of driver feedback into corners. And, as one would expect from Jaguar, the F-Type is packed with a comprehensive list of state-of-the-art safety features to help protect occupants and pedestrians alike.
However it's not all plain sailing and the car is not without its negative points. For example, the boot on the test model was filled by a spare wheel which meant there was not even room for an overnight travel bag (unless you ditch the passenger of course) and the visibility when reversing from a parking space is nigh on non-existent with the roof raised. The reversing camera and parking sensors do help, but you will learn very quickly to reverse into parking bays for easy exiting later on.
But those minor gripes aside the Jaguar F-Type is the ultimate two-seated sports car. It looks stunning, delivers breath-taking all-round driving dynamics and is guaranteed to make you the envy of the neighbourhood – although get used to being referred to as 'that noisy one'.
Visit Jaguar for more details
Test Drive
Jaguar F-Type S Coupe 3.0 V6 Supercharged Manual
When it comes to stunning looks, exhilarating performance and graceful elegance, few cars can come close to competing with the beautifully-crafted Jaguar F-Type.
Admittedly there are supercars such as Ferraris and Lamborghinis that grace our roads, but I would still say that the majestic F-Type leads the chasing pack.
It looks drop dead gorgeous from every angle and certainly lives up to all the hype with purists comparing it to the seemingly-untouchable E-Type.
But in fairness to Jaguar that was then and this is now.
The F-Type is a guaranteed head-turner and most bystanders will hear the car coming before it arrives (especially if the amplified exhaust setting is activated). It fizzes, crackles, pops and then roars into life when the slightest pressure is applied to the throttle.
The two-seater looks muscular and incredibly athletic thanks to the long bonnet, curved and sculpted rear haunches, centrally-positioned twin tailpipes, distinctive light clusters with intelligent high beam assist, door handles that are flush to car's bodywork, 19-inch alloys, panoramic roof and powered tailgate.
Then step inside the vehicle and it's impossible not to be wowed by the premium build quality, vast array of technology and sheer beauty that greets you.
Jaguar has incorporated the finest leathers and materials to create a cabin environment that is fit for royalty. But they can't have it because it's mine all mine – well at least for a week of test driving!
Techno treats are plentiful and include an eight-inch touchscreen display, heated seats with 14-way electrical adjustment and memory settings, sat nav, DAB radio, intelligent stop/start, dual zone automatic climate control, Bluetooth connectivity and plenty more besides.
The interior is snug and compact as expected, but there is ample room for two six footers to stretch out in style.
And the boot is actually quite spacious too complete with an underfloor section creating a capacity of 315 litres. There are also a number of handy storage compartments scattered throughout the cabin.
Priced at £60,260 (£70,545 with options) the test car boasted a 0-60 sprint time of just 5.3 seconds and redlined at 171mph.
According to official figures, it can deliver combined fuel economy of 28.9mpg with carbon emissions of 234g/km.
The F-Type is blisteringly quick as it shifts through the six-speed manual gearbox. The 3.0-litre 380PS Supercharged V6 engine delivers astonishing power and acceleration and the car's low slung stance along with precise steering means the road-holding is truly sublime. And that in turn means country lanes with long sweeping bends can be attacked with utter confidence.
In and around town, the F-Type meanders through the crowds like an A-lister lapping up the applause on the red carpet. And then when unleashed on faster roads, it's all about performance and handling.
There is even a Dynamic driving mode which is aptly engaged by pressing a button with a chequered flag motif on it and this make the car's performance even more edgy and thrilling. Add in the Active Sports Exhaust and you have the perfect soundtrack to accompany the experience with a racing car-inspired crescendo at high rpm.
And of course as one would expect, the vehicle is packed to bursting with innovative and comprehensive safety features to keep occupants as safe as possible.
All in all, the F-Type is a beautiful piece of kit that delivers awesome performance and driving dynamics. But be warned – it's a car that is guaranteed to bring out the green-eyed monster in the most placid of bystanders.
Visit Jaguar for more details
Test Drive
Jaguar F-Type V8 S Convertible
When the last of Jaguar's iconic E-Type two-seater sports cars rolled off the production line 40 years ago, many purists believed it was the end of an era and nothing like it would ever grace our roads again.
How wrong they were! For last year Jaguar picked up on that thought and we saw the arrival of the aptly-named F-Type with its beautifully-crafted contours, elegant styling and performance capabilities to blow your socks off.
And the cream of the crop is the range-topping 5.0-litre V8 Supercharged model with its 0- 60mph sprint time of just 4.2 seconds and top speed figure of 186mph – no slouch then!
The F-Type is guaranteed to bring out the green-eyed monster in all onlookers thanks to its sleek and chic curves, rear spoiler, quad exhaust pipes, LED daytime running lights, 20-inch silver alloys and intelligent air venting system.
And on closer inspection it's clear just how much care and attention has been devoted to every fine detail along the way. For example, the door handles are flush to the bodywork and when opened display JAGUAR along the top, the chrome headlight surrounds also feature the company's name as do the stainless steel sports pedals and it has red brake callipers.
These features may not sound that essential but they are an indication of how much time and thought has gone into each and every nook and cranny.
As one would expect from a car that carries a price-tag just £5 shy of £80k (without extras) the F-Type's interior is a work of art.
It boasts the finest upholstery along with a wealth of technology to be explored. And once again the simple things really impress, such as the air vents that's rise from the centre of the dashboard when needed and fold away smooth to the touch when not required.
The flat-bottomed multi-function steering wheel can be positioned perfectly for comfort as can the seats which are electrically adjusted.
And there are flashes of gold on a number of features such as the start/stop button, the driving mode select switch and the steering wheel-mounted paddle shifts.
Techno treats are plentiful and include a premium Meridian sound system with DAB radio, Bluetooth connectivity, sat nav and a clear and precise 8-inch colour touch-screen display, heated seats, a great air con system and plenty more besides.
And despite being a two-seater sports car which is typically low to the ground, comfort levels are remarkably high and the generous width of the car means two passengers have bags of space to stretch out. And although storage levels are limited there are a number of handy little compartments scattered throughout the car.
So it's certainly fair to say the stunning F-Type looks resplendent both inside and out, but how well does it perform when put to the test?
The answer is incredibly well. The uncontrollable roar as you start the car will wake up slumbering neighbours up to a mile away and with the Active Sports Exhaust turned on there is more fizz, bang, crackle and pop than a New Year celebration in full swing.
The answer is incredibly well. The uncontrollable roar as you start the car will wake up slumbering neighbours up to a mile away and with the Active Sports Exhaust turned on there is more fizz, bang, crackle and pop than a New Year celebration in full swing.
There is a seemingly endless supply of power on tap as the car accelerates through its eight-speed automatic transmission. The road-holding is excellent and the all-round handling truly exhilarating.
But make no mistake; the F-Type isn't just a grunt and muscle car – anything but. It almost seems to glide across the Tarmac and any uneven roads are treated with the disrespect they deserve thanks to the car's excellent suspension which irons out many of the creases.
There are three driving modes – normal is ideal for everyday driving (if such a thing exists in the F-Type). Dynamic mode – suitably indicated by a chequered flag – adds a more edgy and gritty response. Finally, there is a rain/ice/snow mode indicated by a snowflake for extra traction in poorer driving conditions.
And when the sun puts in an appearance, the roof can be lowered in just 12 seconds. Although be warned, if you are driving with the top down and it starts to rain, you can expect lots of horn blasts and gesticulations from passing motorists as you pull over to raise the roof. It's also a car that few drivers show any courtesy towards so plan well ahead before changing lanes.
All in all the F-type is a fantastic model. It has brought Jaguar's sports heritage bang up to date and I wonder what they will have in store for us 40 years from now.
Visit Jaguar for more details
Test Drive
Jaguar F-Type Coupe
Last year Jaguar took great pride in shaking up the sports car market by launching its highly successful F-Type roadster. Now the stakes have been increased even further.
For this month sees the arrival of the coupe version of the F-Type and when Jaguar's global manager, Wayne Darley, described it as the company's "definitive sports car" then it has to be time to sit up and take note.
There are three versions of the F-Type Coupe. The entry model 3.0-litre V6 supercharged 340PS Coupe is priced from £51,235, then comes the mid-range 3.0-litre V6 Supercharged 380PS S Coupe costing £60,235 and finally the all-singing, all-dancing 5.0-litre V8 Supercharged 550PS R Coupe with a price-tag of £85,000.
It's impossible not to be wowed by the car – it is the perfect blend of seductive design, cutting-edge technology and heart-stopping performance all rolled into one beautifully-crafted package that oozes Jaguar DNA throughout but with a distinctly modern slant.
Eye-catching features include muscular front and rear haunches, a sweeping coupe roof profile, wraparound LED tail lamps, an aluminium or panoramic glass roof, a selection of stunning alloys plus a deployable rear spoiler integrated into the boot that automatically rises at 70mph in order to balance front and rear lift and then lowers when the speed drops below 50mph.
And the two-seater's interior is packed with exquisite design traits and is premium quality throughout. The very finest materials have been incorporated and blended to create a sporty, dynamic and very driver-focused environment. And, of course, there is a wealth of technical innovations to be explored – many of which add to the car's performance capabilities.
On its global launch we spent two days behind the wheel of the newcomer on very serene Spanish roads and also on a racetrack.
Our first introduction to the car was in the S Coupe with its 0-60mph sprint time of 4.8 seconds and top speed limited to 171mph. According to official figures this model can deliver 31mpg on a combined run with carbon emissions of 213g/km. Jaguar believes this model will account for half of the sales in the UK.
From the moment you take your place behind the flat-bottomed sports steering wheel it seems like the car has been specifically designed with you in mind. That's because the ultra-supportive sports seats can be electrically adjusted along with the steering wheel to find the perfect driving position and those settings stored in the car's memory.
Then with a little pressure on the start button the car roars into life like a caged lion waiting to be unleashed. The eight-speed 'Quickshift' automatic transmission can be beautifully smooth or devilishly brutal depending how you feel and if you fancy taking total control there are steering wheel-mounted paddles and a dynamic drive mode.
It's in this mode that the car's volume really cranks up and the sports exhaust cracks and pops beautifully as you decelerate.
But with the open road ahead of you, the F-Type Coupe is a dream to drive. It grips the Tarmac like glue and winding inclines can be attacked with confidence.
One factor becomes very evident when traversing narrow mountain roads though and that's how wide the car is – 6ft 3ins excluding mirrors. Maybe that's one of the main reasons why Jaguar predicts extensive sales in the US where big cars are a must.
But, despite notching up hundreds of kilometres in the car the only real way of demonstrating its true power and potential meant a visit to the race track. And for this exercise out came the big guns – the 5.0-litre R Coupe with a 0-60mph time of just 4 seconds and top speed limited at 186mph.
I wouldn't claim to be anything like an expert at track driving but with a professional shouting instructions and demanding you push yourself and the car to new boundaries, we did see just shy of 160mph down a straight stretch of the track. He also demonstrated just how competent the car was round the track – wow!
The cornering, braking and all-round control is truly awesome. That's because the car features Jaguar's second-generation Electronic Active Differential which works in perfect tandem with a new Torque Vectoring by braking system to deliver enhanced agility and exploitable handling at the limit.
In layman's turns you can throw this car at wet bends at pace and it won't let you down – we had a chance to prove that on a go-kart track with narrow lanes and tight hairpins with jets of water soaking half the course. Once again, the car was easily up to the challenge.
The two-day event finished with a 250kms road route in the R Coupe which is impossible to criticise. The slightest pressure on the accelerator and there is a growl that acts as a constant reminder that you are behind the wheel of something a little bit special.
All in all, Jaguar is certainly laying down the gauntlet to its premium rivals. It estimates that 90 per cent of all F-Type Coupe sales will be buyers who have been tempted away from alternative brands so this stunning newcomer could certainly shake up the German marques.
Visit Jaguar for more details
Test Drive
Jaguar F-Type V6 Supercharged
Replacing what many people consider as perfection in a two-seater sports car can pose quite a problem, but Jaguar seems to have taken on the challenge and passed with flying colours.
It's been almost 40 years since the last Jaguar E-Type was produced and to be brutally honest, very few open tops have come close to such a clever combination of performance, pedigree, grace and elegance.
That was until now.
For Jaguar has a new kid on the block – the aptly named F-Type.
It boasts beautiful styling, bundles of technology, blistering driving dynamics and character by the bucket load.
The F-Type is an instant attention-grabber thanks to its sleek streamlining, snazzy alloys, LED tail lamps, centrally mounted twin exhausts, retracting door handles and a spoiler that deploys automatically at 60mph and lowers again at 40mph.
And if the looks don't get you noticed, the soundtrack certainly will. There is plenty of volume and the addition of an Active Sport Exhaust system introduces a whole host of special sound effects. It's like New Year's Eve day after day.
Like any quality sports car, the interior is fairly snug but all controls, dials and readouts are perfectly positioned in the driver-focused cockpit.
Creature comforts are plentiful and include very supportive sports seats in the finest leather, an aluminium central console with striking instrument cluster, an 8-inch colour display, an impressive 6-speaker sound system compatible with all modern day media devices, DAB radio, sat nav, Bluetooth, intelligent stop/start and lots more besides.
The test car had several optional extras which increased the asking price from £58,520 to £68,440. These included heated seats, soft-grain leather trim, a heated flat-bottomed sports steering wheel, a wind deflector, rain sensing wipers, a seat memory package, 19-inch alloys and that Active Sport Exhaust which cranks up the volume to the max.
We all know British summers can be unpredictable and thankfully the F-Type's canvas hood can be raised or lowered in just 12 seconds at the press of a switch and this operation can be carried out at speeds up to 30mph.
So Jaguar has produced another strikingly good looking sports car that's packed to bursting with sophisticated quality and technology, but how does it match up when put to the test?
Simply put, the F-Type is absolutely brilliant to drive with a constant supply of power of tap thanks to the 3.0-litre Supercharged V6 petrol engine.
The performance is breath-taking and the car can sprint to 60mph in just 5.1 seconds and then on to a top speed that is electronically limited to 161mph.
Acceleration through the eight-speed Quickshift automatic transmission is blisteringly fast and the all-round handling is mind-blowing. You can even change gear manually via the steering wheel-mounted paddles and get amazing feedback from that exhaust system
Because of its largely aluminium design, the F-Type is very lightweight and it feels very agile, nimble and controlled at all times. Road-holding is sublime and tight bends are easily attacked and conquered.
As with many two-seaters, storage options are rather limited and that's true of the F-Type too with a boot capacity of less than 200 litres and only a handful of small storage options within the cabin.
But many F-Type owners will also have a larger family car that can cater for any load-lugging requirements.
The F-Type boasts a comprehensive range of safety specifications, including anti-lock brakes, dynamic stability control, emergency brake assist, a smart airbag system and plenty more.
Jaguar was faced with a seemingly impossible task of introducing a new two-seater sports car and some die-hard critics may say the latest incarnation lacks the charisma of its ever-graceful ancestor.
But I would disagree and simply say that the F-Type is a perfect example of Jaguar moving with the times and somehow maintaining a seemingly timeless tradition in the process.
Visit Jaguar for more details
Related Reviews
Mazda MX-5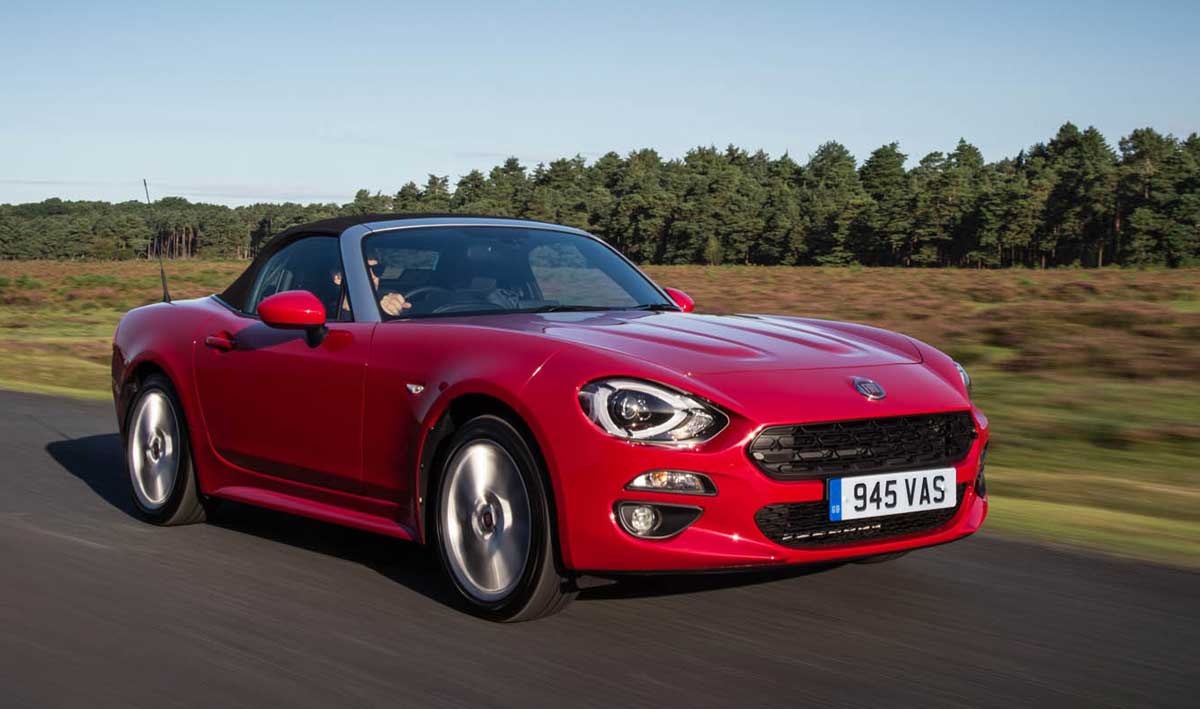 Fiat 124 Spider