Skoda takes camping out to a new level
July 25, 2022
Skoda has created a one-off ENYAQ iV 80 FestEVal model for the summer season with innovative camping additions.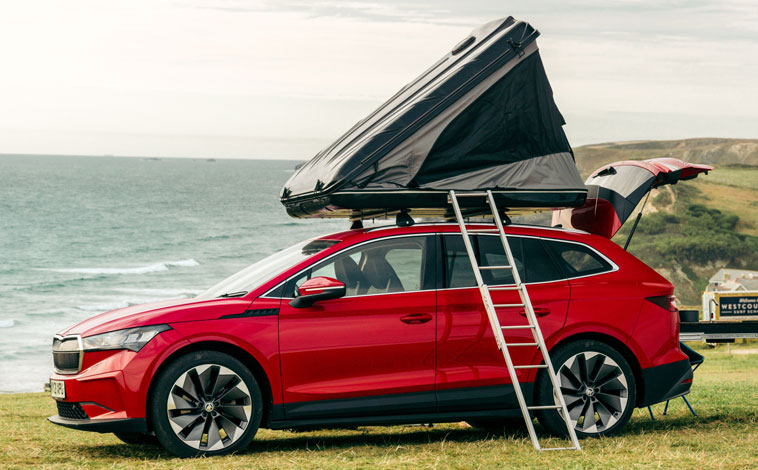 The extra features include a boot-mounted camping box with extendable bed, luxury roof tent, along with campsite extras to provide zero-emission accommodation for festivals and camping getaways.
Following two years of interrupted summers, the UK summer festival and holiday season is back underway. To celebrate, Skoda has created the one-of-a-kind ENYAQ iV 80 FestEVal that provides camping accommodation for those looking to hit the road for an electrifying summer of outdoor adventures and festivals with an eco-conscious twist.
The headline act inside the vehicle is an innovative boot-based camping unit – made by Czech manufacturer, EGOE. The EGOE 'box' is one of the first of its size and fits perfectly into the ENYAQ iV's spacious 585-litre boot. It effortlessly slides out of the boot of the car on the campsite and has an integrated gas cooker, collapsible sink with tap and hose, preparation area and ample storage space.
The flexibility and design of the unit allows the rear seats to still be used, and when parked up at the campsite, it provides one of two sleeping areas in the ENYAQ iV 80 FestEVal – one of the only electric cars with room for up to four people to sleep.
The double bed frame can be put together in minutes, extending across the folded rear seats. The mattress cushions store on top of the box and provide comfortable in-car accommodation for two.
The second sleeping space is in the streamlined roof tent. This is accessed via a ladder that is stored inside the tent box when closed. The tent itself can be set up and taken down in a matter of minutes and has netting inside for storage, and there is a solar powered fan and an integrated torch for added comfort and convenience.
Every element of the car's camping set-up is designed to be effortless. Space-saving camping chairs and a table are set up and collapsed within seconds, ready for use as soon as campers arrive onsite.
After the music has stopped onstage, campers can continue the party through the ENYAQ iV's eight-speaker sound system, while interior ambient lighting provides additional atmosphere into the evenings.
For more information on the ENYAQ iV, visit www.skoda.co.uk