Kia
Niro/e-Niro
The Kia Niro is a compact crossover model with hybrid, plug-in hybrid or full EV technology. Now in its second generation, it looks athletic, is economical to run, it's versatile and spacious, plus it's packed to bursting with techno treats and safety specifications.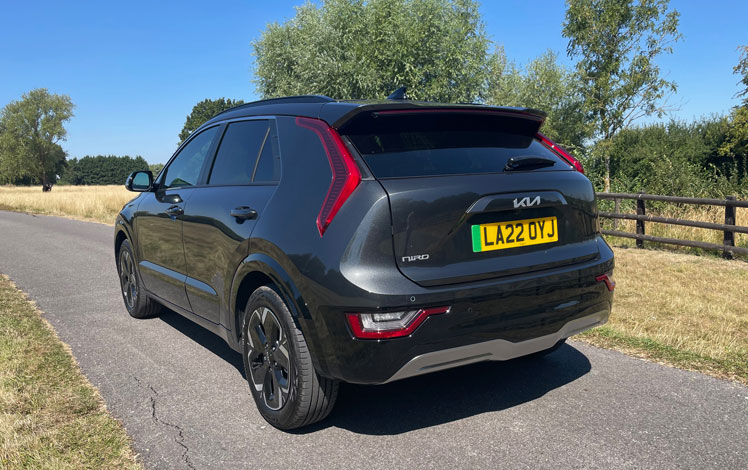 The good
Styling, practicality, price and technology
The bad
So many high-quality rivals these days
Tech Specs

Price from
£27,745

Combined Fuel up to
353.1mpg (PHEV)
0-62 from
9.5 seconds

max speed up to
104mph

co2 from
18g/km (PHEV) (0g/km EV)
Test Drive
Kia Niro EV – First Drive (2022)
Hot on the heels of the all-new second-generation Niro Hybrid and Plug-in Hybrid models, Kia has unleashed the fully electrified version.
The five-door Niro EV replaces the outgoing e-Niro, a car that accounted for half of all Niro sales in the UK. But the new SUV is bigger, better and more efficient so it should continue to succeed in the popularity stakes.
The Niro EV range is priced at £36,245 for the '2' trim, £38,995 for the '3' model and £41,745 for the high-end '4' spec. All versions feature a 64.8kWh lithium-ion battery with single-speed automatic transmission and the driving range is an impressive combined 285 miles between charges under WLTP testing.
The new car has been completely remodelled from the ground up and it boasts a stronger road presence than its predecessor, with a bold design that gained lots of attention from onlookers.
The '2' grade has 17-inch alloys, dual LED headlamps, rear parking sensors and camera, an eight-inch touchscreen, Apple CarPlay and Android Auto, DAB radio, a 10.25-inch TFT cluster and cloth upholstery. Buyers also get forward collision avoidance, smart cruise control, 11kW on-board charging and a battery heating system.
Move up to Niro EV '3', as tested, and the car gains a larger 10.25-inch touchscreen display with sat nav, heated front seats and a heated steering wheel, front parking sensors, plus cloth and faux leather upholstery. It features blind spot collision avoidance, a wireless smartphone charger and the option of a heat pump plus Vehicle-to-Device functionality.
Finally, the range-topping '4' version introduces vegan leather upholstery, ventilated front seats, a powered tailgate, electric sunroof, remote smart parking, heated rear seats, optional contrast-coloured C-pillars, along with steel grey wheel arches. There are additional safety systems too such as reverse parking collision avoidance, highway driving assist and an upgraded forward collision avoidance set-up.
Whichever model customers opt for, the interior incorporates a number of sustainable materials and is high-end in its design with all the controls easy to operate on the move.
The second-gen car has had quite a growth spurt too. It is 65mm longer, 20mm wider, 10mm taller and the wheelbase has grown by 20mm which results in extra space inside the car for occupants and their luggage.
We opted for the Niro EV '3' costing £38,995, although it featured an optional heat pump that added £900 to the final price. This innovative piece of kit offers a more efficient means to warm up the cabin without impacting on the battery levels and also increases the driving range during those colder, winter months.
With 201bhp on tap, along with 255Nm of torque, our test car could power its way to 62mph from a standing start in 7.8 seconds and maxed out at 103mph.
It cruises at 70mph with ease and there is plenty more power on tap. Then when faced with the twisting country lanes, the Niro EV is composed, grippy and perfectly balanced meaning tight bends can be attacked with confidence. The acceleration is instant and there are different levels of regenerative braking to help boost the battery levels.
In the highest level, an i-PEDAL operation comes into force and this means you can drive through the city with all its stop, start traffic, without needing to touch the brakes. You simply take your foot off the accelerator and the car begins to slow down.
The driver can switch through drive modes called Eco, Normal and Sport that alter the characteristics of the vehicle and there is a Snow setting to aid driving in more adverse weather conditions.
The driving range of 375 miles in the city or a combined range of 285 miles seemed really accurate and special mention to the well-weighted steering that offered plenty of driver feedback.
Comfort levels up front are sublime and the cabin oozes premium class build quality with a truly upmarket feel. In the rear, there is ample space for a couple of adults to sit comfortably with plenty of leg, head and elbow room. Alternatively, a trio of youngsters would be happy in the back and there are even USB-C ports in the sides of the front seats so they can stay connected on the move. The Isofix fixtures make it simple to fit a child seat to either outer rear seat.
A deep boot, with a practical wide-opening tailgate, offers space for 475 litres of kit, increasing to 1,392 litres with the 60:40 split-folding rear seats dropped flat.
Elsewhere there is a glovebox, door bins with room for a bottle, front and rear cup holders, seat back pockets, non-slip trays, along with a single USB and three USB-C ports.
Charging the Niro EV from 10-80 per cent takes 45 minutes via a 100kW DC charger, or 43 minutes with a 350kW DC rapid charger.
And running a totally electric car introduces many financial benefits too. Thanks to its zero carbon emissions, it will be free from Congestion Charges or low emission zone fees and the Benefit in Kind tax rating of two per cent makes it an attractive choice for business drivers.
All in all, when you factor in the wealth of safety technology and class-leading warranty, the Kia Niro EV has to be one of the market leaders in the race for sales in the electric SUV sector.
Test Drive
Kia Niro – First Drive (2022)
Kia has unleashed its all-new second-generation Niro crossover SUV and customers can choose from hybrid, plug-in hybrid or a soon-to-be-launched fully electric model.
Boasting a fresh new look that features a redesign from the ground up and an interior that would put many premium brands to shame, the Niro is priced from £27,745 for the hybrid version and £33,525 for the PHEV.
Customers can select from generously-equipped trim levels called '2', '3' and '4' with next to no optional extras to catch you out at the check-out desk.
New Niro has been designed to have more road presence than its predecessor and features sweeping light clusters, angular 'heartbeat' daytime running lights and Kia's trademark Tiger Face front end. There is a rear spoiler, roof rails, a sunroof (on some versions), privacy glass and smart alloy wheels to complete the styling.
The second-gen car is longer by 65mm, 20mm wider, 10mm taller and the wheelbase has grown by 20mm and that means extra space inside the car for occupants and luggage.
The interior is quality through and through with a driver-focused cockpit, an integrated curved infotainment display, high-end materials and vegan leather upholstery just a few of the stand-out features.
Both the Niro Hybrid and PHEV feature a 1.6-litre petrol engine paired to either a 43bhp (32kW) or 83bhp (62kW) electric motor. The hybrid produces 139bhp and 265Nm of torque and can deliver a combined 64.2mpg with carbon emissions from 100g/km. The plug-in hybrid develops 180bhp and 265Nm of torque with CO2 emissions from just 18g/km and up to 40 pure electric miles.
We tested out the range-topping Niro '4' with plug-in hybrid technology costing £39,025. This flagship model looks spectacular from any approach and boasts all the driving dynamics to match the sporty good looks.
The acceleration out the starting blocks is instant and the car can power its way from 0-60mph in 9.8 seconds, topping out at 100mph (83mph in EV mode).
It cruises at 70mph on motorways and is nicely grounded when pushed on through the twisting country lanes with minimal body sway into bends. The car starts up in default Eco mode but can be switched across to Sport to sharpen up the responses further. Special mention to the precise steering with plenty of driver feedback and the nicely timed six-speed dual-clutch automatic transmission which features across the line-up.
The Niro PHEV fizzes around town and the levels of regenerative braking can be adjusted with single pedal driving almost a possibility. This is achieved by using the steering wheel mounted paddles, but when the car is in Sport mode these paddles take on a more traditional use and change the gears.
It's not the fastest model out there, but does offer the perfect mix of comfort and performance with supportive seats and a highly effective suspension set-up to smooth out the uneven road surfaces. And the transition from EV to hybrid driving is barely noticeable.
The car also has an intuitive Green Zone Drive Mode that automatically engages EV-only driving in selected areas such as schools and hospitals. In addition, it will save the EV charge if the planned sat nav route is going through Congestion Charge or low emission zones. Clever stuff.
The Niro PHEV '4' is packed with tech, including two 10.25-inch screens. There is sat nav, Apple CarPlay and Android Auto, Bluetooth, wireless charging, a reversing camera with dynamic guidelines and four USB ports. For added convenience and comfort, there is a head-up display, heated and ventilated front seats, heated outer rear seats and a heated steering wheel.
Although the official combined 282.5mpg fuel efficiency figure is a tad pie in the sky and would only be achievable if the EV range was used to its full potential and the car charged regularly, it is worth noting that its 40-mile range is well within the average daily commute.
Charging the Niro PHEV's battery takes 2 hours, 55 minutes from 15 to 95 per cent on a regular type 2 charger.
The 11.1kWh battery pack is stored beneath the boot floor on the PHEV and the boot can swallow 348 litres of kit, increasing to 1,342 litres with the 60:40 split-folding rear seats dropped flat. This is slightly less than the Niro Hybrid with 451 and 1,445 litre-limits.
And speaking of the Hybrid model, we also took a spin in the entry level Niro '2' Hybrid costing £27,745. It may be the starting point for the range, but this model is anything but basic and packed with kit.
It hits 62mph from a standing start in 10.4 seconds and tops out at 102mph, while delivering a combined 64.2mpg with carbon emissions of 100g/km.
Once again, this car was an absolute delight to drive with plenty of power on tap for quick bursts of pace. And, although it didn't feature quite so many mod cons as the PHEV '4' model, it was very well equipped for its price.
When it comes to passenger room, the Niro excels with two six footers easily fitting one behind the other. There is room in the back for a trio of occupants and storage space also impresses. The boot features an adjustable floor with a low loading lip for convenience and rear seats can split-folded to an almost flat position.
Throughout the cabin there is a glovebox, practical door bins with bottle holders, adjustable cup holders, trays, a central cubby box and seat back pockets.
All new Niro models are packed with safety systems and driver assistance aids to help protect occupants and other road users alike. Expect to see the likes of forward collision avoidance with pedestrian and cyclist detection plus junction turning. There is intelligent speed limit assist, remote smart parking, lane keep assist, blind spot warning, smart cruise control with stop-go, highway driving assist and lots more besides.
All in all, the new Kia Niro is a fabulous all-rounder for any active family looking for a classy, premium styled crossover model that is packed with technology, is great to drive and even quite kind to the planet. And for those escapes to the countryside, both models can also tow a trailer or caravan weighing up to 1.3 tonnes.
Test Drive
Kia e-Niro – First Drive (2018)
Mention electric cars and it conjures up all sorts of range anxiety issues, right? Well, not necessarily, as Kia has clearly proven with the launch of its all-electric e-Niro model that can be driven almost 300 miles between charges.
It is the Korean manufacturer's second venture into electrification following on from the success of the Soul EV and the e-Niro has plenty of all-round appeal. It boasts an athletic, stylish crossover design (it actually looks like a normal car), it's roomy and practical, comfortable, delivers great driving dynamics and it has that all-important zero-carbon emissions figure.
Admittedly, it's not exactly cheap to buy with an asking price of £32,995 and that includes the £3,500 Government grant, but we are in an age where we are being driven towards eco-friendly, planet-saving motoring and the e-Niro is a perfect example of how well it can be achieved.
The 'Niro' name will be familiar to many as the car was launched in the UK in 2016 in hybrid and plug-in hybrid EV guise. But from next April, buyers will be able to choose an all-electric version of the front-wheel drive, five-door crossover.
And it's likely to attract plenty of attention because it's a good-looking car. Design features include a matt black radiator grille where the charging port is hidden along with a de-bossed Niro logo. There are roof rails, privacy glass, solar glass, black side sill and wheel arch mouldings, a rear spoiler, chrome coated door handles and 17-inch diamond-cut two-tone alloy wheels. And to help the car really stand out, it boasts redesigned air intakes along with new arrow-shaped LED daytime running lights that combine with blue trim highlights.
Powered by a 64kWh battery pack paired with a 210bhp motor, producing 395Nm of torque, the e-Niro can sprint to 60mph from a standing start in a very swift 7.5 seconds and onto a top speed of 104mph. But it's the manner in which the car performs that really impresses as we discovered on a lengthy road route in South Korea that incorporated motorways, twisting country lanes and the heavily congested Seoul streets during rush hour.
There is just one drive gear but the driver can choose from Normal, Eco and Sport modes which alter the amount of effort it takes to steer the car and also changes the character of the powertrain. Normal is the most practical and suitable for day-to-day motoring, but the Sport mode was great fun when faced with some twisting roads – the steering becomes more weighted and the throttle more responsive resulting in a far more engaging driving experience.
The acceleration is smooth with a constant stream of power on tap which makes very light work of overtaking or climbing steep inclines. The battery pack is positioned low down in the car's body between the two axles, so the vehicle has a low centre of gravity that is more akin to a saloon car. And together with the wide stance, it means the e-Niro feels very stable and sure-footed when cornering – even at pace.
At lower speeds, the car is very refined with barely a sound filtering into the cabin. However, we did notice more road surface and wind noise at higher motorway speeds, but it's still not too bad and is fairly normal in high-sided crossover models. The effective suspension system dealt well with the majority of bumps and dips along the way, but on occasion, a larger pothole did send reverberations through the cabin.
While the interior of the e-Niro is not too radical or futuristic, the dials and readouts are certainly EV-orientated with information regarding the battery charge percentage, the estimated range of the car, the location of the nearest charge points and driving styles. There is also a lamp integrated into the top of the dashboard with a light that displays whether the battery pack is recharging or fully charged when plugged in. This enables the owner to quickly assess the car's charging status at a glance.
Regenerative braking plays a big part in EV motoring and the technology allows the e-Niro to harvest kinetic energy and recharge the battery pack while coasting or braking. It sounds complicated but there are driver prompts as to when to lift your foot off the accelerator to maximise this process. And although there is no transmission, there is a pair of steering wheel-mounted paddles. These allow the driver to choose between three levels of energy recuperation with the higher the level selected, the more energy the regenerative brakes try to harvest. This system was so effective, the car could actually be brought to a complete standstill in stop/start traffic without even touching the brake pedal.
Passenger comfort is another area where the e-Niro scores highly. Thanks to its upright crossover design there is ample room for four adults to travel in style with plenty of leg, shoulder and head space for back seat passengers. The slightly elevated seating also means the driver benefits from excellent all-round visibility. Storage levels are good with a boot capacity of 451 litres – this limit increases to 1,405 litres with the 60:40 split-folding rear seats dropped flat. The charging cable is located in a hide-away compartment beneath the boot floor.
Other storage options can be found throughout the cabin, including a glovebox, door bins with a designated drinks bottle section, a large tray beneath the centre console, a sunglasses compartment, cup holders and a covered central box.
Kia has a well-deserved reputation for developing generously-equipped cars with no nasty hidden extra costs and the e-Niro is another fine example of that thought process. There is just one trim level called 'First Edition' but there is a wealth of technology to be explored. Creature comforts include black leather upholstery, attractive bright blue trim around the air vents, mood lighting, heated seats, a heated steering wheel, an eight-inch touchscreen navigation system with European mapping and traffic monitoring, full smartphone connectivity via Apple CarPlay or Android Auto, an eight-speaker JBL sound system, Bluetooth with music streaming, wireless mobile phone charging, a DAB radio, all-round electric windows and plenty more besides.
On a more practical note, the charging times for the e-Niro depends on the power source. It can be charged up to 80 per cent in just 54 minutes on a 100kW fast charger, but more standard domestic outputs can take longer – for example a 7.2kW power source will take almost 10 hours to charge from 0 to 100 per cent. But with its very realistic 282-mile range, planning ahead is easy.
The e-Niro has not yet been tested for its Euro NCAP safety rating, but Kia is aiming for the maximum five stars. On-board safety kit includes anti-lock brakes, electronic stability control, lane keep assist, hill start assist, forward collision avoidance assist, tyre pressure monitoring and seven airbags.
All in all, the e-Niro is a fabulous glimpse into the future when all our cars will be eco-friendly. And it's a reassuring insight too, proving that electric vehicles don't have to look or sound outlandish. They don't need to cost the earth and they don't need to be dull, lame and uninspiring to drive. The e-Niro is anything but, and to top it all, it comes with Kia's industry-leading seven-year warranty that also covers the battery pack and electric motor.
Test Drive
Kia Niro 1.6 GDi HEV '2' DCT 6-speed
Sometimes the most honest and down-to-earth opinions about cars can come from someone who has no interest in them whatsoever.
They don't get caught up in all the petrol-head jargon that we motoring journalists can often be guilty of. They see things very clearly and it's the little things that we might overlook that can feature highly on their list of priorities.
A recent example of this was when I picked up a friend in the Kia Niro and their first comment was: "Oh this is nice – what is it?" I explained it was the all-new Niro and got a puzzled look for my troubles. I added that it was a Kia and then the penny dropped.
Although my friend wasn't particularly sold on, or in the slightest bit interested in, the power and performance figures or indeed, the quirky yet informative screen visuals that can monitor driving performance, they were impressed by a number of simple factors.
Firstly, how modern, clutter-free, comfortable and spacious the car was. Secondly, by the excellent economy – the test car carried a £22,795 price-tag and could deliver combined fuel economy of 74.3mpg. And finally, it was the Niro's beautiful handling that received the nod of approval. The automatic gearbox was smooth and responsive and the cabin was well-insulated against outside noise. And it was those factors that resulted in the Niro getting the thumbs-up – well, at least from my passenger anyway.
The five-door Niro is a five-seater and is the South Korean company's first dedicated hybrid model. It is yet another compact crossover to compete in the ever-growing and highly-popular segment and it sits nicely between the cee'd hatchback and Sportage models in the Kia line-up.
Power comes from an all-new 1.6-litre 104bhp petrol engine and a 43bhp electric motor which allows the Niro to reach 60mph in 11.1 seconds (0-62 in 11.5 seconds) and then onto a top speed of 101mph. Carbon emissions are low at a combined 88g/km.
The Niro is a good-looking car with plenty of eye-catching features such as Kia's trademark tiger-nose grille and long bonnet, along with short overhangs, elevated headlights, 16-inch alloys, bold wheel arches, a roof spoiler, high-mounted C-shaped tail lights, front fog lights and privacy glass.
Move inside and the Niro, like other Kia models, has a wide dashboard that helps accentuate the width of the car and there is a wealth of technology to be explored which is included in the asking price. The test car boasted a 7-inch touchscreen with sat nav, a six-speaker sound system, DAB radio with MP3 compatibility, Bluetooth with voice recognition and music streaming, air conditioning, a heated steering wheel, reversing camera and parking sensors.
The car has an upmarket and modern feel to it with a mixture of cloth and leather upholstery, light grey headlining, satin finish interior door handles, leather trimmed armrests and lots of neat looking high gloss black finishes.
There is ample space for five adults to travel in comfort and the storage options will impress too thanks to a boot capacity of 427 litres, which is increased to 1,425 litres with the 60:40 split-folding rear seats dropped flat. In addition, there are cup holders, a deep central storage bin, glovebox and practically-sized door pockets.
When put to the test, the Niro proved an absolute delight to drive. Admittedly, there are much faster and more dynamically-engineered options out there, but the Niro does perform really well.
The acceleration is good and the power keeps on coming which means the Niro can cruise with ease at the national speed limit on motorways. Then, in busier town centres, it is agile and easy to manoeuvre, plus the high-seated driving position is a bonus with cars and pedestrians darting out from all angles.
I was also impressed by the six-speed automatic gearbox which was beautifully smooth and there was a constant supply of power on tap which is great for overtaking slower moving farm traffic on the country lanes. And even when pushed quite enthusiastically into long sweeping bends, the Niro remained nicely composed – the steering was precise, the road-holding assured and there was very little sign of body roll.
Kia has packed a comprehensive range of safety features into the car too, including anti-lock brakes, lane keep assist, hill start assist, autonomous emergency braking, cruise control and plenty more besides.
All in all, the Kia Niro is a great all-rounder for the family who enjoys an active lifestyle without breaking the bank. It's stylish, modern, practical, comfortable and good fun to drive. And, of course, it is supplied with Kia's excellent 7-year/100,000-mile warranty for complete peace of mind.
One thing is guaranteed – my friend was a fan of the Niro after her journey in the passenger seat.
Test Drive
Kia Niro – first drive (2016)
Crossover models are all the rage these days offering the perfect combination of style, practicality, versatility and driving dynamics, and now Kia has introduced a flashy hybrid vehicle that fits neatly into the segment and delivers some pretty impressive economy figures along the way.
It's called the Niro and is priced from £21,295. It boasts five doors and five seats, features an all-new 1.6-litre 104bhp petrol engine accompanied by a 43bhp electric motor and together they help to achieve combined fuel economy of up to 74.3mpg with carbon emissions from 88g/km.
The Niro is sized between the company's cee'd hatchback and Sportage models and customers can choose between four richly-equipped trim levels called '1', '2', '3' and First Edition. And all features are included as standard with no hidden add-ons to bump up prices, which is something that Kia does exceptionally well.
From any approach, the Niro looks the business with sharp athletic styling befitting a compact crossover but with Kia's design trademarks very apparent too. It has the brand's tiger-nose grille, a long bonnet, elevated headlights, bold wheel arches, high-mounted C-shaped tail lights and a roof spoiler.
Step inside the light and spacious cabin and there are lots of quality soft touch materials to accompany the very modern, upmarket and clutter-free layout. The wide dashboard has become a familiar feature in modern Kia cars and offers an upper display section housing the instrument panel and touchscreen and a lower section where the likes of heating and ventilation switches can be found.
Storage options are thorough thanks to the generously-sized boot with a 427-litre capacity – this can be increased to 1,425 litres with the 60:40 split-folding rear seats dropped flat. Elsewhere, there is a good sized glovebox, cup holders, deep central bin and practical door pockets.
All models benefit from excellent connectivity systems and for the first time in a Kia, Android Auto is available which links android smartphones to Google Maps navigation, Google Play music, hands-free calls and texts plus voice recognition.
Being a hybrid model, the Niro's driver information panel includes plenty of details about charging levels, energy flow diagrams and battery regeneration stats as well as the more traditional readouts.
Each spec level comes equipped with lane keep assist, hill-start assist and cruise control with speed limiter. Grade '2' introduces a 7-inch touchscreen navigation system, a reversing camera and all the Kia Connected Services featuring TomTom. Step up to grade '3' and you will see the introduction of an 8-inch touchscreen navigation system, a wireless mobile phone charger and premium 8-speaker sound system. And finally, First Edition models gain autonomous emergency braking, blind spot detection with rear cross traffic alert and a smart cruise control. Some of these additional safety features are available on the lower trims via an optional Advance Driver Assistance Systems pack costing £350.
We tested two versions of the Niro on a road route that included fast dual carriageways, sweeping country lanes and lots of busy stop/start town centre driving.
First up was the range-topping First Edition, costing £26,995 which can sprint to 60mph from a standing start in 11.1 seconds, redlines at 101mph, has combined fuel economy of 64.2mpg and carbon emissions of 101g/km.
The first thing to say about the Niro is how beautifully spacious the interior is – the cabin can easily accommodate five adults with ample leg, head and shoulder space. The First Edition is also kitted out with upmarket grey leather upholstery, some snazzy white interior inserts, heated rear seats, ventilated front seats and an electric tilting and sliding sunroof.
The car starts up with a pleasant chime sound which notifies the driver it's ready for the off – unlike some hybrids or electric vehicles where you sit there staring at the panels questioning whether the car is powered up or not.
The Niro is fitted with a six-speed twin clutch automatic gearbox rather than the whining CVT boxes fitted to many rival cars and it delivers a more instant response when bursts of sharp acceleration are needed. This transmission is a vast improvement on the alternative and a Manual Sports mode allows you to take extra control of the gear changes.
The elevated driving position results in excellent all-round visibility and comfort levels are high for all occupants. In fact the Niro proved an absolute delight to drive and cruised along effortlessly at higher speeds. Bends can be attacked with confidence, although the two higher grade cars are fitted with 18-inch wheels which do increase the noise levels within the cabin and can make the vehicle feel a little floaty at times.
But that aside; the Niro was most impressive. The steering was precise and the petrol engine and electric motor worked smoothly together at all times. The car can also operate in all-electric mode for short distances when setting off, under gentle acceleration and when descending slopes or braking, but the switch to petrol-assisted mode is seamless and very efficient in all instances.
Another clever and eco-conscious feature worth noting is the 'driver-only' heating system which directs the heated or cooled air to just the driver when no other passengers are on board. It may sound quite a minor feature, but it all adds up in the energy-saving stats.
Next up was the '2' grade Niro costing £22,795. This car has the same 0-60mph sprint time and maximum speed as the First Edition model, but is more economical with combined fuel efficiency of 74.3mpg and carbon emissions of 88g/km.
Despite being a little more basic inside, it was far from bland and once again, this Nero delivered a very enjoyable ride. In fact, it was actually a little more refined thanks to the smaller 16-inch wheels which reduced the road surface noise to a minimum.
Kia is determined to look to a greener future and has pledged to reduce the average carbon emissions of its line-up by 25 per cent before 2020 and the new Niro is certainly a clear indication of that vision.