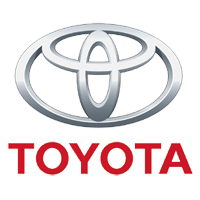 Toyota
Hilux
With global sales exceeding 18 million, the Toyota Hilux has proved itself to be the ultimate workhorse vehicle. It has conquered the South and North Poles, excelled in the Dakar Rally and the latest generation model is better than ever.
The good
Rugged, go-anywhere pick-up truck that is packed with creature comforts
The bad
Quite thirsty and lots of quality competition these days
Tech Specs

Price from
£25,136 excluding VAT

Combined Fuel up to
30.7mpg
0-62 from
10.1 seconds

max speed up to
109mph

co2 from
224g/km
Test Drive
Toyota Hilux 2.8 Invincible X Auto (2022)
Toyota's mighty Hilux pick-up has been on sale in the UK for more than five decades now and the latest model really raises the bar in the segment with a bolder design, a powerful new engine and lots of extra kit.
Customers can choose from a range of generously-equipped trim levels along with single or double cabs, plus manual or auto gearboxes, so there is plenty of scope. And recently a new 2.8-litre diesel engine joined the 2.4-litre unit to offer added power to the mix.
Prices start from £25,136 excluding VAT, but we opted for the high-end Invincible X Double Cab with the larger powertrain, featuring an upgraded six-speed automatic gearbox. It cost £36,470 (excl. VAT).
Pick-ups offer a viable alternative to the ever-popular fully-sized family SUVs and these days they are packed with all the everyday creature comforts we demand in our vehicles.
But when needs must, the Hilux is more than capable of taking on the roughest and toughest off-road challenges. After all, this is a vehicle that has conquered the North Pole, Antarctica and Icelandic volcanoes, as well as claiming first place in the gruelling Dakar Rally on more than one occasion.
Despite sticking firmly to the Tarmac during our week-long test, the Hilux has all the low and high-range gear ratios imaginable for more demanding off-road ventures. It has a one-tonne payload, can tow a trailer or caravan weighing up to 3.5 tonnes and boasts a 310mm running ground clearance, along with approach and departure angles of 29 and 26 degrees respectively. And it can wade through water up to 700mm deep.
So, it certainly ticks all the 'workhorse' demands you can throw its way, but what about day-to-day driving needs? Once again, the Hilux impresses. Like most pick-ups it does get a little vocal inside the cabin at higher speeds, but the acceleration and performance is good.
It can reach 62mph from a standing start in 10.7 seconds and tops out at 109mph. According to official figures, our test model could deliver a combined 28.5-29.7mpg with carbon emissions between 248 and 259g/km. Despite the high CO2 figure, the Hilux is classed as a Light Commercial Vehicle, so the annual tax cost which is usually based on carbon emissions, is set at a £290.
The Hilux cruises with ease at 70mph on motorways and offers confident grip through the country lanes and faster B roads. The acceleration through the automatic transmission is sharp for a vehicle weighing in at more than 2.1 tonnes and there is always ample power on tap. The driver can switch between drive modes called Eco and Power with Eco maximising fuel efficiency and Power producing far sharper responses to throttle inputs for a more engaging driving experience.
And comfort levels have been improved on the latest vehicle too with a revised suspension set-up along with upgraded power steering. A clever Pitch and Bounce Control system is also new and this automatically adjusts the engine torque in response to road surface conditions to improve the all-round ride and handling. This all helps to make the Hilux a comfortable vehicle in all driving situations.
The new-look Hilux boasts a stronger road presence thanks to a redesigned front end featuring a three-dimensional grille and new-look bumper that reinforce its tough, go-anywhere character. And the Invincible X version, as tested, gains additional wheel arch mouldings and fog light surrounds that match the carbon grey grille surround.
Rear privacy glass, LED headlights and tail lights, 18-inch alloy wheel designs, front and rear scuff plates, a shark fin antenna and electrically adjustable, heated door mirrors with integrated indictor lights complete the exterior look.
The interior has a simplistic, clutter-free layout but features plenty of top-quality tech, such as the latest Toyota Touch 2 multimedia system with faster software and responses to touchscreen commands. There is sat nav, smartphone integration via Apple CarPlay or Android Auto available from Icon grade upwards, an eight-inch touchscreen, DAB radio, Bluetooth, a rear-view camera, plus a nine-speaker JBL premium sound system on our model.
The heated front seats are power operated and the elevated seating offers a commanding view of the road ahead along with excellent all-round driver visibility.
Grab handles and side steps make getting in and out of the Hilux much easier and there are lots of convenient storage options throughout the cab, including a double glovebox (one is chilled), deep door bins, a central cubby box, front and rear cup holders, a sunglasses compartment, plus some trays and seat back pockets.
The Hilux also covers all the safety bases thoroughly having been awarded a maximum five-star Euro NCAP safety rating. It has the impressive Toyota Safety Sense system with a pre-collision system with pedestrian and cyclist detection, adaptive cruise control, lane departure alert and road sign assist. Other tech includes eCall emergency assistance, vehicle stability control, traction control, trailer sway control, hill-start assist, downhill assist, Isofix child seat anchors and a full suite of airbags.
All in all, the latest Hilux is still one of, if not the most capable pick-up on sale today. It offers a perfectly balanced mix of robust design cues along with softer luxurious features.
Test Drive
Toyota Hilux Invincible 2.8 Auto (2021)
It would seem that the rough and rugged pick-up truck has gone all 'lifestyle' on us. Sure, they still deliver on all counts when it comes to the nitty gritty workhorse side of things, but they are now much plusher in the process.
That's because the sector is on the up and buyers looking for something a little bit different from the vast range of full-sized SUV are paying close attention to the pick-up scene.
Toyota has been building the Hilux since 1968 and it's been a resounding success the world over. But designers of the very latest model had to take a softer approach when creating the cabin environment. It's no longer enough to develop an interior with rough, tough wipe-down surfaces and little else – these days customers want upmarket leather, heated seats and all the infotainment systems and clever trickery found in modern cars.
And it would seem the Hilux has it all. Yes, it can cope with all the day-to-day demands with a towing capacity of 3.5 tonnes and a one-tonne payload limit. It has all the high and low gear ratios so can tackle any 4×4 duties with ease and those chunky 18-inch wheels will carve a path through any snow storm or boggy field. So, the latest Hilux clearly has all the heavy-duty side of things covered.
But what has changed is the level of quality when you climb inside the four-door double cab Hilux. There is a neat leather steering wheel and gear shifter, along with the Toyota Touch 2 system which introduces an eight-inch colour touchscreen, Bluetooth, DAB radio, a six-speaker sound system and full smartphone integration via Apple CarPlay or Android Auto.
A handy rear-view camera helps when reversing and the 4.2-inch display screen offers plenty of practical driving data. It's all very comfy and upmarket in there.
To help you climb aboard, there are front and rear grab handles and other design touches include side steps, scuff plates, daytime running lights, fog lamps, rear privacy glass and LED headlights.
Our model, in Invincible trim level, was powered by a 2.8-litre, 201bhp diesel engine with a six-speed automatic gearbox. It carries a £30,803 price-tag (excluding VAT) and can reach 62mph from a standing start in just 10.7 seconds, topping out at 109mph. According to official figures under WLTP testing, the Hilux can deliver a combined 28.5-30.0mpg with carbon emissions of 246-259g/km.
This punchy new engine replaces the outgoing 2.4-litre unit and the acceleration and handling are all the better for its introduction. There is a constant stream of power on tap and you can flick from Eco to Power mode when you want to pick up the pace and driving dynamics. You can also use the gear lever to change gears manually when switching across to Sport mode.
The road holding is assured meaning bends can be attacked with confidence and the steering is nicely weighted offering ample driver feedback. Most of the road surface's bumps and dips are ironed out by the vehicle's efficient suspension system and the engine noise only really becomes more noticeable when the Hilux is being pushed quite hard.
Storage options are good too. As well as lashing hooks to tie down items in the back, there are numerous compartments within the Hilux to stash bits and pieces. These include a lockable lower glovebox, cooled upper glovebox, deep door pockets, front and rear cup holders, a sunglasses compartment, a tray for a phone, central cubby box and seat back pockets.
Safety equipment and driver assist aids are impressive too and include a pre-collision system with pedestrian and cyclist detection, adaptive cruise control, lane departure warning, road sign assist, active traction control, trailer sway control, vehicle stability control, downhill assist control, emergency brakeforce distribution, hill-start assist and plenty more besides.
All in all, the Toyota Hilux is a superb pick-up model that can put in a day shift on a building site but still be ready for a family adventure in the countryside. And come the bad weather, this model is definitely Invincible by name and invincible by nature.
Test Drive
Toyota Hilux Invincible D/C 2.4 Auto
Toyota's Hilux model has gained a reputation as the world's toughest pick-up truck and the latest eighth generation vehicle certainly reinforces that status.
The Hilux has been around for almost half a century and in that time more than 18 million models have been sold globally. It has taken explorers to the North Pole, South Pole, across seemingly unconquerable terrain and even competed in the gruelling Dakar Rally. And still it comes back for more.
The test model in aptly named Invincible trim level, was priced at £31,350 (£32,645 with options fitted). It featured an impressive new 2.4-litre 148bhp turbo-diesel engine mated to a very efficient six-speed manual gearbox and can reach 62mph from a standing start in 12.8 seconds before maxing out at 106mph. According to official figures the Hilux can achieve combined fuel economy of 36.2mpg with carbon emissions of 204g/km.
There's no denying the fact – the Hilux looks awesome from any angle thanks to its rugged, ready-for-action stance, beefy 18-inch alloys, chrome side bars with steps, headlamp cleaners, rear privacy glass, fog lamps, chrome grille and door handles, scuff plates and dazzling Crimson Spark paintwork.
The latest incarnation is longer, wider and lower than its predecessor and has an increased towing capacity of 3.5 tonnes for the UK market (3.2 for the double cab).
Step, or rather climb, inside the cab and the Hilux is neatly styled with lots of on-board technology to be explored. In fact, the vehicle is a perfect mix of practicality and comfort all mixed together. For example, there are solid wipe-clean surfaces, chunky grab handles and carpeted floor mats that can easily be detached and brushed down.
But as an indication to its more upmarket side, the Hilux boasts a tablet-like touchscreen featuring sat nav, Bluetooth and a rear-view camera, automatic air conditioning, a leather steering wheel and plenty more besides.
The test model had a double cab which meant it could easily accommodate five adults and there are plenty of cubby holes for storage including a locking cooled glovebox, central console storage with armrest lid, deep door pockets, an overhead sunglasses compartment, central drinks holders and additional cup holders that pop out from the dashboard.
Despite its large dimensions, the Hilux is a rather nimble vehicle to drive and proved deceptively easy to manoeuvre in tight spaces. The high-seated driving position results in excellent all-round visibility and comfort levels are good for all occupants.
Although the Hilux will generally be used worldwide to handle all kinds of rough terrain work, we stuck to the trusty Tarmac for the test drive and it handled beautifully. Efficient insulation meant the cabin remained nicely hushed against any engine or road surface noise and the large wheels offered fantastic grip so the Hilux could be thrown around with complete confidence.
The acceleration through the gears proved fast and responsive and there are two driving modes to choose from – ECO and Power – which alter the vehicle's sharpness and dynamics slightly.
As one would expect, the Hilux is packed with safety systems, including anti-lock brakes with emergency brakeforce distribution and brake assist, a pre-collision system with pedestrian detection, lane departure warning with road sign assist, trailer sway control, downhill assist control, vehicle stability control, a locking rear differential and numerous airbags.
And when you factor in Toyota's extended five year/100,000-mile warranty, the appeal of the vehicle just keeps on growing.
All in all, the Hilux proved a true delight to drive throughout my week-long loan and the only downside was the extortionate £13.20 charge to cross the Severn Bridge as it is classed as a light commercial vehicle.