SEAT
Leon
With its low body profile lines, the SEAT Leon has a real get up and go feel. Excellent road-holding and plenty of zip on the open road are features that enhance the driving experience. A new fourth generation model was launched in 2020 in five-door hatchback or estate body styles.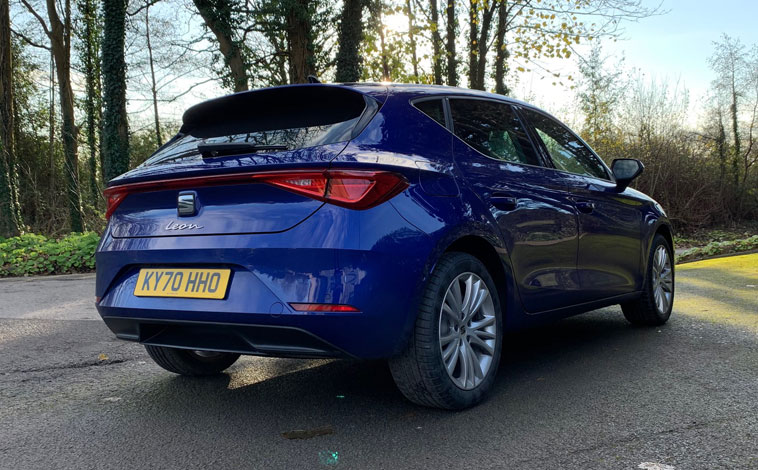 The good
Driving dynamics, styling, choice and pricing
The bad
Stiff competition from rival marques
Tech Specs

Price from
£19,855

Combined Fuel up to
64.2mpg
0-62 from
4.9 seconds

max speed up to
155mph

co2 from
111g/km
Test Drive
SEAT Leon SE Dynamic 1.0 TSI 110PS Manual (2020)
Since arriving on the scene back in 1999, the SEAT Leon has been the cornerstone of the Spanish car maker's line-up accounting for more than 2.2 million sales. Now the all-new fourth generation model is in the showrooms and it really raises the bar.
Buyers can select from six trim levels with the option of petrol, diesel, mild hybrid or plug-in hybrid powertrains. The Leon is also available in hatchback or estate body styles and there's a price to suit all budgets.
We opted for the Leon SE Dynamic powered by a three-cylinder, 1.0-litre 110PS petrol engine matched to a six-speed manual gearbox in five-door hatchback guise costing £20,955.
Despite being powered by a three-pot engine, the car certainly didn't lack firepower and could sprint to 62mph from a standstill in a respectable 10.9 seconds, maxing out at 122mph. According to official figures under stricter WLTP testing, it could deliver a combined 47.1-51.4mpg with carbon emissions of 126g/km.
The new-look Leon boasts a sharper design with a stronger three-dimensional connection between the grille and headlights. The bonnet is longer and the A pillars have moved backwards slightly to improve driver visibility and add to the sporty appearance of the car. The rear end looks dynamic from any approach and the neat LED lights really help the car stand out.
Move inside and there is a clutter-free, minimalist feel to the Leon but it is still generously equipped with an impressive infotainment set-up. There are far fewer physical buttons with more focus on the 10-inch touchscreen for accessing systems on the move.
As part of a drive towards a more connected experience, the latest Leon from SE Dynamic upwards offers Online Connectivity, 3D connected navigation, retina display and voice control as well as gesture recognition. The Online Connectivity allows some infotainment functions to use real-time information from the cloud so drivers can be alerted to accidents and delays up ahead, as well as details such as parking costs and availability, plus lots of other useful information.
On-board tech includes the likes of a 10.25-inch configurable driver instrument cluster, full smartphone integration via Mirror Link, Apple CarPlay and Android Auto, a navigation system, park assist with front and rear sensors, air conditioning and plenty more besides.
One thing definitely hasn't changed though and that's just how much fun and rewarding the Leon is to drive. SEAT has always been the sportier of the VW Group's brands and that is still just as apparent in this latest model.
The SE Dynamic sits on 17-inch alloy wheels which feel like the perfect match out on the open road – go any bigger and it runs the risk of getting a bit bouncy. The Leon is lively with plenty of acceleration out the blocks and is nicely balanced into long sweeping bends with impressive road holding and well weighted steering offering plenty of driver feedback.
The suspension set-up is quite firm and, as a result, you can expect to feel a few bumps along the way, but otherwise comfort levels are good for all occupants and the vehicle is well insulated from engine, road surface and wind noise.
New 2020 Leon is slightly longer, a little narrower and a tad shorter than the outgoing model, but the wheelbase has increased by 50mm and that is good news for back seat passengers who benefit from additional legroom as a result.
When it comes to storage, the boot capacity on the new Leon is identical to its predecessor at 380 litres, increasing to 1,210 litres with the 60:40 split-folding rear seats dropped flat. If more space is required, the new SEAT Leon Estate model has gained an extra 30 litres taking its boot capacity up to 617 litres with all seats in an upright position.
SEAT says its new Leon is the safest car it has ever developed and it was recently awarded a maximum five stars when tested for its Euro NCAP safety rating. It boasts a wealth of systems and driver assist aids to help protect all occupants and also help prevent accidents happening in the first place.
And looking further ahead, another positive factor is how well the Leon will hold its value. According to the experts, CAP HPI, after 36 months and 60,000 miles, the Leon 1.5 TSI 130PS FR will retain 42 per cent of its value.
All in all, the latest Leon maintains its position as one of the best family hatchbacks on sale today. It looks great, drives beautifully, it's practical and it won't break the bank.
Test Drive
SEAT Leon Cupra 290 2.0 TSI DSG
Every now and again a car comes along that ticks all the boxes and the SEAT Leon Cupra 290 is that model – it's dynamically styled, delivers awesome handling ability, it's practical and it's simply guaranteed to put the fun factor back into motoring.
The car is powered by a mighty 290hp 2.0-litre turbocharged petrol engine delivering 380Nm of torque, propelling the hot hatchback from 0-62mph in just 6.0 seconds and onto a maximum speed of 155mph. Those are impressive stats for a vehicle billed as a family car that can happily potter along on the school run thanks to its five-door practicality.
But in all honesty, it's out on the open road that this car really excels. The road-holding is sublime and the perfectly weighted steering offers ample driver feedback as the car fires through the seven-speed automatic gearbox. There are steering wheel-mounted paddles if you fancy taking over the timing of the gear changes and various drive modes called Comfort, Sport, Cupra and Individual alter the car's reactions and behaviour considerably.
The acceleration is blisteringly quick and the power level seems endless with instant bursts of pace easily achieved for overtaking a slower vehicle. But despite all the exciting driving dynamics, the Leon Cupra manages to feel perfectly balanced and safe. The cornering is controlled even when bends are attacked at speed and the all-round handling will leave any pure driving enthusiast begging for more.
However, there is absolutely no point having all that power at your disposal if the car's styling doesn't do it justice. Thankfully, the Leon Cupra looks as good as it drives. It's a real head-turner with its sculpted lines and curves, detailed grille featuring the SEAT badge and a signature Cupra chequered flag, a large rear spoiler, tinted windows, twin exhaust pipes, full LED headlights and 19-inch alloys to complete the look.
Move inside and the interior has been ergonomically designed for driver comfort and oozes sporty character throughout with sports seats carrying the 'Cupra' name, metal pedals, a flat-bottomed steering wheel and smart black alcantara upholstery. The cabin has a neat, clutter-free layout but there's lots of on-board technology to explore, including full smartphone connectivity via Apple CarPlay or Android Auto, a GPS navigation system, dual zone climate control and plenty more besides.
The high resolution digital instrument cluster can be personalised to display the gauges and data most relevant to you, and all the controls, dials and readouts are perfectly positioned for driver-usability.
Comfort levels within the car are good with ample room in the back for a couple of adults provided the front seats are not pushed back too far. In addition, the boot is practically sized with a 380-litre capacity, increasing to 1,210 litres with the 60:40 split-folding rear seats dropped down. Elsewhere there is a glovebox, a deep central box beneath the front armrest, narrow door bins, front and rear cup holders, pockets in the seat backs and a handy tray in front of the gear stick that's big enough to hold a larger smartphone.
On the safety front, the Leon Cupra secured a maximum five stars when it was tested for its Euro NCAP rating and is kitted out with a comprehensive array of systems and driver aids. These include traffic sign recognition, pedestrian protection with automatic braking, emergency assist, lane assist, high beam assist, electronic stability control, hill hold control and seven airbags.
So down to the nitty gritty of costs. The Leon Cupra 290 is on sale for £29,875 and can deliver combined fuel economy of 35.8-38.7mpg (WLTP) with carbon emissions of 149g/km.
All in all, the SEAT Leon Cupra is the perfect package for anyone looking for an exciting driving experience but who also wants a car that's stylish, practical, reasonably priced, safe and fully loaded with all the latest technology.
Test Drive
SEAT Leon – first drive (2017)
SEAT has often been viewed by many driving purists as the more dynamic and flamboyant member of the VW Group and now the Spanish company has given its new Leon model even more all-round appeal.
There's no denying that competition within the family hatchback segment is fierce, so it's vital manufacturers keep their cars in the spotlight. And whilst the new Leon has not undergone any particularly radical changes there are some improvements that are worth reporting.
The car now boasts a more assertive styling thanks to the introduction of a new-look bumper and grille along with some other tweaks to the lights. It looks fresher, almost younger and certainly very upmarket.
Move inside and the interior has been given more attention with a new-look dashboard and central console including a new five or eight-inch touchscreen infotainment screen (depending on the model) with full connectivity via MirrorLink, Apple CarPlay and Android Auto.
The interior appears more dynamic than the original third generation Leon models and there is plenty of room to accommodate adult passengers in the back with ample leg, shoulder and head space.
And when it comes to engines, customers are really spoilt for choice with five petrol engines and three diesel models to select from, plus the option of five or six-speed manual transmissions or a seven-speed DSG automatic box.
The Leon is available in three body styles – a three-door sports coupe (SC), estates or to give them their official title, sports tourer (ST) and regular hatchbacks. Prices start from £19,340 for the Sport Coupe, the five-door hatchback is priced from £17,455 and the Sports Tourer from £18,450. And when all the combinations are added up there are almost 70 Leon models to choose from.
There are six core trim levels called S, SE Technology, SE Dynamic Technology, FR Technology, FR Titanium (SC only) and XCELLENCE. In addition, there are extra grades for a soft-roader X-PERIENCE version along with the ultra-sporty Cupra model.
But apart from the design and styling upgrades, possibly the biggest news concerns what's under the bonnet. That's because the Leon is now available with a new three-cylinder 1.0-litre 115PS petrol engine. This powertrain was previously offered to customers on the continent but has only just become an option in the UK. So, it was that model that really grabbed our attention.
Consumers these days have a very watchful eye on economy and the 1.0-litre engines offer the best of both worlds by delivering great economy without compromising on performance.
We tested out the five-door hatchback Leon powered by this little three-pot engine mated to a seven-speed DSG transmission and it's an absolute corker.
The car, in SE Technology trim, was priced at £20,485 although a convenience pack that added rain-sensing wipers, automatic headlights and some smart interior lighting, along with full LED headlights and a connectivity pack bumped up the asking price to £22,645.
It could reach 62mph from a standing start in 9.6 seconds, topped out at 126mph and according to official figured delivers combined fuel economy of 64.2mpg with carbon emissions of 102g/km.
Some people may have reservations about a three-cylinder engine being powerful enough for a car the size of the Leon, but any fears are unwarranted. For despite the tiny engine, there was never any lack of power or zip. The acceleration through the gears was nice and responsive and the steering beautifully precise as is SEAT's way.
The Leon has always been a car that can confidently be thrown around and this is no exception with excellent road-holding capabilities and a very assured all-round performance.
Even when pushed particularly hard, the engine coped commendably although noise levels did rise a little at times. And then when driven a little more responsibly it all calms down very nicely and silence is restored within the cabin.
I also had the opportunity to test out a couple more Leon cars – a 2.0-litre 150PS diesel model in range-topping XCELLENCE Technology trim costing £23,830 (£25,595 with options) along with a 1.4-litre 150PS hatchback in FR Technology trim priced at £21,350 (£25,595 with options). And whilst both these cars were excellent to drive, they seemed quite sensible and mature compared to the 1.0-litre.
Yes, they have faster performance capabilities and the trim on the range-topper was truly premium in its styling. And, of course the diesel will always be a firm favourite amongst business drivers. Yet we kept harping back to the little 1.0-litre model which was our pick of the mix.
It simply left us wondering why SEAT has taken so long to introduce it into the extensive Leon line-up.
Test Drive
SEAT Leon ST SE 1.6 TDI Ecomotive 110PS
There's no denying the overwhelming success of the VW group, but somehow SEAT seems to happily go about its business without all the fanfares associated with other brands – it has managed to slip under the radar.
But make no mistake the SEAT brand is definitely worth sitting up and taking notice of. And after just a few minutes behind the wheel of the sporty Leon estate the all-round appeal is instantly recognisable.
The car is packed to bursting with first class technology and there are creature comforts galore to be explored.
Add in the snappy driving dynamics, impressive economy and very reasonable price-tag and you can see why I enjoy testing out a SEAT.
The Leon ST (Sports Tourer) is the estate version of the ever-popular model but the added length certainly doesn't impact on the cars all-round appeal or handling.
It looks fabulous from any angle and its lengthy design is cleverly disguised by the car's sleek streamlining, 16-inch alloys, roof rails, body-coloured door mirrors and handles, tinted windows and plenty more besides.
The interior is deceptively roomy, very comfortable and clutter-free with a simplistic lay-out and all dials and controls are perfectly positioned for driver usability.
Standard technology on the SE model includes a five-inch colour touchscreen, a six-speaker sound system that is compatible with all modern media devices, Bluetooth, air conditioning and a CD player.
The test car also featured a Technology Pack which introduced sat nav, LED headlights and a DAB radio amongst other kit.
Additional extras on the test car that helped bump the asking price up from £20,920 to £23,660 included front and rear parking sensors, heated front seats, dual zone climate control, rain-sensing wipers, automatic lights and a Safety Pack that features a tiredness recognition system and seatbelt reminder for back seat passengers.
The Leon ST can easily accommodate four adults (five at a push) and there will never be any luggage restrictions as the massive boot can hold a number of suitcases and can be extended further thanks to 60:40 split-folding rear seats.
And when it comes to performance the Leon ST certainly doesn't disappoint either. Admittedly, it's not as blisteringly quick or responsive as some of its Leon stablemates and takes 10.4 seconds to sprint to 62mph from a standing start with a top speed of 122mph.
But the truly impressive factor is the economy. According to official figures the car can deliver a whopping 85.6mpg on a combined run with carbon emissions of just 87g/km.
I covered more than 300 miles incorporating gridlocked city centres and fast open roads and although the vehicle fell short of the publicised figures, it was showing an average of 68mpg which isn't bad at all.
The driver is given a few fuel-saving tips along the way such as when to change gears and how to keep the rev levels low and following these suggestions will improve efficiency.
It has to be said the Leon ST handles really well and the acceleration through the six-speed manual gearbox is nice and smooth.
There is ample power delivered from the 1.6-litre diesel-driven engine and the car is easily capable of achieving short, sharp bursts of speed when necessary.
The road holding impresses and engine and road surface noise levels are also kept to a minimum.
The all-round visibility could be improved especially via the side mirrors which seem to have been designed and constructed with aesthetics in mind rather than practicality. Basically too much plastic housing and not enough mirror!
But that aside, the SEAT Leon ST is a super car with so many possibilities.
It will easily slot into family lifestyle with bags of flexibility, but with such outstanding efficiency it can also double up as the business car eating away at those motorway miles.
Test Drive
SEAT Leon SE 1.6 TDI Ecomotive 110PS
SEAT is a brand renowned for its performance and few existing owners have a bad word to say about them.
But now, class-leading economy features high on the agenda of the SEAT Leon Ecomotive with combined fuel figures of 85.6mpg and carbon emissions of just 87g/km. Those frugal stats bring with them all sorts of financial benefits including tax breaks and exemption from the congestion charge.
But one of the other major plus factors that must be mentioned is the car's handling and performance. It often seems to be the case when testing out the more economical cars that the performance is severely compromised. Thankfully, that's not true with this Leon. Admittedly, it may not have the pace or power of its Leon siblings, but it's certainly no slouch either.
The car looks great from any angle thanks to its stand-out athletic design cues, along with LED lights, 16-inch design alloys, chrome radiator grille surround, tinted windows, plus electronically-folding door mirrors with reverse action kerb-view function to protect the alloys.
And the interior is bright and welcoming too with plenty of typically SEAT trapezoidal shapes throughout. There's a whole host of techno treats to be explored, including air conditioning, a five-inch colour touchscreen, ambient lighting, Bluetooth connectivity, sat nav, a six-speaker sound system compatible with modern media devices, automatic wipers and headlights, cruise control and plenty more besides.
And it's worth giving SEAT an additional pat on the back as almost all these specifications are included in the asking price. Optional extras only accounted for £1,045 of the £20,705 cost of the test car and £495 of that was the Nevada white metallic paint finish.
Powered by a 1.6-litre 110PS diesel-driven engine, the Leon Ecomotive can sprint to 62mph in 10.4 seconds and tops out at 122mph.
It moves smoothly and rapidly through the six-speed manual transmission and all the instrumentation is clear to read in the driver-focused cockpit.
In and around town, the Leon proved agile, nimble and easy to manoeuvre and the good all-round visibility is another bonus.
Then out on country lanes or motorways, it easily kept pace with faster-moving traffic with a constant supply of power on tap as and when required,
Comfort levels are good for all occupants with plenty of room in the back for two adults – three at a bit of a squeeze.
And the generously-sized boot can accommodate all your luggage needs.
As we have come to expect from a SEAT, the road-holding is flawless. It grips the Tarmac like glue and that means you can attack bends and tight curves with confidence.
Engine noise is noticeable, but it's not too bad.
SEAT has packed a comprehensive array of safety features into the car, including anti-lock brakes with traction control, electronic stability control with emergency brake assist, hill-hold control and numerous airbags to protect all occupants
All in all, the Leon Ecomotive really offers the best of both worlds by delivering all the driving dynamics one expects from the SEAT brand along with incredibly impressive economy figures along the way.
Test Drive
SEAT Leon ST
There's no denying the fact – SEAT is a brand that is going places.
On the back of a record sales year, the company renowned for its blend of German engineering and Spanish flair has launched a striking estate model to join its Leon range.
The elegant Leon ST has been redesigned from the A pillars back which means it is so much more than a standard Leon with a bigger boot.
And with the fleet market along with buyers who enjoy an active lifestyle in mind, the Leon ST has plenty of pulling power.
Unlike many estates, the Leon ST features an athletic and streamlined stance with crisp flowing lines, tinted windows, roof rails and plenty of other attention-grabbing features. It really does look spectacular from any angle.
Once inside, the interior is extremely driver-orientated with a clean, uncluttered environment and bags of space for five adults to travel in comfort.
The boot is truly enormous – 587 litres which can be increased to 1,470 litres with the rear seats folded flat and, in addition, there are 13 smaller cubby holes to tuck away your goodies.
Even carrying skis or surfboards will not be a problem as every Leon ST has a through hatch into the cabin.
The car is available in three richly-equipped grades – S, SE and FR – and there is a range of petrol and diesel engines to choose from with prices starting at £16,675 and rising to £24,630.
SEAT bosses predict that up to 80 per cent of the Leon ST sales will be diesel and the most popular model is likely to be the 1.6 TDI 105 PS in mid-range SE trim.
This car is priced at £19,495 (£22,825 with a few extras added) and can reach 62mph from a standing start in 11.1 seconds. It tops out at 119mph.
According to SEAT it can achieve a notable 74.3mpg on a combined run with carbon emissions of 99g/km.
Once you take your seat behind the leather multi-function steering wheel, it's impossible not to be impressed with the build quality of the car.
There is a soft-touch dashboard and all the instrumentation is driver-focused and very clear and precise.
Many of the features built into the mid-trim SE model would be more at home in a premium car costing top dollar.
There is a whole host of technical gadgets and creature comforts to be explored such as sat nav, dual zone climate control, a six-speaker sound system, Bluetooth and the car's set-up and trip information.
And a real bonus is that most of these functions can be controlled quickly and simply via a toggle switch on the steering wheel which means you can concentrate fully on the road ahead.
The driver benefits from excellent all-round visibility and comfort levels are high for all occupants. Back seat passengers have ample leg, head and shoulder space.
And despite its outstanding economy figures, the Leon ST is certainly no slouch. The five-speed manual gearbox proved nice and punchy and there was a constant supply of power on tap.
Corners can be attacked at pace with the utmost confidence and there is very little body roll of note. And somehow the highly efficient suspension system seems to iron out many of the road's unexpected creases along the way.
There was a little road surface noise which was slightly disappointing, but that was my only real gripe after an hour behind the wheel.
I also tested out the 1.4 TSI 140 PS petrol model in SE grade priced £18,495 (£23,415 with options fitted). This model can sprint from 0-62mph in 8.4 seconds and redlines at 131mph. It can achieve 53.3mpg on a combined cycle with emissions of 122g/km.
Once again, the comfort levels were first rate and the six-speed manual transmission combined with the extra power meant it displayed extra bite and more dynamic handling than the diesel Leon ST.
However, for that edgier performance there is a price to pay on the efficiency front and the mpg is nowhere near so impressive. And that is a key factor that can sway the fleet market with its watchful eye on the pennies.
As one would expect, safety features are comprehensive on the Leon ST and it has been awarded the maximum 5 stars in the Euro NCAP safety ratings.
All in all, the Leon ST is a great new arrival for SEAT and will help keep the brand on target for another record year.
Test Drive
SEAT Leon SC
SEAT is a brand that is going places with its ever-evolving flamboyant style combined with renowned high performance and the striking Leon SC is a perfect example of that.
Hot on the heels of the third generation all-new five-door Leon hatchback comes the company's first Leon three-door model – the SC, which stands of sports coupe.
And with its gorgeous lines, richly-equipped interior and impressive driving dynamics, the Leon SC is likely to attract plenty of new followers.
SEAT certainly hopes so and is targeting buyers who are 24 to 35 years old, single, have a passion for sports and state-of-the-art technology, are educated and care about their image.
First impressions are vital and the Leon SC looks great from all angles. It's certainly not just a revamp of the hatchback with two rear doors removed.
In fact, the car has been redesigned from the narrow A pillars back with more pronounced wheel arches, a steeply raked tailgate and more compact rear windows. All these factors help to give the car a more dynamic and powerful stance.
The Leon SC is £300 cheaper than the five-door model starting from £15,370. It is also 13mm lower, from 5kg to 20kg lighter and 35mm shorter without any compromise on boot space which still offers a capacity of 380 litres.
But again, these alterations are factors that help the car's performance and agility.
And with all the technical know-how of Volkswagen, SEAT's parent company, the Leon SC is packed with all the very latest engineering developments on offer.
The Leon SC line-up echoes that of the hatchback with three generously equipped trim levels to select from – S, SE and FR plus a choice of three petrol engines, a 1.2, 1.4 and 1.8 along with two diesel versions – a 1.6 and 2.0-litre option. There is also a choice of transmissions.
The entry level S models come complete with a colour touchscreen media centre, Bluetooth, air con and plenty more.
Then the SE adds the likes of 16-inch alloys, cruise control and front fog lights.
Finally, the range-topping FR introduces 17-inch alloys, SEAT's Drive Profile which offers a choice of four driving modes, dual zone climate control, redesigned front and rear bumpers with FR badging, LED rear lights and lots more.
But whatever the model, one thing is guaranteed – the handling. From the second you lay eyes on the Leon SC, it screams sporting performance at you and that's exactly what it delivers.
I tested out a couple of the models across a variety of winding roads and faster dual carriageways and they were certainly up for the challenge.
First up was the 2.0 diesel model with DSG automatic transmission in SE trim, priced at £20,790. This car can reach 62mph from a standing start in 8.4 seconds and tops out at 131mph. It can deliver 64.2mpg on a combined cycle and has CO2 emissions of 117g/km.
The car handled beautifully. The automatic transmission was smooth and rapid with plenty of power on tap. Acceleration was constant and road-holding effortless even when thrown into tight bends at high speeds.
Next up was the 1.8 TSI petrol-powered model in FR spec with six-speed manual gearbox, priced at £20,285. It can reach from 0-62mph in 7.5 seconds and has a top speed of 140mph. It can achieve a combined fuel economy of 47.9 and has emissions of 137g/km.
This car is summed up in one word – wow! It is fun, fun, fun all the way and is just a dream car for anyone who yearns for a true driving experience. Bends and long stretches of open road were attacked and conquered and the more challenges put in this car's path, the more it seems to relish the opportunity to demonstrate its all-round capabilities.
The engine roar at high revs is beautifully exaggerated and then when cruising at lower speeds there is almost silence within the cabin. It really offers everything you could want from a performance coupe.
All in all, the Leon SC is a brilliant all-rounder. It has looks, a great price-tag and a performance that blows your socks off.
Test Drive
SEAT Leon – third generation
SEAT's striking Leon has always had a reputation for turning heads and the new third generation model is packed with even more design features to wow the crowds not least of all the full LED headlights which are a world first in the family hatchback segment.
Boasting the flamboyance of the Spanish brand and the technical genius of its parent company VW, the Leon is new from the ground up.
Soft, round curves are a thing of the past and in their place are plenty of trapezoidal shapes both inside and out.
The grille has a more elongated appearance and houses the new SEAT emblem, the rear door handles are no longer flush to the bodywork so there's no mistaking this for a three-door car anymore and those headlights really are state-of-the-art both in appearance and quality.
But loyal Leon fans need fear not as the new car is still instantly recognisable and retains its bold, ready-for-action stance. In fact, by increasing its wheelbase by 58mm the wheels have a pushed-out-to-the-corner appearance which adds to its aggressive posture.
The interior is beautifully designed. It's quite uncomplicated with all dials, controls and read-outs ideally positioned for driver usability and there's plenty of technical wizardry at your disposal.
Buyers can select from three feature-rich trim levels – S, SE and FR and there is a choice of three petrol engines – 1.2, 1.4 and 1.8 plus two diesel options – a 1.6 and 2.0-litre version.
Automatic transmission is also available on many models.
Entry level S vehicles come complete with 15-inch steel wheels, air conditioning, a colour media system with Bluetooth and six speakers, heated mirrors, front electric windows, plus a range of top notch safety specifications as standard.
Move up a grade to SE and you will find the addition of 16-inch alloys, rear electric windows, leather steering wheel and gear knob, front armrest, front fog lights, cruise control, ambient lighting and plenty more.
Finally, the range-topping FR introduces 17-inch alloys, LED rear lamps, electric folding mirrors, eight speakers, front sport seats, dual zone climate control, parking sensors, tinted windows and SEAT's Drive Profile to change the driving modes.
And, of course, there are plenty of optional extras that can be added to help personalise models too.
SEAT believes the most popular version will be the 1.6 TDI 105PS in SE trim with five-speed manual transmission, so we took that car out for a test run, and it didn't disappoint.
Road-holding was exceptional as it attacked tight bends for fun.
And although there was a little engine noise that actually added to the car's sporty appeal.
Acceleration was good through the gears and the Leon seemed just as capable ambling alongside busy town centre traffic as it did whizzing down the motorway.
Comfort levels are excellent and back seat passengers have a fair amount of leg room. The boot is quite deep and capacity can be quickly and easily increased thanks to 60:40 split-folding rear seats.
According to SEAT, this model can achieve an impressive 74.3mpg and it also produces emissions of just 99g/km making it exempt from road tax or congestion charges.
Yet despite being the most economical option in the Leon line-up it can still reach 62mph from a standing start in 10.7 seconds and has a top speed of 119mph.
We also took a run out in a 1.4 TSI 140PS petrol model in FR trim priced at £19,385 (£20,790 with a few optional extras added in).
This model proved much more edgy and dynamic in performance and the sixth gear was a real bonus. It seemed more responsive, but that exhilarating ride comes at a price with combined fuel consumption at 54.3mpg and emissions at 119g/km. However, when you take into account the lower price of petrol compared to diesel, it's something worth weighing up. The test car boasted 0-62mph sprint stats of just 8.2 seconds and topped out at 131mph.
And as one would expect, SEAT has packed a comprehensive range of safety features into the car.
All in all, the new Leon is a great car. It's true that some people don't like change, but it seems all the adaptations to the Leon have increased its appeal, performance, economy and sheer character.
Test Drive
SEAT Leon Cupra R 2.0 TSI 265PS
It's fast and furious, loud and bouncy, but the SEAT Leon Cupra is the perfect car for anyone who craves power and performance in its purest form.
Based on the World Touring Car Champion, the Leon Cupra R boasts a powerful 2.0 turbo petrol engine delivering 265PS and although the top speed is limited to 155mph, this car can reach from 0-62mph in just 6.2 seconds.
The car looks sporty with its streamlined aerodynamics, twin central tailpipes, tinted windows, 19-inch white alloys with red callipers on the racing brakes and rear door handles that are flush to the bodywork.
And that sporty feel is just as apparent inside the car. There is a multi-function leather sports steering wheel along with Cupra R bucket sports seats in upholstered black leather complimented by white criss-cross stitching.
Creature comforts are plentiful and include a sunroof, dual-zone air conditioning, sat nav, rear parking sensors, cruise control, aluminium pedals, an eight-speaker CD player with radio and USB/AUX-in ports, rain and light sensors, electric windows and plenty more besides.
But the real appeal of this car is its performance and it just loves to show off.
In and around town it rumbles by turning heads mainly due to the louder than average engine noise.
But out on the faster lanes and motorways, the Leon Cupra bursts into life.
Acceleration through the six-speed manual transmission is blisteringly fast and the road holding exceptional – even in very wet conditions.
The ride is noisy and you do feel most of the bumps but that almost adds to its appeal.
There is ample leg, shoulder and elbow space for two rear passengers and the boot is generously sized to accommodate any luggage requirements.
My one real criticism after a week-long loan was the vehicle's dreadful turning lock. Getting into an average sized parking space will take two or three adjustments even if you do take a wide angled approach.
SEAT has kitted out the Leon Cupra with a very comprehensive list of safety features, such as anti-lock brakes, electronic stabilisation programme, emergency brake assist, traction control, front, side and curtain airbags, active front head restraints and a tyre pressure monitoring system.
All in all, this car is packed to bursting with racing car spirit and the slightest pressure on the accelerator pedal will prove it's certainly not for the faint-hearted.
Test Drive
SEAT Leon 2.0 FR TDi
Hang onto your hat, you're in for one hell of a ride.
To be honest, the immediate impression of the SEAT Leon does rather give the game away. With smooth, eye-catching curves, stunning streamlining and a front honeycomb grille that almost looks like the beast is grinning at you, you should know that this vehicle is a little bit special.
And special it is.
In fact, not even the tinted windows and dazzling bright paintwork can prepare you for the Leon's awesome performance.
The 2.0-litre turbo-powered engine roars into action and you are away.
In fairness, the Leon FR – which stands for Formula Racing – doesn't exactly deliver the most comfortable of rides, but if it's power, exhilaration and fun you're striving for then look no further.
The sports-style handling is complemented by superb road-holding capabilities and general power-at-your-fingertips qualities.
The sportiness of the test model is apparent everywhere you look with sports seats, an extended dashboard, circular air vents and a central console that faces the driver, so making all dials and read-outs easy to see.
Although there are rear seats, to be perfectly blunt the space is very limited, but you do get a very big luggage compartment instead – not that I'm suggesting passengers move there!
The Leon is crammed with quality features throughout including cruise control, dual climate control, an MP3 compatible CD system, one-touch electric windows and bags more.
And with such power at your disposal, you would hope the safety spec is up to the test too. It is. Features include anti-lock brakes, speed sensitive electro-hydraulic power steering, electronic stability programme, a tyre pressure monitoring system and numerous airbags.
On reflection, this vehicle really puts the fun factor back into motoring. It may not be the most comfortable car on our roads today, but it sounds like a sports car and handles like one too.