Tesla
Model Y
The dynamically-styled Tesla Model Y is very much based on the Model 3 but, with beefed-up proportions, it has SUV practicality in spades.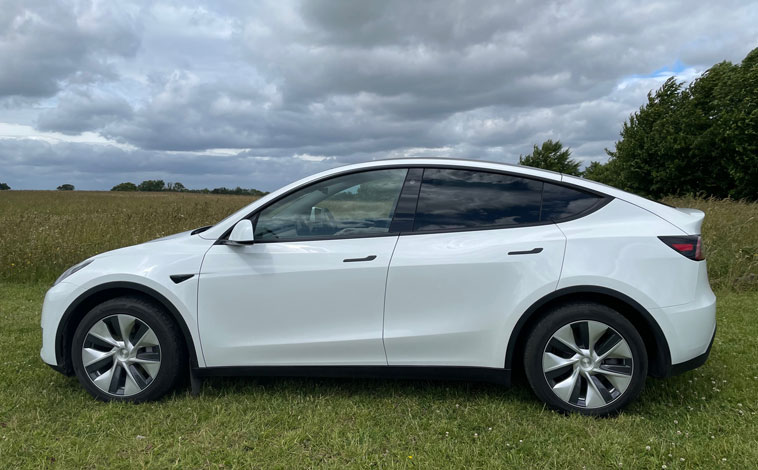 The good
Styling, handling, price and driving range
The bad
All the tech can be daunting to newcomers
Tech Specs

Price from
£57,990

Combined Fuel up to
Driving range up to 351 miles
0-62 from
3.3 seconds

max speed up to
155mph (limited)

co2 from
0g/km
Test Drive
Tesla Model Y Long Range (2022)
Take a Tesla Model 3 and give up a growth spurt and the end result is the rather stylish SUV-like Model Y.
There are two trim levels called Long Range and Performance, which are quite self-explanatory. The Long Range has a WLTP credited 351 miles of range between charges, whereas the Performance model is quicker but has a lower 319-mile range. Both models are all-wheel drive.
But when we speak of range, it's always worth remembering Tesla has an impressive and ever-growing network of fast chargers so range anxiety should never be an issue.
Boasting plenty of road presence, the Model Y costs from £57,990 for the Long Range or £67,990 for the Performance variant. We opted for the Long Range model and it could sprint to 60mph from a standing start in just 4.8 seconds and tops out at 135mph.
Our test car really was a head-turner and featured distinctive alloy wheels, tinted rear windows, door handles that are flush to the body, a long bonnet housing the Tesla emblem and neat light clusters.
Instead of a traditional key, owners open the door using a keycard (or smartphone). It is placed against the B pillar and the car is unlocked. The card is placed on the centre console where it is immediately detected and the Model Y starts automatically.
The acceleration is blisteringly quick out the blocks with oodles of power from the 75kWh battery and two independent motors that control the torque to the front and rear wheels.
This car cruises at 70mph and its worth setting an upper speed limit as it has so much more to offer and will quickly pass legal limits without careful attention.
The Model Y is also nicely confident when faced with more demanding B roads with lots of twists and turns. It's grippy and nicely balanced, although rougher road surfaces caused it to fidget a little.
There are settings to adjust the steering, acceleration and stopping modes so single pedal driving is possible in busier city centres with lots of stop, start driving.
The inside of the Tesla is very minimalist in its design and layout with few physical buttons. Instead, you get a 15-inch landscape infotainment screen, which really is the car's nerve centre. It is used to control the climate, navigation, media, car settings, adjust mirrors, open the front and rear boots and a whole lot more besides. And when stationary, you have access to the likes of Spotify, plus Netflix, YouTube and other popular channels.
To anyone new to Tesla, it can all be a little overwhelming at first, but after a few sessions behind the wheel, it gets much easier. And for convenience, the speed and existing range are always shown in the top right corner so are just a simple glance away.
The voice-controlled personal assistant was spot on and can help with plotting road routes, finding a radio station, adjusting the temperature and plenty more, without taking your hands off the wheel.
Apart from the giant screen, there is high-end wooden trim that stretches the length of the dashboard and sweeps round into the doors, beautifully upholstered seating, along with a nicely weighted steering wheel featuring a few controls.
Within the Model Y, there is ample space for five occupants to sit comfortably and the second-row seats can be folded flat individually for convenience.
There is a generously-sized traditional boot, along with a frunk (front trunk) beneath the bonnet. This has a rubber lining so would be very practical to carry wet or muddy boots. And when you factor in the glovebox, seat back pockets, door bins, cup holders and deep central cubby, there is a total 2,152 litres of storage space within the Model Y.
With zero carbon emissions, the Tesla is exempt from VED charges – or road tax as it's more commonly known. For business owners, the attractive Benefit-in-Kind rating of just two per cent will be very tempting and, if charging at home, it can be scheduled for when tariffs are lower on certain contracts.
And The Tesla also comes with an impressive four-year, 50,000-mile warranty with the battery cover extended to eight years or 120,000-miles.
All in all, the Tesla Model Y is a beautifully-styled, modern, dynamic EV that's great fun to drive and packed with tech. And, for larger families, there are strong rumours of a seven-seater on the horizon.